NYC Artist Exhibition & Silent Disco w Open Bar

Tuesday, May 17, 2016 at 7:00 PM

-

Wednesday, May 18, 2016 at 4:00 AM (EDT)
Event Details
PRIVE GROUP PRESENTS:
---
 First Annual NYC Artist Showcase
Held at Highline Ballroom
HOSTED BY:
Supermodel Georgie Badiel
A Benefit for the Georgie Badiel Foundation
---
ONE HOUR OPEN BAR
Provided by Kamasutra Vodka | 7:30 - 8:30
Join us on Tuesday, May 17th, as we present our First Annual Artist Showcase at the Highline Ballroom.  
After years of organizing premier fashion shows and designer showcases, Prive Group has decided to put together an event like no other, combining two unique experiences in one: an Artist Showcase and Silent Disco at the Highline Ballroom in the heart of Manhattan's exclusive Meatpacking District!
The event will be hosted by supermodel Georgie Badiel, and will benefit her foundation.
The live artist showcase will feature, among other artists, Heidi Merill, who has been called the modern day Annie Lennox meets Shania Twain, combining the influence of Pop, Country, and Rock Fusion.
Kamasutra Vodka will provide a one hour sponsored open bar.
The event will feature a live are show by artist Peace Simon, as well as a special performance by Shei Phan.  Slim Kings will be with us for the night as well, and Rare Magazine will be holding an Open Casting Party for Models, and their MUA's and Photographers will be in search of new talent to be featured in the Magazine.
Post showcase, Prive Group will partner with Silent Disco to give you a new experience of dancing to the music of your choice through the use of headphones.  This new concept will feature three genres of music that each participant can choose to plug in to.
---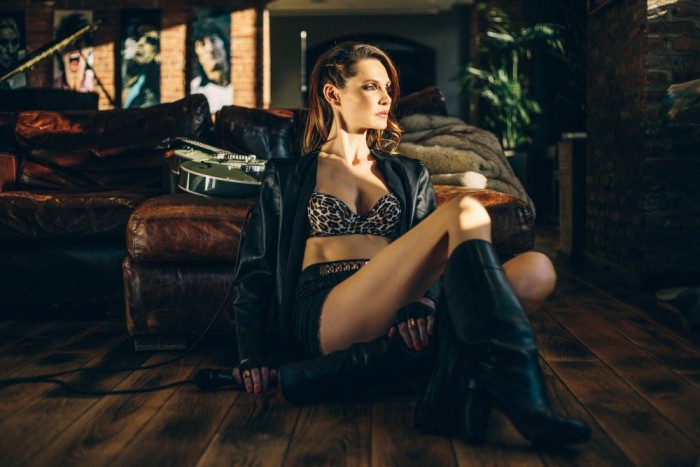 Nebraska native and current New York City resident, Pop/Country/Rock recording artist Heidi Merrill channels a city girl presence from her Cornhusker country roots. Heidi Merrill delivers a enrapturing and smokey texture, blending country with a silky Pop/Rock edge…"Rock Angel" is what you witness.
Heidi Merrill's new album "Home Grown" was released Oct 2, 2015 and is getting great traction as well as radio play in the mid-west. Her single "Cornhusker Strong" is a fan favorite among fellow Nebraskans. Merrill has been labeled the modern-day Annie Lennox that meets Stevie Nicks and Shania Twain, with the influence of a Pop, Country and Rock fusion. Heidi Merrill smothers the bare rock sounds of Kings of Leon and is motionless by the gut-wrenching range of Chris Cornell. Other influences include: Evanescence, Martina McBride, Sarah Mclachlan, and Lifehouse.
Heidi Merrill has recently toured the entire east coast as an opening performer for headliners Howie Day, Tyler Hilton, and Anna Nalick. A stand-out moment was her duet with Tyler Hilton at Subculture NYC of "When the Stars Go Blue," made famous by Tyler's television character on One Tree Hill. Since the release of her first EP "The Way I Feel" in 2012, Heidi Merrill has matured rapidly as a singer-songwriter and continues to draw in a lion-share audience both at her live performances and in fan-base. To date, Heidi Merrill has released new empowering music on her website, with songs like; "Feeling's Gone", "Feel Like Makin Love" "Wildfire" and the fan-favorites "Faded" and "Cryin Wolf".
---
Check Out Our Fashion Week Event:
---
EVENT SPONSORS:
KAMASUTRA VODKA
EUROCIRCLE
PULSD
21+ Event
---
Highline Ballroom, located at 431 West 16th Street, is one of New York City's premier performance venues with state of the art sounds and lighting.  Host to acts and events such as PAUL MCCARTNEY, LADY GAGA, RIHANNA, JUSTIN BEIBER, STEVIE WONDER, SANTANA, and many more.
Have questions about NYC Artist Exhibition & Silent Disco w Open Bar?
Contact Private