Board our July 4 Cruise NYC with friends and family for an unforgettable afternoon on the water.
About this event
Looking for a special way to celebrate 4th of July this year? Join us on the water for the best Fourth of July Brunch in NYC, where you'll get to enjoy bottomless Mimosas and a delicious four-course brunch with the best skyline view of Manhattan
Remember to dress up with your patriotic accessories and capture all the memorable moments as the vessel sails by the iconic NYC spots, including the Statue of Liberty, Brooklyn Bridge and more. This is surely the best brunch boat ride for Fourth of July!
Vessel: 3 decks
Three Admissions Available:
Sky Deck Outdoor seating, with access to Sky, Upper & First Decks
Upper Deck Indoor seating, with access to Upper Deck (indoor & outdoor) & First Deck
First Deck Indoor seating, with access to Upper Deck outdoor & First Deck
Sky Deck Outdoor Admission Exclusive: Priority boarding, Sky Deck access.
Drinks Included in All Admissions: Bottomless Mimosas plus complimentary coffee, tea or juice. More drink options are available for purchase on board.
Delicious Brunch Included in All Admissions:
A four-course brunch featuring Shrimp Cocktail, Smoked Salmon Platter, Cheese Platter, Eggs Benedict, New York Style Cheesecake, and many more.
Each adult will get to select one Appetizer, one First Course, one Entrée, and one dessert after completion of order. Each kid will get to select one Appetizer, one Kid Entrée, and one dessert.
Music: Live piano performance on board to give you the ultimate brunch experience!
Brunch menu:
Accompaniment: Assorted Breakfast Pastries
Appetizer (select one)
Shrimp Cocktail
Smoked Salmon Platter
First Course (select one)
Crudite Platter (Cherry Tomatoes, Carrots, Cucumbers, Bell Peppers, Ranch Dip)
Cheese Platter (Four-Cheese Selection, Crackers, Black Olive Tapenade)
Mixed Caprese Salad (Cherry Tomatoes, Baby Mozzarella Cheese, Basil, Balsamic Glaze, Olive Oil)
Entrée (select one)
Pan-Seared Herbed Salmon (Seared Salmon, Home Fries, Asparagus, Baby Carrots)
Three Cheese Ravioli (Three-Cheese Ravioli with Classic Tomato Sauce, Basil, Parmesan)
Eggs Benedict (Poached Eggs, English Muffin, Canadian Bacon, Hollandaise Sauce)
Kids Entrée (select one)
Crispy Chicken Fingers with French Fries
Penne Pasta with Classic Marinara Sauce
Dessert (select one)
New York Style Cheesecake
Seasonal Fruit Platter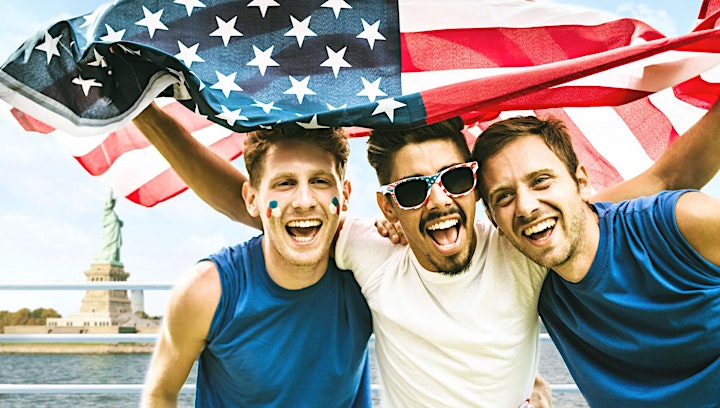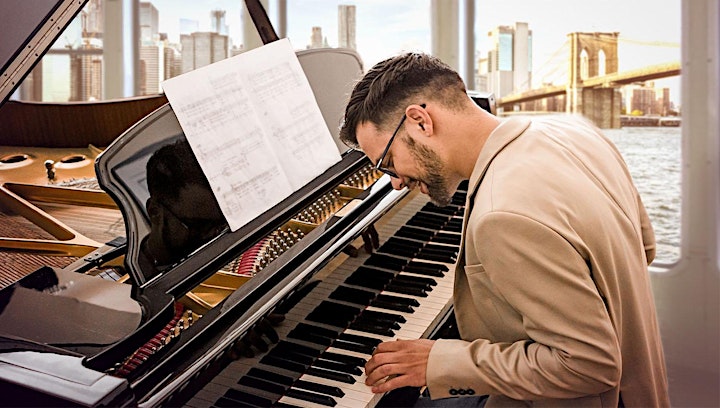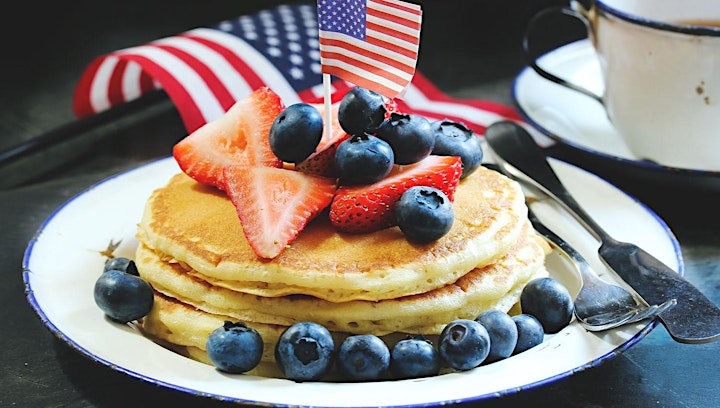 Organizer of NYC 4th of July Brunch Cruise 2021
Believe it or not, the best views of the city are from the water, which is why our Event Cruises NYC is the way to go when it comes to tours of the city. It's a breath of fresh air outside of the city streets. You'll get to celebrate your favorite holidays with great views of the Statue of Liberty while sailing through the New York Harbor. Duck under the Brooklyn Bridge as well as the Manhattan Bridge while guides share historical facts about the city you cruise around. The big, open-air boat will have you wondering why you hadn't visited New York City sooner.
Phone number: (917) 671-9710
Email: customerservice@eventcruisesnyc.com