NY SUPER SATURDAY w/PATRICK HODGES!!!

Saturday, September 19, 2015 from 10:00 AM to 2:30 PM (EDT)
Event Details
NY SUPER SATURDAY EVENT!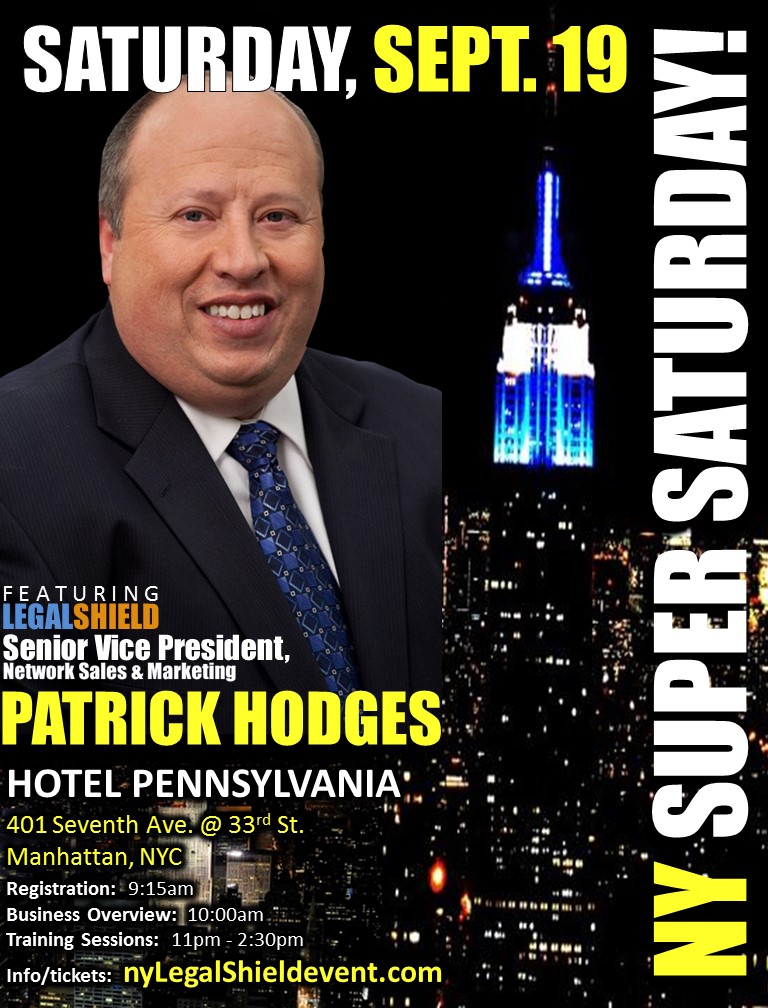 SATURDAY, SEPTEMBER 19, 2015
10:00 AM - 2:30 PM

HOTEL PENNSYLVANIA
401 Seventh Avenue @ 33rd St
Manhattan, NYC

Special Guest Speaker:
PATRICK HODGES
LegalShield, Senior VP of Network Sales & Marketing
Don't Miss This Special Opportunity to hear from LegalShield's most respected corporate executives, as he comes to New York City for a rare live appearance. As a result of your participation at this event, you will become a more Effective Leader, market more memberships, recruit more new Associates and Build a Bigger Income. Without a doubt, this will be one of the Most Important Events you will attend in 2015!

Get Ready for a *High Impact* Training Event!
Everyone in attendance will understand the value of developing success in ANY DIVISION of the LegalShield Business Model you choose to work in, from the EMPLOYEE GROUP, SMALL BUSINESS, BROKER or NETWORKING side.  Your Knowledge and Skills will Increase and Your Income will follow as a result of your active participation at THIS IMPORTANT COMPANY EVENT!

>>> INVITE MANY GUESTS <<<
________________________________________________________________________
Every active Leader in the Region will be there:
~ Performance Club Qualifiers
~ Network & Business Vice Presidents
~ Six-Figure Ring Earners
~ Executive Directors
~ Power 20s
~ Regional Managers
~ Meeting Coordinators
~ Market Leaders

Recognition of Achievement at many levels:
~ New Associates
~ Associates w/Guests
~ Fast-Start Qualifiers
~ New Senior Associates
~ New Managers
~ New Directors
~ E.D. Bonus Qualifiers
~ Power20 Qualifiers
~ Performance Club Qualifiers
~ Membership Producers
~ Recruiters / Team Builders

Special Appearance:
~ Provider Law firm Attorneys
________________________________________________________________________
Saturday, September 19, 2015
  9:15am - Registration
10:00am - Business Overview
11:00am - Leadership Training Sessions

Associates: $20pp Online Preregistered  /  $25pp at the Door
Guests: Free for Business Overview
Must be PreRegistered by Saturday, September 12th for the Special Drawing!
If you've already purchased a ticket at the Super Regional Event on Aug. 22nd,
you ARE pre-registered and are eligible for the Special Drawing.

Organizer
LegalShieldEvents
LegalShield Market Leaders: NVPs, RMs, CMCs & Exec. Directors
NY SUPER SATURDAY w/PATRICK HODGES!!!