NY SUPER SATURDAY & E.D. CONFERENCE RECAP EVENT

Saturday, April 4, 2015 from 10:00 AM to 3:00 PM (EDT)
Event Details
Don't Miss This Event as we share incredible information from one of the Most Important Leadership Conferences in LegalShield history!
>>> INVITE MANY GUESTS <<<
...to the 10:00 AM Business Overview!
 >>> AN ALL NEW EXCITING PRESENTATION! <<<
Advance the Growth of your Business by Working with Every Associate on your team to Have GUESTS at this Important Recap Event!!!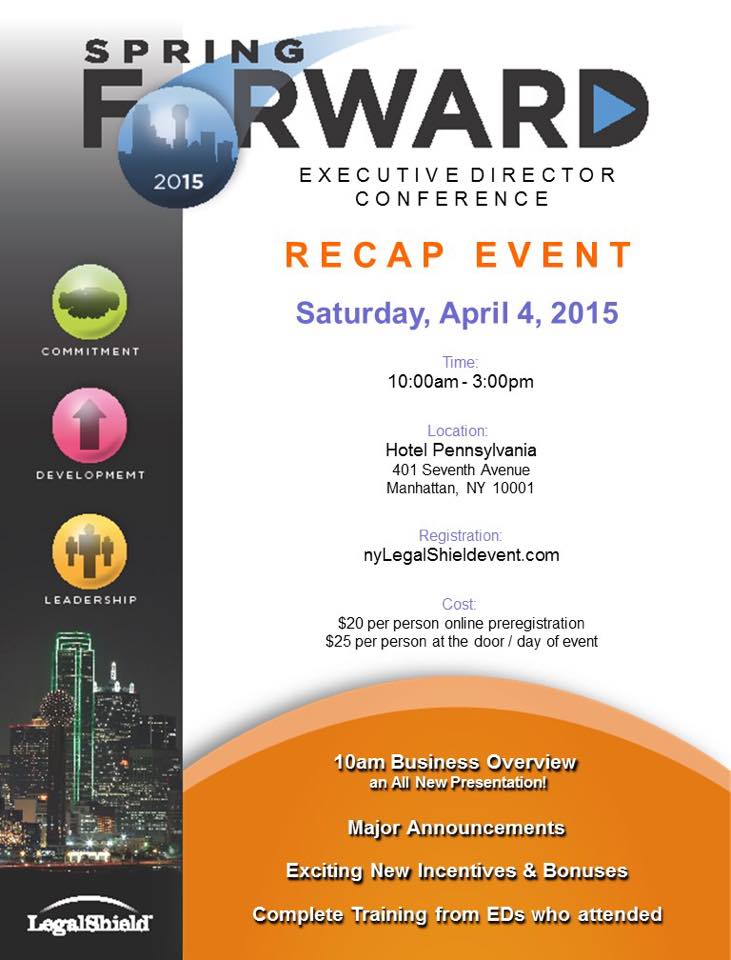 SATURDAY, APRIL 4, 2015
10:00 AM - 3:00 PM


HOTEL PENNSYLVANIA
401 Seventh Avenue @ 32nd St
Manhattan, NYC


--------------------------------------------------
Recognition of Achievement at many levels:
~ New Associates
~ Fast-Start Qualifiers
~ New Rank Advancements
~ Power20 Associates
~ Performance Club Members
~ Top Membership Producers
~ Top Recruiters/Team Builders


Special ED Conference Topics:
~ Getting Into the Fast Lane with your Business
~ The Event After The Event
~ The Why & How To of PBRs & PCCs
~ The Power of 3rd Party Calls
~ Delivering Effective Testimonials
~ Circle Ups Are For Closers
~ The Power in Persistency
~ Building Bigger by Promoting Event


Special Conference Highlights:
~ Huge Announcements!!
~ Special Promotions!!
~ New Tools!!!
~ New BONUSES!!!
--------------------------------------------------
  9:15 am - Registration
  10:00 am - Business Overview
11:00 am – Recap Training Event
Associates: $20pp Online Advance Pre-registered.   $25pp at the Door.
Guests: Free for Business Overview

Organizer
LegalShieldEvents
LegalShield Market Leaders: NVPs, RMs, CMCs & Exec. Directors
NY SUPER SATURDAY & E.D. CONFERENCE RECAP EVENT