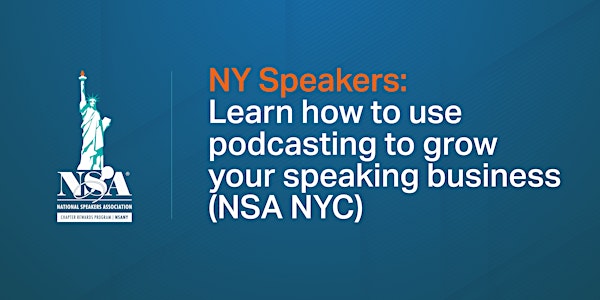 NY Speakers: Learn How To Use Podcasting to Grow Your Speaking Business
Should speakers have a podcast? Should you pursue being a guest on other people's podcasts? Join us for Adventures in Podcasting.
When and where
Location
Scandinavia House 58 Park Avenue New York, NY 10016
About this event
There is a lot of confusing information about podcasts. Seems there are a million online courses on how to get rich with podcasting, and seminars that promise amazing levels of riches if you host a show. But is all that really true?
Should speakers have a podcast?
Should you pursue being a guest on other people's podcasts?
If you want to know the real story about what is involved with podcasts and podcasting, come join us and participate in this interactive session. Bring your questions and share your own wins and failures around podcasting. Our guest speaker, Thom Singer (@thomsinger) and a panel of professional speakers and podcasters will answer your questions.
Our panelists joining our speaker are, Lou Diamond (@thriveloud) and Cait Donovan (@caitdonovanspeaks).
Thom Singer, CSP, began his podcast over eight years ago. With over 800 episodes on his main show, and 300+ others on podcasts he hosts for other organizations, he has learned a lot. These "Adventures in Podcasting" have led him to some extra speaking business and more income. But he worries about most information that he sees people giving speakers (and others) about the real power of podcasting.
Thom is a keynote speaker who combines a robust mix of actionable content with a high-energy delivery style. He is the author of twelve books on the power of business relationships, networking, presentations skills, legal marketing, and entrepreneurship. He is also the host of the popular "Making Waves at C-Level" as well as the official podcast of the National Speakers Association: "Speakernomics".
Thom inspires audiences to move beyond the superficial connections of "likes", "links", "shares " and "follows". In our social media crazed world we can never forget that people will still do business with those they know, like, and trust.