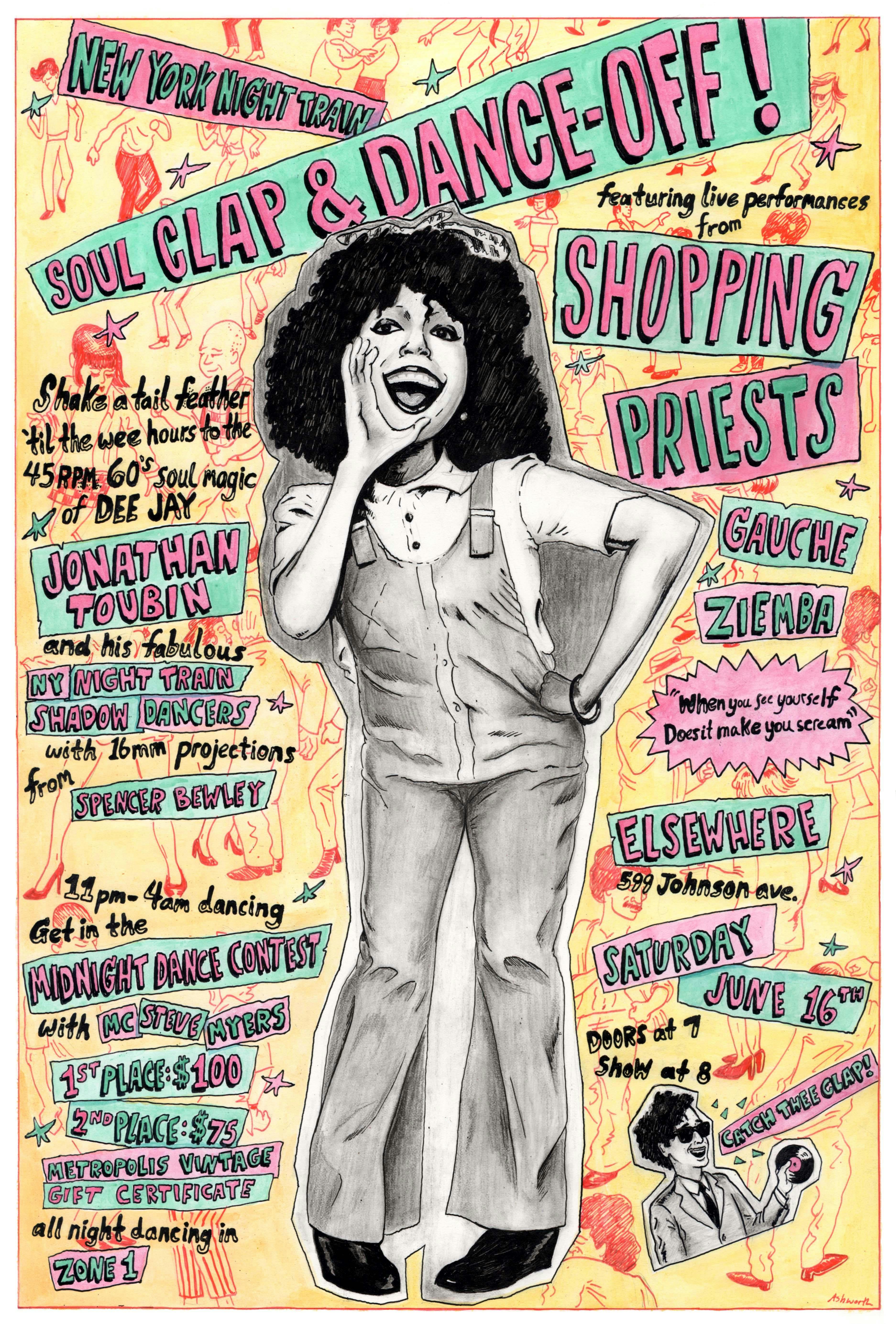 About this Event
heads up y'all: this summer season, the Elsewhere Rooftop will be open all night on weekends space-permitting, so grab a frozen drink with a view of the skyline when you need a breather! 
if you've never been to our space, there is lots else to explore too! our parties are multi-room celebrations, featuring a very large cavernous warehouse hall and a cozy dance floor in the side room, plus a small hideaway lounge tucked into the 2nd floor. make sure to wander!
--  
NY Night Train SOUL CLAP & DANCE-OFF
- Shopping, Priests, and more live and in person
- all night soul dancing with DJ Jonathan Toubin / New York Night Train and friends!
- MIDNIGHT $100 Metropolis Vintage Dance-Off
The world's most popular and prolific soul party, thee one and only New York Night Train SOUL CLAP & DANCE-OFF, returns to monthly THIRD SATURDAYS after a couple of years on the road! Reuniting with Glasslands' proprietors at their new happening Bushwick mega-venue / party lodge ELSEWHERE, every month's shindig is a new unmissable nightlife spectacle with two rooms vibrating to nonstop sound and vision! Cool and unusual live music from the best bands of all time early and dancing to the JONATHAN TOUBIN'S most exciting and exquisite soul vinyl 'til late! 
In case you haven't been keeping up, after a few years on the road, the world's best party resumed its NYC residency in January with DAVID JOHANSEN playing a Dolled up rock'n'roll set, then LA LUZ and MYSTERY LIGHTS turning it on in February, and SUN RA ARKESTRA and THE CONTORTIONS going out of this world in March, and JOE BATAAN and the BARRIO BOYS +1 turning on the boogaloo heat in April, KOOL KEITH and ESCAPE-ISM (IAN SVENONIUS) blowing minds in May, and now, for June, we present two of the most exciting bands in the contemporary post-post-punk universe - SHOPPING and PRIESTS and a whole lot more.... As always followed by all night dancing to the 45rpm soul magic of JONATHAN TOUBIN and thee MIDNIGHT DANCE-OFF! The best party of all time is an unparalleled experience created especially with people like us in mind! Make a night of it! CATCH THEE CLAP!