NY FIT FEST 2019 THE MOST EPIC OCEANFRONT FITNESS AND WELLNESS FESTIVAL IN THE US! "WE UNITE PEOPLE THROUGH FITNESS"
About this event
NY FIT FEST
OCEANFRONT FITNESS AND WELLNESS FESTIVAL
9/21 & 22 2019
Over 40 Classes and Workshops – Relax, Learn and Burn with World Class Athletes and Expert Beauty and Wellness Ambassadors – All Fitness Levels Welcome!
Make NO mistake, this is a MOVEMENT. EVERY B-O-D-Y wants to look and FEEL their best from the inside out. The NY Fit Fest mission is to allow each and every BODY that enters our experience to feel welcomed in finding some sort of fitness activity that they can fall in love with, along with a community of friends that can cheer them on and support them in their journey. Our message is simple, UNITE IN FITNESS, fall in love with yourself, someone else, or something healthy that can change your life.
Fitness is not always about the physical activity, but more about the state of mind, there is something here for every B-O-D-Y!
#UniteInFitness #FITCATION #BeachBash
NY FIT FEST is a ONE day festival, with an OPTION for overnight accomodations, healthy food options, and morning oceanfront rooftop yoga classes.
ALL CLASSES ARE FIRST COME FIRST SERVE!
WHO: NY Fit Fest 2019 Ambassadors: Meet The Ambassadors
WHAT: For Full Class Schedule: NY Fit Fest Class Schedule
WHERE: 1 National Blvd and the Beach, Long Beach, NY 11561
WHEN: September 21, with an OPTION for 9/22
BRAND NEW OPTION : NY Fit Fest has partnered with the Allegria Hotel offering double overnight accomodations that include a healthy breakfast lunch and dinner packaged with 2 NY Fit Fest All Access Passes! $499.00 All inclusive. Call 516-889-1300 ( Allegria Hotel) for details. Grab your friends and unplug from the daily grind! Unpack Your Bags And Get Ready! Allegria Hotel Website Click Here
TICKETS:
DAY 1
9/21 8-2PM
FULL DAY ALL CLASSES INCLUDED IN TICKET PRICE
TICKET: $100.00
PRE-SALE TICKET: $75.00 PRE-PURCHASE BEFORE 9/20/19 SAVE 25%
FITTER-MISSIONS FREE, MUST HAVE TICKET TO PARTICIPATE 200 TICKETS AVAILABLE. SPECTATOR / VENDOR VILLAGE ENTRY IS FREE
DAY 2
9/22 8-10AM
ROOFTOP YOGA AND MEDITATION ALLEGRIA HOTEL
TICKETS: $40.00 LIMITED AVAILABLITITY
HUSTLE FLOW & GROW
Fit-cations are the new craze! The hangover FREE party! The next time you see that destination retreat on the travel channel, don't fret, NY Fit Fest is available in your own backyard! With Beauty, wellness and fitness in mind, you can relax, learn or burn and treat yourself to an adventurous trip 35 minutes from the Big City to an Oceanfront Paradise in Long Beach NY.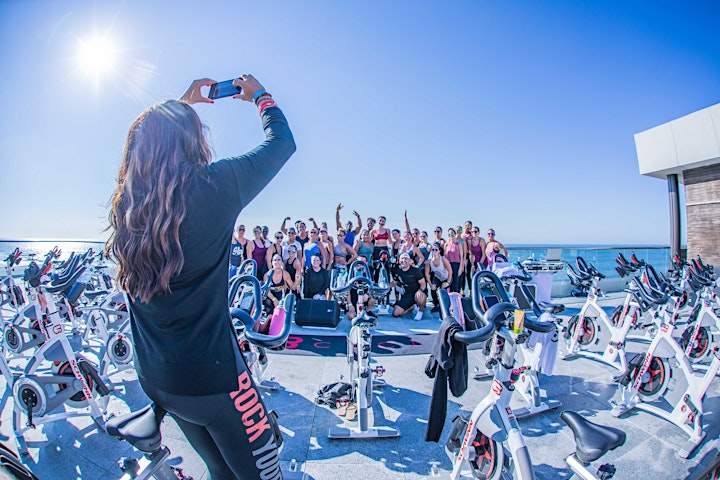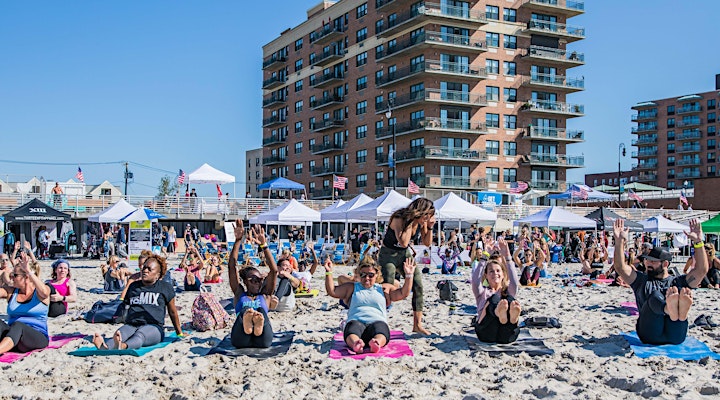 Whether you're a yogi, cyclist, bootcamp enthusiast, inspiring pole dancer, beauty fanatic, nutrition guru or avid spa-goer, there's something for everyone.
You'll always have the comfort of your routine at home, so use this fit-cation experience to take unique workouts you've been dying to try!
World renowned athletes, celebrity trainers, fitness and wellness professionals will lead activities ranging from sunrise yoga, beachfront cyclebar, mindful media lectures, meditation, crossfit, military style boot camp, kickboxing, dance, zumba, fitness pole dancing, speed and agility, inside and out beauty lecture, and much more!
The Atlantic Ocean in Long Beach NY will serve as the breathtaking backdrop for a one of a experience. Guests can attend nutrition lectures, panel discussions, fitness classes, or listen and experience the latest in the fitness and wellness MOVEMENT
Not taking classes? That's ok too! Peruse our healthy living, beauty and lifestyle vendor booths, for the hottest apparel, boutique fitness studios, supplements, and nutri-cocktails!
Build your own day of fitness and pick and choose what's right for YOU!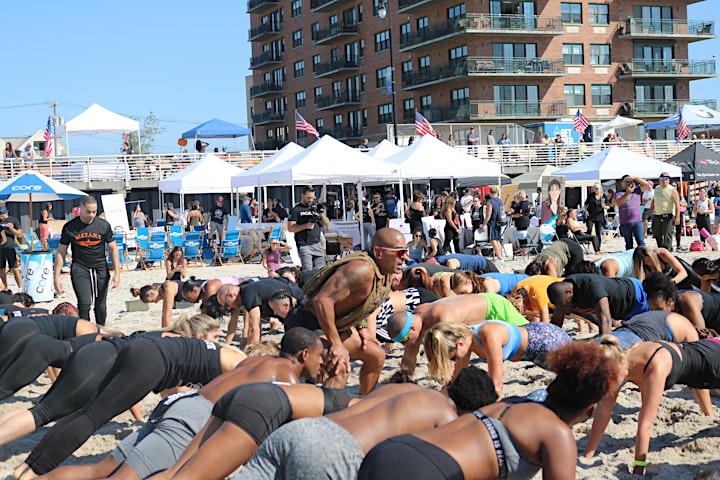 Disclaimer:
All Classes and panel discussions are on a first come first serve basis. Rain Date 9/22. No Refunds. Attendees must be 16 or older to attend. NY Fit Fest's main stage will be on the Beach at National Blvd, located directly in front of the Allegria Hotel!
Entrance and check-in is on National Blvd Beach
BEACH AND BEAUTY PLAYGROUND EXPERIENCE FREE
FITTERMISSIONS ARE FREE - MUST HAVE A TICKET ( 10 minute fun competiions between classes) limited tickets available
ALL CLASS PARTICIPANTS MUST HAVE NYFF DAY PASS TICKET
NY Fit Fest Corp has the right to change instructors, add or subtract classes at any time during the length of these events 9/21&22 2019
Cycle Classes, Boxing Classes, and University Panels are first come first serve.
Don't forget to bring your friends, beach towels and chairs to stay the day!
NY Fit Fest Corp is not responsible for any personal injuries. By Purchasing this ticket, you agree to the waiver is included in your ticket confirmation, as well as hold NY Fit Fest Corp and all volunteers harmelss for injuries and accidents that may occur during entire lenth of events. 9/21&22 2019