NY Finance, Trading & Banking Christmas & Holiday Reception

Friday, December 29, 2017 from 6:30 PM to 9:30 PM (EST)
Event Details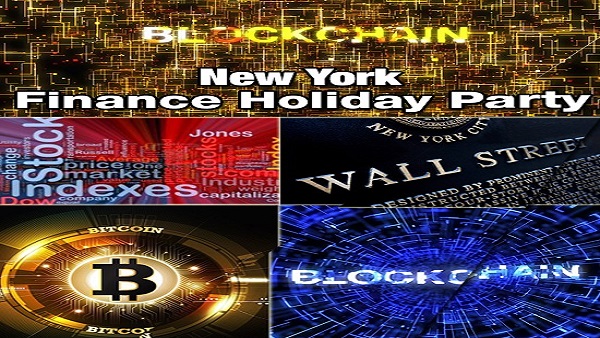 2017 has been one heck of the year, things that happened this year have never occurred in the past & wall street is also not same.
To Name A Few:
1) Bitcoin went from $800 to $10,000 in 2017

2) Cryptocurrency Market Capitalizes

3) Amazon stock at $1000, Jeff Bezos has $100 Billion.

4) Global insecurity and the refugee crisis

5) Telsa, Apple, Netflix do well, stock rises.

6) Uber messes up again.

 (We stay away from US Politics / Washingtons)
The finance industry is at the start of an unprecedented period of disruption.
Established firms and start-ups are both embracing disruptive new technologies, from smartphones to "big data" analytics to Bitcoin and the blockchain that underpins it. This promises big changes to banks, insurers, investment firms and real economy served by the finance sector. Its about time for Valley to meet the street.

Lets meet one last time in 2017  for Wine, Hors d'oeuvres & Friendly chats and raise a toast to all ups and downs, good and bad, gains and losses and greet holidays to fellow Wall Street Folks. The gathering  brings together issuers, borrowers, investors, and bankers in local and international forums. This event aims to bring together NYC Finance Community to share ideas and insights, network with industry leaders, and develop key relationships.

Talks & Conversations - Looking forward to evening of unique networking , discussions about exclusive investment opportunities and ideas , latest trading tips, Fintech tools, new products debuts & trading platforms, algorithmic and robotic trading and much much more....
Events are attended by everyone from top tier global financial companies and C-level executives, trading academies, specialized banks, brokerage houses, hedge funds, investment baskets, managed funds, managed portfolios, exchange houses.

• Free Give Aways
• Mega Raffle Prize
• Entire bar is restricted for our members only. Cash bar, pay for what you order. 
Attendees include but not limited to:
• Portfolio Managers
•  M & A Analysts 
•  Research Analysts (Buy / Sell Side)
•  MBA Candidates
•  Hedge Fund Service Providers 
•  Equity And Derivative Traders
•  Prime Brokerage Professionals 
•  Fund Administration Professionals
•  Operational Specialists.
•  Finance & Accounting Recruiters and
HR Professionals.
Attire – We always recommend to wear business casuals but not mandatory. Santa costumes welcome.
How it works: · 
• Receive name tag upon arrival. Clearly mention your name and your area of work/interest.




• The host will guide you to the main area.

• Connect and network with other professionals in a relaxed yet focused environment and exchange holiday

greetings.
The event focus on creating long term professional relationship with experienced finance experts. The networking event will help in building social capital among the members of finance community.
Venue - SweetWater Social Lounge
Its the underground bar, joining high-end cocktails with foosball & shuffleboard.
Note : All Sales Are Final, No refunds will be issued
When & Where

Sweetwater Social Lounge
643 Broadway
New York, NY 10012


Friday, December 29, 2017 from 6:30 PM to 9:30 PM (EST)
Add to my calendar