Description

Description
UCN Conference and Business Expo is the biggest networking event for Entrepreneurs in the USA and Caribbean. During this full day event, we are encouraging Entrepreneurs and aspiring artist to attend our one and one meetings at this corporate event.
The Corporate Connection Activity, Meet & Greet with CEO, Founders.
All put together to ensure the success of each individual we will add to our income sharing community.
About our corporate One and One Meeting
Meetings will be scheduled from 9 AM to 3 PM at the One World Trade Center Building
Each paid participant will have a set interview time of 30 minutes to pitch their business concept or show case their work or talent to the founders.
Are you ready to learn about how to get a free monetize business website and increase your income working with us?
You are about to experience informative, interactive, and thought-provoking discussions that will help you scale your business or career. Giving you the opportunity to ask questions direct from the founders on everything you need to know about The Income Sharing Community.
There are so many talented and creative individuals in the USA and Caribbean. We want to encourage those with an idea, a startup business or upcoming artist to come out to this business conference, expo and networking event
UCN Membership is $99
You Get A Monetized Business Website
Up to $1,500 startup for service funds

Business website setup with affiliate and ads links

Income sharing from over 1,000 other businesses & websites
Meet & Greet – After Party
Conference ticket holders will get to enjoy our free after party with include food and drinks with leaders in our income sharing community and other like-minded individuals. Located at NY
Starting from 5:30 PM to 9 PM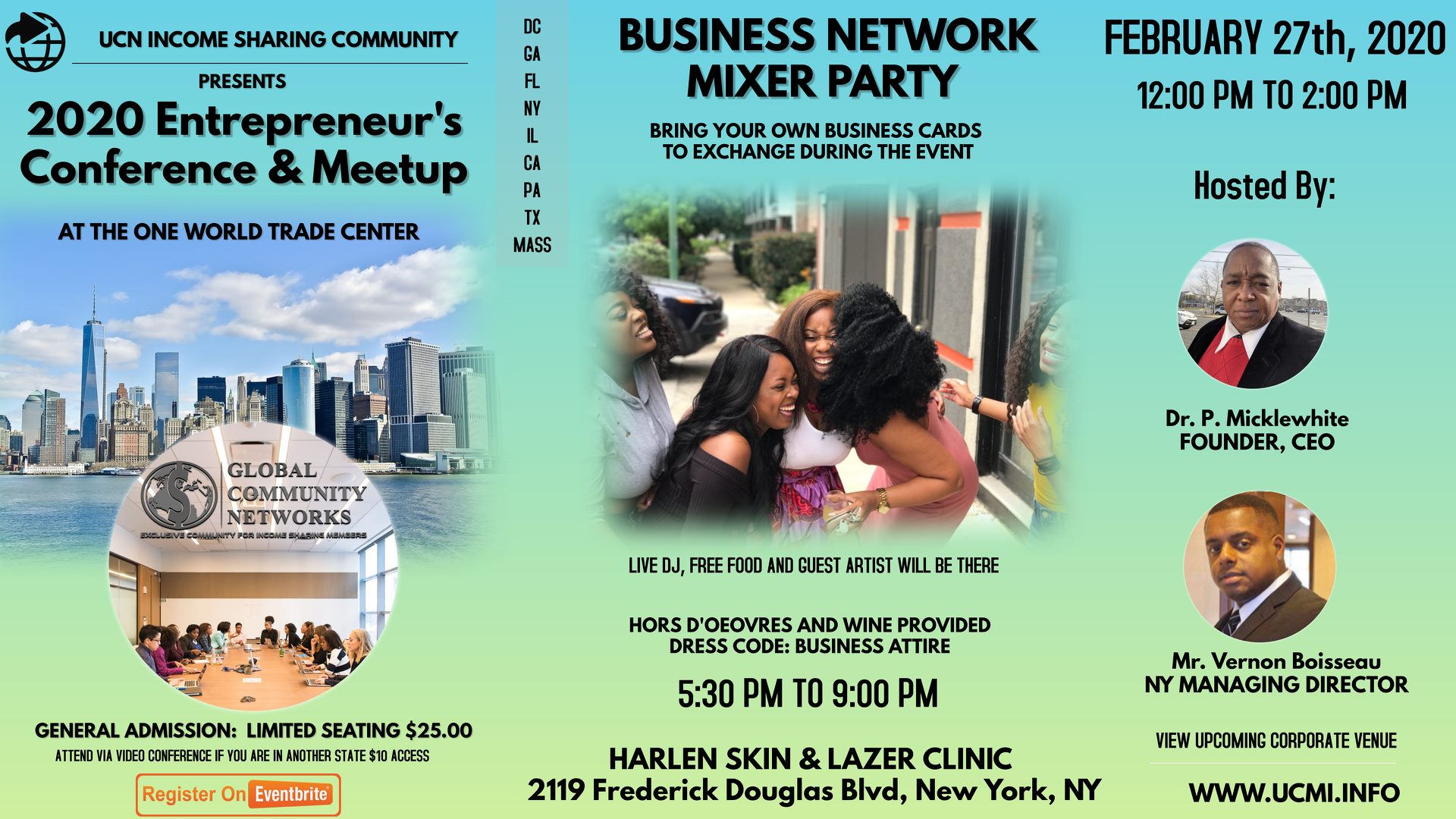 If you live in New York, USA you are invited to our business networking mixer as seen on the flyer below. Free if you attended the conference at our corporate center at One Workd Trade Center.