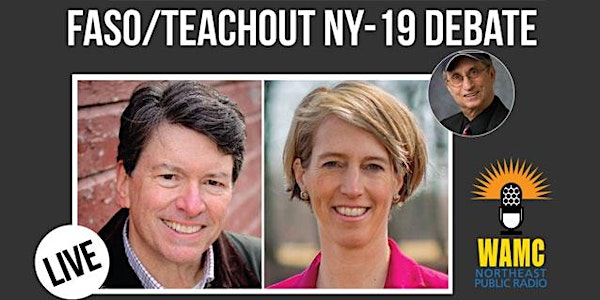 NY-19 CANDIDATES DEBATE PRESS RESERVATIONS
When and where
Location
The Linda WAMC's Performing Arts Studio 339 Central Avenue Albany, NY 12206
Description
PRESS Reservations are required.
WAMC/Northeast Public Radio will host a live debate between the candidates for New York's 19th Congressional district seat, Republican John Faso and Democrat Zephyr Teachout, on September 15th from 1-2 p.m. at The Linda in Albany. Featuring two former candidates for governor of New York, the race to replace retiring GOP Congressman Chris Gibson is one of the most closely-watched in the country in this election cycle.
The debate, hosted by WAMC's President and CEO Dr. Alan Chartock — anchor of WAMC's Congressional Corner segment — will be co-moderated by WAMC's Hudson Valley Bureau Chief Allison Dunne and Times Union state editor Casey Seiler, also of WMHT's NY Now. The debate, which will be broadcast live over WAMC's 29 radio frequencies and at wamc.org, is free and open to the public, though reservations are required.