NxLevel Business Plan Writing Course 2014

Weekly Event - Every Tuesday: 10:00 AM (PDT)
Event Details
Global NxLevel Strategies
Business Plan Writing Course
Download Registration Form Here!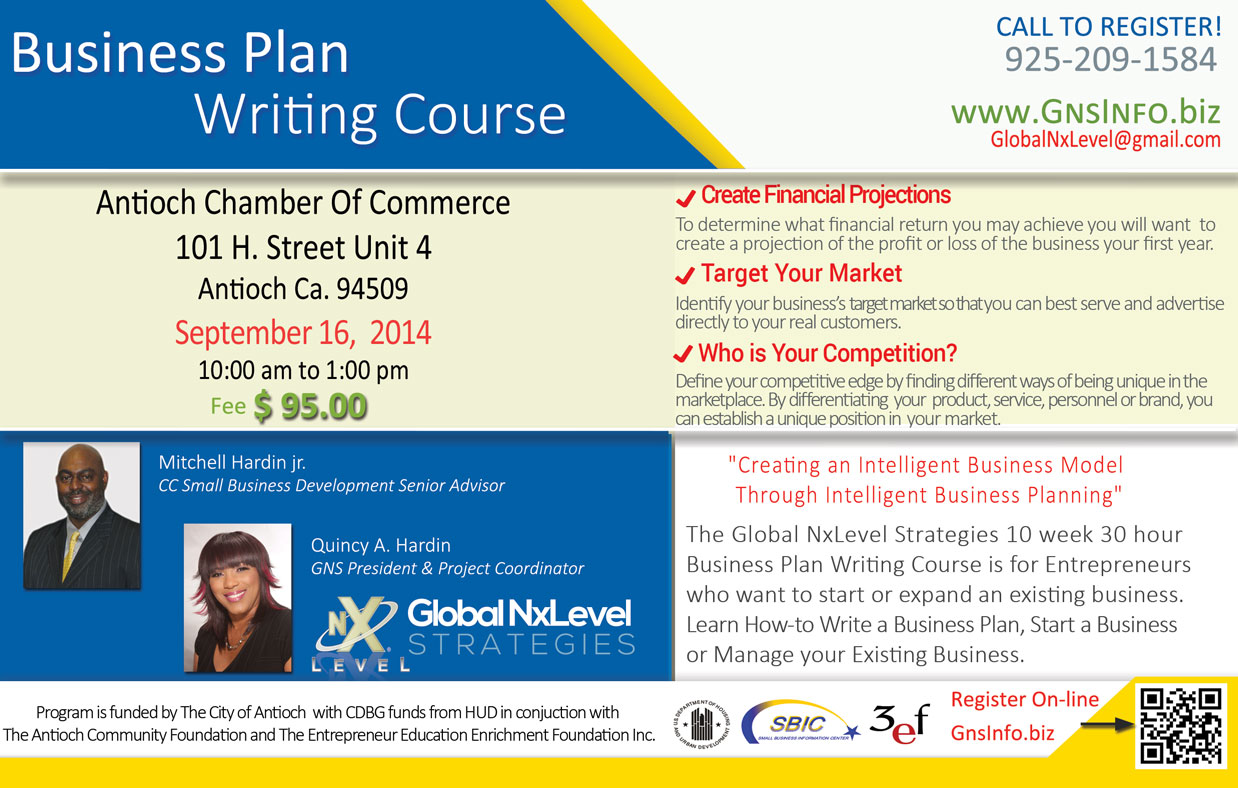 Session Starts September 16, 2014
10 Session 30 hour (3 hours-once a week) Training Course
Fee including materials is $95.00 
Download Registration Form Here!
Your registration form has to be received after you pay your fee.
Please email it to GlobalNxLevel@gmail.com
---
The NxLevel Business Plan Writing Course is Designed
For Entrepreneurs Who Want To Start or Expand An Existing Business
"Creating an Intelligent Business Model Through Intelligent Business Planning"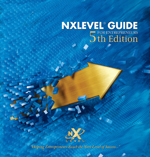 NxLeveL™ Business Planning & Management Entrepreneur Course is a 10 session course designed for people who want to start-up or expand an existing business and need the skills to test the feasibility of their business concept. Participants develop a business plan which acts as the blueprint for their start-up venture. Upon successful completion of the course, the participant will learn the following:
ü  What it takes to be a successful entrepreneur
ü  How to develop and test your business concept
ü  How to select the best business entry option
ü  How to organize and manage your business
ü  How to research and market your business
ü  How to understand and get your financials in order
ü  How and where to get funding for your business
ü  How to determine feasibility of your business concept
ü  How to develop a network with other entrepreneurs
The Global NxLevel Strategies Entrepreneur program is a business planning and management entrepreneur training course. Global NxLeveL Strategies brings with it the energy and excitement to captivate, motivate and inspire your communities' entrepreneurs, youth-preneurs, start-ups, existing businesses and career seekers.
Business planning development is critical to start-up and existing businesses.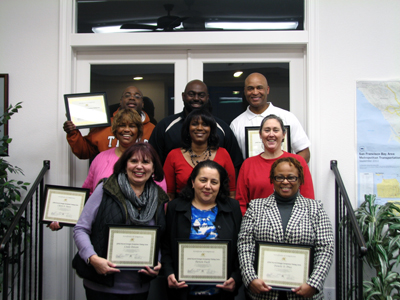 We offer interactive instructor-led entrepreneurial training, which guides in planning, writing and launching your business vision. Guest speakers such as attorneys, bankers, accountants and successful entrepreneurs bring added insights to the course.
Our program is delivered in a collaborative learning environment that encompasses real life case studies, business-to-business networking brought to you by experienced business owners and educators with a wide array of business and career experience.
Global NxLeveL Strategies provides comprehensive business development and leadership-training. We have several different program formats available. The curriculum can be tailored to meet your individual and/or group needs.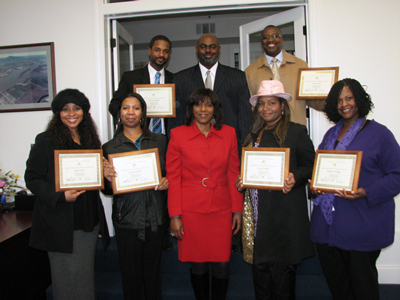 The outcome of the development of a business plan acts as a road map for start up and future growth. A business plan dissects every aspect of a business.  More importantly it teaches the youth how to set realistic goals, predict cash flow, establish a budget and identify their markets.
---
Instructors
 

 

Mitchell Hardin,

SBDC Advisor

 




Quincy A Hardin,

Project Manager
Scholarships are available
Program is funded by The City of Antioch with CDBG funds from HUD in conjuction with The Antioch Community Foundation and The Entrepreneur Education Enrichment Foundation Inc.
Session Starts Tuesday September 16, 2014
For More Information
Contact Project Coordinator Quincy A. Hardin
Tel. 925-209-1584 Fax. 877-261-2256
Email quincyahardin@sbcglobal.net 
Where

Antioch Chamber of Commerce
101 H Street
Unit 4
Antioch, CA 94509


Weekly Event - Every Tuesday: 10:00 AM (PDT)
Add to my calendar
Organizer
Mitchell Hardin Jr. is a certified instructor with the NxLevel Training Network for adults and youth. He was an instructor with the Small Business Development New Venture Training Program in Concord California. His Small Business graduates have gone on to successfully research, open and operate businesses. Mitchell has worked with Kidpreneur at Barnes & Noble's (Antioch Ca.,) exposing preteens to entrepreneurship. He also, has experience in product research & development, internet marketing, business coaching and Guerrilla marketing strategies.