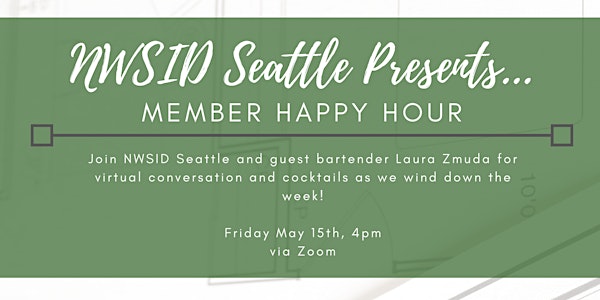 NWSID Member Happy Hour - Custom Gin Martinis with Laura Zmuda
Join NWSID Seattle and guest bartender Laura Zmuda for virtual conversation and cocktails as we wind down the week!
About this event
LAURA'S CUSTOM GIN MARTINI
Pick up or order your ingredients advance, and mix along with us!
TOOLS:
Martini Glass
Martini Shaker
Toothpick
INGREDIENTS:
2 cups Ice
Tap Water
4 oz Gin
½ oz Olive Juice
2 Olives
DIRECTIONS:
Fill Martini Glass with Ice Water to chill the glass.
Prepare two olives on a toothpick.
Add 1 cup Ice + Gin to Martini Shaker.
Swirl or stir to chill the Gin.
Pour out ice water and fill chilled Martini Glass with Gin.
Pour Olive Juice into your glass and add the prepared Olives.
SPECIAL NOTES FROM LAURA...
Favorite Gins:
Hardware Distillery Co. – Crabby Ginny (smokey)
Rogue - Spruce Gin (bright juniper)
Hadley & Sons (basic)
Favorite Olives:
Sable & Rosenfeld Vermouth Pimento Olives