NWCA All-Star Classic Clinic

Saturday, November 2, 2013 at 12:00 PM (EDT)
Event Details
Join us at the All-Star Classic Clinic
The Greatest Clinic Ever Held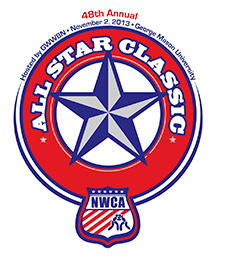 Wrestling Fans – don't miss the NWCA All Star Classic Nov. 2nd on the campus of George Mason University. The event was sold-out last year at American University and we expect this year to be no different.
Prior to the Classic for the second year in a row there will be The Greatest Clinic Ever Held. Over 24 of the nation's best clinicians will be in attendance and this year we plan on submitting the results to the Guinness Book of World Records for inclusion under the category of Greatest Staff Ever Assembled!
Don't miss this one! There's something even for parents and guests. During the middle of the afternoon there will be a Question and Answer period hosted by several of our clinicians. Last year this program was a huge success with our parents and guests and no topic was off limits. Questions ranged from ways for my son to increase his strength to college admissions, from athletic to scholastic scholarships to tips on ways to assist your child with anxiety issues.

Schedule
Registration: 11:00am to 1:00pm
Clinic Times: 12:00pm to 5:00pm
Parental Seminar: 3:00pm to 4:30pm
Clinic: There will be 4 teaching stations. Each clinician will teach four – 15 minute segments, one at each station. Every wrestler will see each clinician regardless of their age or experience level.
Lunch: There will not be a break for lunch so bring a sandwich and eat while you learn.
Invited Staff
Lou Rosselli, NCAA Champion; Tom Brands, Olympic and World Champion; Sunny Abe, Olympian; Lee Kemp, 3 time World Champion; Kevin Dresser, NCAA Champion; Wade Schalles, Collegiate World Champion; Wayne Boyd, NCAA Champion; Tom Scully, NCAA Champion; Greg Strobel, NCAA Champion; Teague Moore, NCAA Champion; Jim Miller, 3-time All American; Steve Fraser, World Champion; Kelly Ward, NCAA Champion; Kerry McCoy, NCAA Champion; Butch Keaser, World Champion; Pat Santoro, NCAA Champion; Jeff Buxton, Legendary Coach of Blair Academy; Carl Perry, NCAA Champion; Joe Russell, National Champion; Drew Pariano, 3-time All American; Cliff Moore, NCAA Champion; Todd Beckerman, 2-time All American; Steve Fittery, 4-time All American; Mark Perry; NCAA Champion; Nate Carr, 3-time NCAA Champion; JJ Johnson, National Club Coach of the Year; Tom Layte, NCAA Champion; Mike Ester, Head Wrestling Coach Indiana Tech; Jeff Bowyer, All-American; Joe Pantaleo, 2-time NCAA Finalist; Patrick Timm, 2-time All-American; Jamill Kelly, Olympic Silver Medalist; Mark Cody, 3-time All-American.
All-Star Classic Tickets
Currently there will be over 300 Patriot Perch tickets available for purchase to those who attend the All Star Classic clinic. These very limited matside tickets will be sold on a first come, first served basis at the clinic until they are gone. Maximum one per person and each recipient must be present at time of purchase.
Clinic Proceeds
All clinic proceeds will be reinvested into the Metro DC wrestling community.
Hotel Discount
You can receive a special discount at the Mason Inn and Convention Center. It is located on the campus of George Mason University and is 0.4 miles from the Patriot Center. The discounted room cost is $119/night + tax and can be reserved online or via phone.
The Mason Inn Conference Center and Hotel
4352 Mason Pond Dr
Fairfax, VA 22030
$119/night + tax (Includes Breakfast) 
877-572-1543
Click Here to Book Online 
Other Hotels, Area Attractions & Restaurants
Fairfax County is welcoming all the participants and spectators of the 2013 National Wrestling Coaches Association (NWCA) All-Star Classic. When there's down time from the competition, we encourage you to experience everything the area has to offer.
You'll find plenty to enjoy including world-class attractions, one of-a-kind shopping experiences, and extensive dining options. And you'll be located just minutes from Washington, D.C's monuments, museums, and memorials.
To help you plan your trip, please check out the Fairfax County website. You may even qualify for some group rates at hotels, restaurants, and other destinations.
Sponsor

When & Where

George Mason University Fieldhouse
4501 University Drive
Fairfax, VA 22030


Saturday, November 2, 2013 at 12:00 PM (EDT)
Add to my calendar
Organizer
Wrestlers in Business Network - Washington DC Chapter
NWCA All-Star Classic Clinic