Description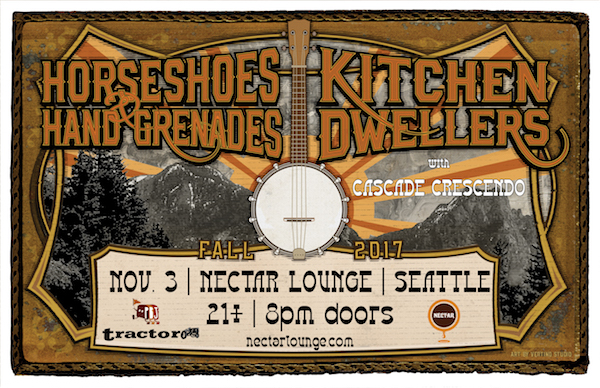 Nectar & The PBJ Present:
NW STRING SUMMIT KICKOFF PARTY
feat
Grant Farm,
The Last Revel &
Cascade Crescendo
21+


Nectar Lounge
412 N 36th St
SET TIMES:
Cascade Crescendo 8:30-9:30pm
The Last Revel 9:45-10:45pm
Grant Farm 11-12pm
Soundcloud
Boulder, Colorado-based Americana band Grant Farm has entertained a growing fan base on the nation's club and festival scene since its founding in 2009 by vocal
ist and National Flatpicking Guitar Champion Tyler Grant.

Built on the fundamentals of love, family, and music, the band is a sure bet for fans of high-energy, authentic artists as diverse as Sturgill Simpson, Jason Isbell, and Phish. Comprised of zany, creative and highly musical comrades, Grant Farm members include Grant (aka "The Champ"), Adrian "Ace" Engfer (bass and vocals), Sean "Magic" Macaulay (drums) and Kevin "Money" McHugh on keyboards.

Daniel Mescher of Colorado Public Radio dubbed Grant Farm "some of the ablest musicians not only in the state of Colorado, but in the nation." Members' prior experience includes playing with groups like The Emmitt-Nershi Band, Donovan Frankenreiter and Hot Soup. Collectively, they had also shared stages with notable artists Sam Bush, Jerry Douglas, Tim O'Brien, Tony Rice, Keller Williams, Jon Oates and the like and with notable groups The String Cheese Incident, Greensky Bluegrass, Yonder Mountain String Band and The Infamous Stringdusters.

The band's latest release, Kiss the Ground (Summer 2016), represents its first full-length concept album and its third album of original music. Speaking to the struggles we all face as working people, Kiss the Ground sends a positive message while acknowledging real hardship in a society that expects far too much. "We think of this as our ode to the working people," says Grant, whose song, "Get in Line," discusses the high price we pay for things we want in life. Kiss the Ground explores real and mythological connections to the human struggle and pays homage to the "Working Class Hero," an archetype famously described by John Lennon.
Previous Grant Farm albums include a 2012 self-titled debut and a 2014 follow up, Plowin' Time, which reached #2 on JamBand Radio Charts and charted on Americana Radio. In 2014, the band also released the Meeting on the Mountain EP, an inspired collaboration with the group Fruition.
The band has also created the acclaimed Meeting on the Mountain LIVE, a collaborative, live webcast concert experience featuring Grant Farm as the house band and Tyler Grant as host. To date, episodes have featured Dave Bruzza of Greensky Bluegrass, Bill Nershi of String Cheese Incident, Todd Sheaffer of Railroad Earth, The Dead Winter Carpenters and other guests.

Like a "traveling Gypsy family," Grant Farm enjoys their life of touring, writing and adventuring together as they share their music up and down the North American roots music line.
Website
From the budding music scene of the Upper Midwest comes the cutting edge Front Porch Americana soundscapes of The Last Revel. This powerfully talented trio of multi-instrumentalists from Minneapolis, Minnesota so naturally blends the genres of Folk, Rockabilly, Old Time String-Band and Rock to create a sound that is as equally original as it is timeless. The Last Revel trio utilizes their multi-instrumental abilities to bring the acoustic guitar, upright bass, fiddle, 5-string banjo, harmonica, kick drum and three-part vocal harmonies together to consistently deliver "Bombastic live performances," as well as delicate and haunting folk ballads.

With their second, self titled, album released in May of 2015, The Last Revel further demonstrates their ability to create rich and delicately textured recorded material with a modern "tip of the hat" to the storied history of American folk music.

Website
Cascade Crescendo, from Portland, Oregon has been crafting their own brand of bluegrass since 2013. Pulling from their vast range of collective influences, they play original, high-energy bluegrass, jamgrass, and Americana music with captivating lead vocals by Hunter White, blazing fast mandolin licks by Aden Beck, and creative, thumping bass lines by Taylor Skiles. Duluth, MN banjo player, Harrison Olk, joined the band in late 2015, bringing with him solid Scruggs-style banjo and high lonesome harmony vocals.

Cascade Crescendo recorded their first studio album in Spring 2016 at The Hallowed Halls in Portland, OR. The album features fiddle player, Allie Kral (Yonder Mountain String Band) on five tracks and a guest appearance by drummer Nick Werth (Yak Attack, Ghost-Note). Cascade Crescendo is gaining steam in 2016, quickly winning over fans across the Pacific Northwest and beyond. They performed on the lineup of the 2016 Northwest String Summit and will be touring the West Coast and beyond in 2017.
​
Cascade Crescendo has... "gained a loyal following with their tightly crafted bluegrass that embraces tradition alongside more progressive, jam-oriented styles." - Glide Magazine

Cascade Crescendo is Hunter White (guitar), Taylor Skiles (upright bass), Aden Beck (mandolin), and Harrison Olk (banjo).