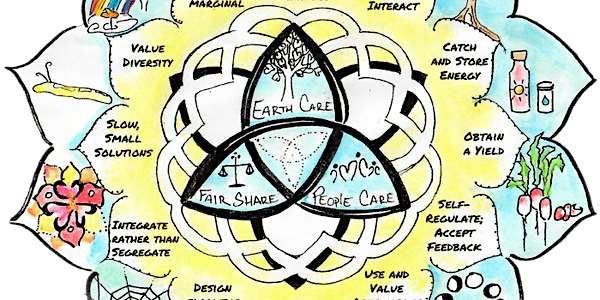 NW Permaculture Fall Retreat Campout
NW Permaculture Community Fall Retreat Campout
When and where
Location
160 Kane Ln 160 Kane Lane Sequim, WA 98382
Refund Policy
Contact the organizer to request a refund.
Eventbrite's fee is nonrefundable.
About this event
Co-Create The Future of
NW Permaculture Community
Where. Our Fall Campout and Organizational Retreat 2022 is open to community this year in Sequim WA Oct 14-16. Its an organizational Community Retreat camp out held at Shaelee's small farm. (Yes we saved the farm!) Join in-person or on-line. To stay informed, register and also get our Newsletter.
What. Plan, Play and Relax with us! Make friends, dance and share music together. The work and service is to plan next season, build connections and self-awareness as community and with NW Permaculture and ally organizations and communities. Build community and become an ally, vote roles and co-lead. You are invited to participate as a community member and/or in NEW co-leadership.
Cost: free to attend and donations accepted Limited parking near and camping on the farm is $25 (10-20 spots). There is free unlimited parking with offer of car pool/hike/bike in from River Rd, happy Valley Rd, Carrie Blake State park, Silverhorn ball park, etc. I'll send you more info on parking options and accommodations. This (limited to 50) registration is open until Oct 12th or until we reach 50 attendees. Everyone who wants to be sent info must register (its free), even helpers and Zoomers so we can communicate details and changes with you.
Registration Closed? If registrations fills and closes, please contact us to see if there are any other openings. We do not want to turn any one who really wants to be there away. Email us from our contact page or text or call 360-471-1878. And remember you can Zoom into some of it - See Zoom column on the Schedule Here. In case our zoom schedule changes I am leaving registration open for Zoom so we can communicate updates of the schedule with you.
Contribute. We are excited to have you come co-create with us into the future (read on) and this weekend.
Volunteer: Calling for volunteers to join teams for on site tasks and team-work to make this work more smoothly. Here is the Volunteer Form if you want to help make this great! Thanks. Update: sign up sheet coming soon.
We need what permaculture has to offer, what nature has to teach us more then ever now. We need Community and Connection to adapt and evolve.
Shoulder events Thursday and Sunday and Monday: Fusion Dance, local site/farm tours, hiking Dungenous trails. See Schedule.
Friday. Are you curious about the better more beautiful future to come? Do you hold ideas of new ways for this organization, this community to do more good, do no harm and be sustainable as an organization? What is essential to support? Do you hold the vision of what is truly needed now? Please join us and share. Take part in making it happen as a community ally and or co-role, or co-leader.
Saturday. Permaculture fans and designers new and old are invited to circle discussions on scenario planning for resilience in emergencies, build a food security network, village building, land regeneration and explore the future of NW Permaculture community collaborations into 2023 and into our ever-adapting future.
Sunday we will ask for help going into 2023 and the future with a new more sustainable organizational structure. Come co-lead with us.
Schedule. View the Draft Schedule Here. Leave comments and suggestions. ​Here are some fun ideas for things we can do at the Sequim farm:
Music, Dance, Herb walks...
Hear how Shaelee and Community saved the Farm!
​Plant walks on Shaelee's farm and gardens and nibbling herbs & plants.
Agri-forestry guilds (green-tea, gentian violets, golden-seal).
A lot of ecological things like the Dungeness river and wild edibles & foraging.
Willow forts in various stages along the river and on the farm - we could build a willow fort as a project, build round houses.
Pruning skill-share.
Visit awesome permaculture farms nearby like Skeeters Herb Farm at Finn River, etc
More shoulder events the day before or after. Dance Thursday! Fusion. Contact. Hike Dungenous Trails.
Plan for next season that includes you.
Your ideas welcome always. Talk to us about whats important to you.
Register free (space limited) as soon as you know you are coming. Everyone coming will get more info by email so be sure to register, even if helping or zooming. Please register asap by Oct 10-12th so we can plan for how many will be there in person. We may shut down registration on 12th if we have 50 attendees.
Parking is limited on or near the farm road (10-20 vehicles $25), or free parking down the street or at nearby farm and carpooling or hiking, biking in through nearby trails and country roads.
Camping & Housing. Dropoff your gear and camp in the lower forest together. We will get you a map where to park, camp and either hike or bike or we can carpool you back to the camp. Volunteers needed. We also will suggest nearby BnBs and a few housing options on the farm for early askers.
Food. Potluck. Bring food to cook together. Community prepared Breakfast and Dinner and lunch is on your own. Bring dishes. Wash your own station provided. Outdoor cooking options. Volunteers needed.
Zoom. There is opportunity to join in through zoom (1 Friday, 3 Sat and 1 Sunday sessions). Register for a Zoom ticket to get info and so we can send you updated/changes in zooming schedule. Last minute interest after we close registration Oct 12th? We'll use our Zoom from the top of the website and check here in case* we update the online Schedule. *Volunteers needed for Zoom support and schedule updates too.
Please Register before Oct 10-12. We need to know how many are coming to plan space and food. Shaelee's Farm has limited parking and we have options a bit farther away. So please register asap. Feel free to contact us at info@northwestpermaculture.org
This is a picture of tea plants in the farm's forest next to a plum orchard and the river canal trail.