NVMS Appreciation Day Virtual Event
Appreciation Event for NVMS Mediators & Volunteers. Keynote: Bernard Mayer, author, Neutrality Trap, & 2022 NVMS Lifetime Achievement Awards
About this event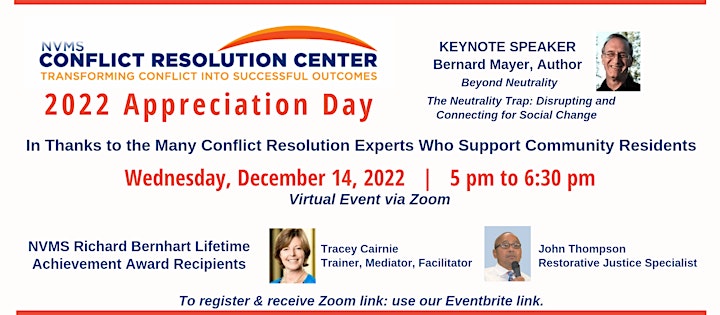 Join us!
NVMS Conflict Resolution Center's2022 Appreciation Day Virtual Event
Wednesday, Dec. 14, 2022 | 5 pm to 6:30 pm
In thanks to the many conflict resolution experts that support community residents, please join us for our annual event! Featuring:
Keynote Speaker: Bernard Mayer, Author - Beyond Neutrality and The Neutrality Trap: Disrupting and Connecting for Social Change
NVMS Richard Bernhart Lifetime Achievement Award Recipients:* Tracey Cairnie, Trainer, Mediation, Facilitator* John Thompson, Restorative Justice Specialist
To register for our free event, please use our Eventbrite link. After you register, the Zoom link will be provided to you via email confirmation.
Questions? Email Taylor at tpiepenhagen@nvms.us.