NVC V Kickoff & nLab Launch

Monday, October 29, 2012 from 5:15 PM to 7:30 PM (MDT)
Event Details
Please join us for the kickoff of the 5th annual New Venture Challenge, CU-Boulder's Cross-Campus Entrepreneurship Championships, and the launch of the new nLab!


Monday, October 29, 2012, 5:15-7:30PM
Wittemeyer Courtroom, Wolf Law Building
University of Colorado at Boulder
http://cunvc.org
Networking  5:15
Welcome and Sponsor Recognition  5:30 - 5:40
nLab Launch 5:40-6:00
Keynote Speaker 6:00-6:45
Reception 6:45-7:30 
 Proudly Sponsored By




CU Partnership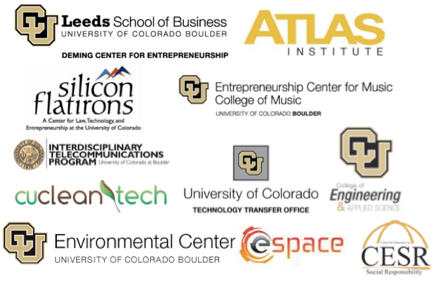 PARKING

Public Transportation

Other public events may be scheduled at CU. Public transportation is accessible and strongly encouraged. Bus stops are located within a short walk of both Wolf Law and C4C. Go to http://rtd-denver.com/

At Wolf Law (location of kickoff)

Lot 470 Free after 4pm – Located at Kittredge Loop Rd adjacent to Wolf. Two rows of metered parking located on the south and north end of Lot 470 (no ticketing after 4pm)

Lot 402 Free after 5pm – Located on Kittredge Loop next to Wolf Law. 

Lot 308 Free after 5pm - Located at the southwest corner of Regent Dr & Kittredge

Lot 319 Free after 5pm - Located between C4C and Regent Administrative Center, Lot 319 has 45 metered spaces. Credit cards are accepted

ADDITIONAL - Euclid Avenue Auto Park (Lot 205) - The Euclid Avenue AutoPark is located on the corner of Broadway and Colorado Avenue near the UMC. All-day parking between 7 a.m. and 5 p.m. is available for $1.75 per hour. Check, cash, and credit cards are accepted. It will take 15 - 20 minutes to walk to Wolf Law.
When & Where

Wittemeyer Courtroom, Wolf Law Building
University of Colorado at Boulder
2450 Kittredge Loop
Boulder, CO 80309


Monday, October 29, 2012 from 5:15 PM to 7:30 PM (MDT)
Add to my calendar
Organizer
Silicon Flatirons Center for Law, Technology & Entrepreneurship
Silicon Flatirons Center for Law, Technology & Entrepreneurship,
Deming Center for Entrepreneurship,
Entrepreneurship Center for Music,
CU Cleantech,
Center for Education in Social Responsibility,
ATLAS Institute,
Engineering Entrepreneurship Program,
Computer Science Department,
Center for Space Entrepreneurship,
Interdisciplinary Telecommunications Program,
BioFrontiers Institute
NVC V Kickoff & nLab Launch