NV Diversity and Inclusion in Healthcare - An ACHE-NV, NFLHE-NV and HFMA event.

Friday, April 28, 2017 from 9:00 AM to 5:00 PM (PDT)
Event Details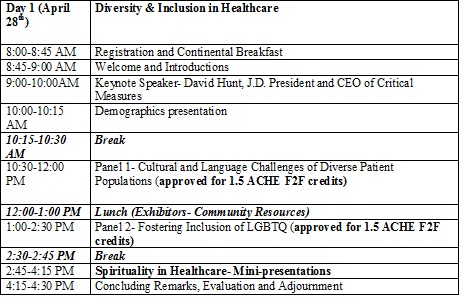 Keynote Speaker - The Law of Language Access
David B. Hunt, J.D.,President and CEO of Critical Measures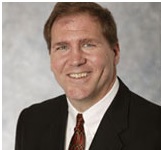 Cultural and Language Challenges of Diverse Patient Populations 
(Approved for 1.5 ACHE Face-to-Face Education credit hours)
Length:1.5 hours
Target Audience: Senior Healthcare Executives; Clinical Leaders; Human Resource and Quality Improvement Professionals
Description: Language barriers prevent thousands of Limited English Proficient (LEP) patients from effectively communicating with their physicians, resulting in inappropriate or inadequate care. Communication failures in healthcare settings contribute to poorer health outcomes, medical errors and increased costs. Many first generation immigrants and people belonging to racial and ethnic minorities have limited or no English proficiency. The Center for Medicare and Medicaid Services has mandated the availability of a language assistant for LEP patients. Despite this directive, many hospitals are not fully compliant, leading to increased liability and the potential loss of Medicare and Medicaid funding. According to the U.S. Census Bureau, the Hispanic population in the United States will grow from 14% in 2005 to 20% in 2030 and the Asian population will grow from 4.3% to 6.2% in the same time frame. With this increasing diversity, it is imperative that healthcare organizations need to step up their efforts in managing their LEP patients. To better serve their patients and communities, the implementation of Culturally and Linguistically Appropriate Services (CLAS) is strongly advised.
Topics for Discussion:
Review the laws concerning language assistance programs to determine levels of compliance and the consequences of less than full implementation.

Identify the cultural barriers that limit effective communication.
Suggest guidelines for language assistance programs and cultural competency during patient care.
Analyze the costs and benefits associated with implementing effective culture and language programs.
Fostering Inclusion of Gender/sex diversity (Patients and Employees)
(Approved for 1.5 ACHE Face-to-Face Education credit hours)
Length: 1.5 hours
Target Audience: Mid to Senior Level Healthcare Executives, CMOs, CNOs, Department Heads and Managers, Human Resources professionals, Interpreters and other clinical staff
Description: Lesbian, gay, bisexual and transgender (LGBT) patients face many challenges in accessing knowledgeable, unbiased and welcoming healthcare in all practice settings. The potential and/or fear of receiving derogatory remarks, unequitable care, or being turned away from treatment often deters some of the LGBT community and their families from seeking healthcare services. Healthcare equality for all people is a guiding principle of the healthcare management profession. However, discrimination towards the LGBT community continues in the healthcare environment today. This panel discussion will focus on the need to strengthen the pursuance of equity of care and to foster inclusion of LGBT patients and employees.
Topics for Discussion:
Challenges that LGBT patients face in healthcare

Health disparities experienced by LGBT patients

Current imbalances regarding LGBT patient care and human resources practices

and the need for protective written policies

Best practices in non-discriminatory care for LGBT patients and their families

Processes of training staff on LGBT patient care

Spirituality in Healthcare (mini-presentations)
Spirituality is recognized as a factor that contributes to health in many persons. The concept of spirituality is found in all cultures and societies. It is expressed in an individual's search for ultimate meaning through participation in religion and/or belief in God, family, naturalism, rationalism, humanism, and the arts. All of these factors can influence how patients and health care professionals perceive health and illness and how they interact with one another. During this panel discussion we will learn from the president of Hospital Chaplain Services and two other speaker that will give us the insights of Jehovah's Witness and Christian Science in healthcare.
DAY 2 (For Interpreters, Translators and Bilingual Providers)
8:30-8:45         OPENING REMARKS   
8:45-10:45       SESSION #1: David, Antonio and Alvaro
Interpreting Challenges vs. Challenging the Interpreter: from interruptions to rare medical terminology
The job of the medical interpreter offers multiple challenges. The interpreter is constantly adapting to and facing those challenges head on without warning. From maintaining register to finding the appropriate meaning, to understanding the cultural implications behind words, the interpreter is constantly striving to render the best possible interpretation despite those multiple challenges. This workshop will allow participants to witness those challenges via live scenarios and discuss the possible options ---through analysis of only 3-4 of those challenges--- to have a successful outcome and maintain the clinical importance of the session.
David Loaiza-Funk.MHS, CMI/CHI, LSSBB serves as the Chair of the Diversity Committee for ACHE-NV Chapter as well as UMC hospital. David has worked with UMC hospital for 5 years leading the Cultural and Linguistic Services Department ensuring quality of Services in communications expanding projects of language proficiency, cultural competency and interpreting training. David has a Masters degree in Healthcare Administration as well as dual certification in medical/healthcare interpreting and a black belt in Lean Six Sigma for Quality improvement. David is currently starting the Nevada Caucus through the National Forum of Latinos Healthcare Executives, and he is the organizer of the event.
Alvaro Vergara-Mery, PHD, CMI see below
Antonio Esclapes, MBA, CHI-Spanish. has worked as a Medical Interpreter at University Medical Center in Las Vegas, NV since 2005. Besides interpreting in a Trauma Level I hospital he collaborates in translation and proofreading of medical literature. He gave presentations at UNLV for the Language Department in order to promote interpreting awareness for the bilingual students interested in pursuing careers in health related fields. He graduated from the School of Interpretation of Southern California Medical Interpreting program. Mr. Esclapes holds a degree in Economics from the Santa Maria University in Venezuela and a MBA from Phoenix University in Las Vegas, Nevada
10:45-11:00    COFFEE BREAK          
11:00-12:00     SESSION #2: Natalya Mytareva
                        Elusive Quest to Maintain Register in Healthcare Interpreting
Register is an essential component of the speaker's message. Interpreters are tasked with maintaining the register to achieve equivalence of meaning between the original and target messages. Yet, is it always possible? And is it always necessary?
The presenter will clarify the concepts of register and dialectal/regional variations of language, and discuss factors affecting the interpreter's ability to maintain register as well as components of mastering this skill. Importance and relevance of maintaining the speaker's register in healthcare settings will be exemplified. In conclusion, participants will practice analyzing messages on the criticality scale of maintaining register in a healthcare encounter.
Natalya Mytareva, M.A., CoreCHI™, is Managing Director of the Certification Commission for Healthcare Interpreters (CCHI) and one of its founding Commissioners. In 2000-2013, Natalya was Communications Director at the International Institute of Akron, a non-profit refugee resettlement agency in Ohio. She is the author and instructor of several courses for healthcare and court interpreters, with the focus on languages of lesser diffusion. Natalya is a Russian interpreter/translator, and started her career as instructor of interpretation/translation courses at Volgograd State University (Russia) in 1991. She holds a combined BA/MA degree from VSU in Philology & Teaching English as a Foreign Language.
LUNCH 12:00-13:00
13:00-14:00     SESSION #3: Cindy Peinado
Language and Culture in Mental Health
This is an interactive program where participants will experience the differences in culture and learn to navigate the challenges presented within their own culture and their patient's culture. Learn how adequate communication impacts and maximizes treatment outcomes with short term and long term effects. Group activities stimulate the participant's ability to respectfully and safely identify such challenges. Each participant will acquire the tools necessary in order to successfully accomplish treatment goals.
Cynthia Peinado's healthcare career began more than 25 years ago after enrolling as a community volunteer in a Moon City, TX public health clinic.  She then worked in nursing serving NICU, Pediatrics, ICU, ER, and Mental Health patients. Her mission for integrating provider services and patient care quality has led her to other roles within Risk Management, Patient Advocacy, Provider & Staff Training and Development. Ms. Peinado now works as a telephonic, video and onsite interpreter at Vanderbilt University Medical Center.  She also provides training and consultation services for health care providers in
14:05-15:05     SESSION #4: Thais Miller
 Interpreting for patients living with HIV and AIDS: Sharing experiences and educational concepts
 This presentation will offer insight into working with patients who have HIV and AIDS, told from the perspective of a medical interpreter who specializes in this field. The incidence of infection among Spanish-speaking patients and the spread of the disease will be covered, in addition to the differences between HIV and AIDS and the types of medicine that are currently available to patients (including how medicines are selected for each patient and the particular regimens and side effects for each). Special topics will also be addressed such as how pregnant patients with HIV are treated, the ways in which different psych conditions are managed for patients with HIV/AIDS and the specific challenges that transgender patients face.
Thais Miller is Brazilian. In 1989, she completed her post graduate education in School Administration in Brazil after earning her B.A. in Education in 1986.
Thais has 19 years of experience working in the capacities of project management, education and administration in South America. In 2002, she was appointed to Secretary of Education by the Mayor of Santana do Livramento. She oversaw the hiring and training of teachers, managed the budgets and coordinated the allocation of resources to ninety-six schools in the city.
Thais speaks English, Spanish and Portuguese and is a nationally-Certified Medical Interpreter (CMI-Spanish) , member of the IMIA and TAPIT associations. She has worked for the Vanderbilt University Medical Center in the Interpreter Services Department for the past nine years
15:05-15:20    COFFEE BREAK
15:20-16:20     SESSION #5: Alvaro Vergara-Mery, PhD, CMI
Simultaneous Interpreting Practice for Medical Interpreters SPA ENG
Simultaneous interpreting implies that you must be able to render your interpretation in the target language at the same time as you are listening to the source language. This workshop will allow participants to work on memorization and visualization exercises, paraphrasing, dual task and other interpreting techniques and strategies to have a successful outcome in various scenarios in the medical setting so the clinical importance of the session is preserved. Participants will also learn tips to increase vocabulary, improve memory, and find resources for extra practice. This advanced level training is for medical interpreters whose working languages are Spanish and English.
Alvaro Vergara-Mery, PHD, CMI is a Certified Medical Interpreter and trainer in the Cultural and Linguistic Services Department at University Medical Center in Las Vegas, Nevada.  He is in charge of interpreter education and training, language proficiency, cultural competence, translation and curriculum design. He has extensive experience as a practicing medical interpreter in a Level I Trauma center that serves a large population of Spanish-speaking patients and he is nationally recognized for his advanced level workshops for medical interpreters. He is also a certified trainer and a cultural and language access consultant and has received California Healthcare Interpreters Association's 2016 Trainer of the Year Award.
16:20-16:30     CLOSING REMARKS
TRAVELING ACCOMODATIONS
HEALTHCARE DIVERSITY AND INCLUSION SYMPOSIUM
RESERVATION INSTRUCTIONS
04/27/2017 -04/30/2017 ($39.99 - 99.99)
Palace Station is pleased to offer the following rates for guests of Healthcare Diversity and Inclusion Symposium.  These rooms and rates are on a first-come first-served basis. 
Please be advised that all rates quoted are per room, per night, single or double occupancy.  There is a $15.00 charge required per room for triple occupancy and $30.00 per room for quad occupancy. A $9.99 Hotel Service's Fee will be added per room, per night. The above room rates and Hotel Service Fee are subject to Clark County room tax, (currently at 12%, as of 01/15/2017 12.5%, as of 03/01/2017 13.38%). Please note: Room tax is subject to change at any time without prior notice.
Palace Station Hotel & Casino will take reservations for Healthcare Diversity and Inclusion Symposium until 04/13/2017. After this date the hotel will take reservations on an availability basis and at prevailing hotel rate.
RESERVATION PROCEDURES:
Individuals attending the Healthcare Diversity and Inclusion Symposium are to call the Reservations Office at (800) 634-3101, and ask for offer code PCIACHE In order to receive the Healthcare Diversity and Inclusion Symposium room rate a credit card must be posted and will be charged 1 night room and tax.   A 72 hour notice is required to cancel a room without penalty.  A $100.00 security deposit is required either by credit card or cash upon check-in.
Palace Station Hotel & Casino Features:
Located 5 miles from McCarran International Airport and a quarter mile from the Las Vegas Strip. 
Free scheduled shuttle service to and from McCarran International Airport and Las Vegas Blvd

Free parking / Free domestic long distance calls
Self Service Boarding Pass Printing access

Two swimming pools, hot tubs and workout facility

Starbucks Coffee Outlet, Little Tony's Pizza, The Oyster Bar, and Subway
AIRLINE INFORMATION ACHE has arranged reduced airfares with United Airlines. Go online to www.united.com and use the offer code ZX43582180 to receive a 2 to 10 percent discount. All ticketing and booking fees will be waived with an online reservation. To make a reservation over the phone for a $25.00 service fee, call (800)-426-1122 and use the same offer code.
CAR RENTAL DISCOUNT ACHE has arranged for a car rental discount with Avis and Hertz rental car companies. Contact Avis directly at (800) 331-1600, mention AWD #B409099 and receive a 5 to 25 percent discount on your rental. Or click here to reserve your car rental now: www.avis.com. Or call Hertz directly at (800) 654-2200, and mention CDP #167207 and PC #132871 to save up to $25 on your rental. LOCAL INFORMATION For more information on Las Vegas, contact the Las Vegas Convention and Visitors Authority at (702) 892-0711 or visit their website at http://www.lvcva.com
Have questions about NV Diversity and Inclusion in Healthcare - An ACHE-NV, NFLHE-NV and HFMA event.?
Contact David Loaiza-Funk
When & Where

Palace Station Hotel & Casino
2411 W Sahara Ave
Las Vegas, NV 89106


Friday, April 28, 2017 from 9:00 AM to 5:00 PM (PDT)
Add to my calendar
Organizer
Nevada Minority Health & Equity Coalition;
American College of Healthcare Executives - Nevada Chapter