Description
Start the New Year off right!
Whether you are starting a new venture, building your existing small business, or simply interested in entrepreneurship, the New Year is always a great time to begin planning for success. But, what does it take to build success into your planning?
Nuts & Bolts of a Successful Business is an engaging conversation where our guest, Carine Dieude of Altima Business Solutions, will share her top 3 tips for planning a successful year, share stories and examples of how her most successful clients have built their businesses and will answer your questions around startups, strategy, operations, money, and management. Carine is also one of our Venture Mentors so this is a great opportunity to learn about how she helps new ventures succeed.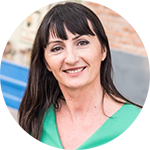 Carine Dieude - Altima Business Solutions
Carine has lived and worked in five different countries, started several ventures, and worked in corporate before becoming a Partner at Altima Business Solutions. In her free time, she volunteers to help entrepreneurial-minded people through the following organizations: Peer Collaborator for the Nelson Mandela Fellowship Program; Venture Devils Mentor at Arizona State University; Entrepreneurship Expert Mentor at WP Carey School of Business; SBIR/STTR Commercial Reviewer at the National Science Foundation; Spanish translator volunteer for the National Kidney Foundation of Arizona; Director of the Board at Girls In Tech Phoenix, a global non-profit focused on the engagement, education and empowerment of girls and women who are passionate about technology and chairs the Mentorship Committee to create a culture of diversity in the Phoenix tech scene.
You won't want to miss this opportunity to ask all your questions!
Moderator - Yolanda A. Facio, Director, Community Entrepreneurship, ASU Entrepreneurship + Innovation


Save the Date!
Space is limited so please RSVP to let us know you are coming, and mark your calendars!