Description
Communities have been discovering solutions to local problems for centuries. To experience those solutions takes time: windshield time, listening time, kitchen table time, friend time. How you spend your time is a choice. The High Plains Research Network (HPRN) is a practice based research network of primary care practices, hospitals, health care facilities, and communities located in eastern rural Colorado. The HPRN Community Advisory Council guides and informs the work done by HPRN. These local residents help researchers conduct work that is relevant to the community of practices and people. The HPRN spends time engaging local residents to find solutions, while making them part of usual care. The HPRN has found the tools it needs to make community-engaged research work. What tools do you need?
Community members, faculty, practitioners, staff, and students are welcome.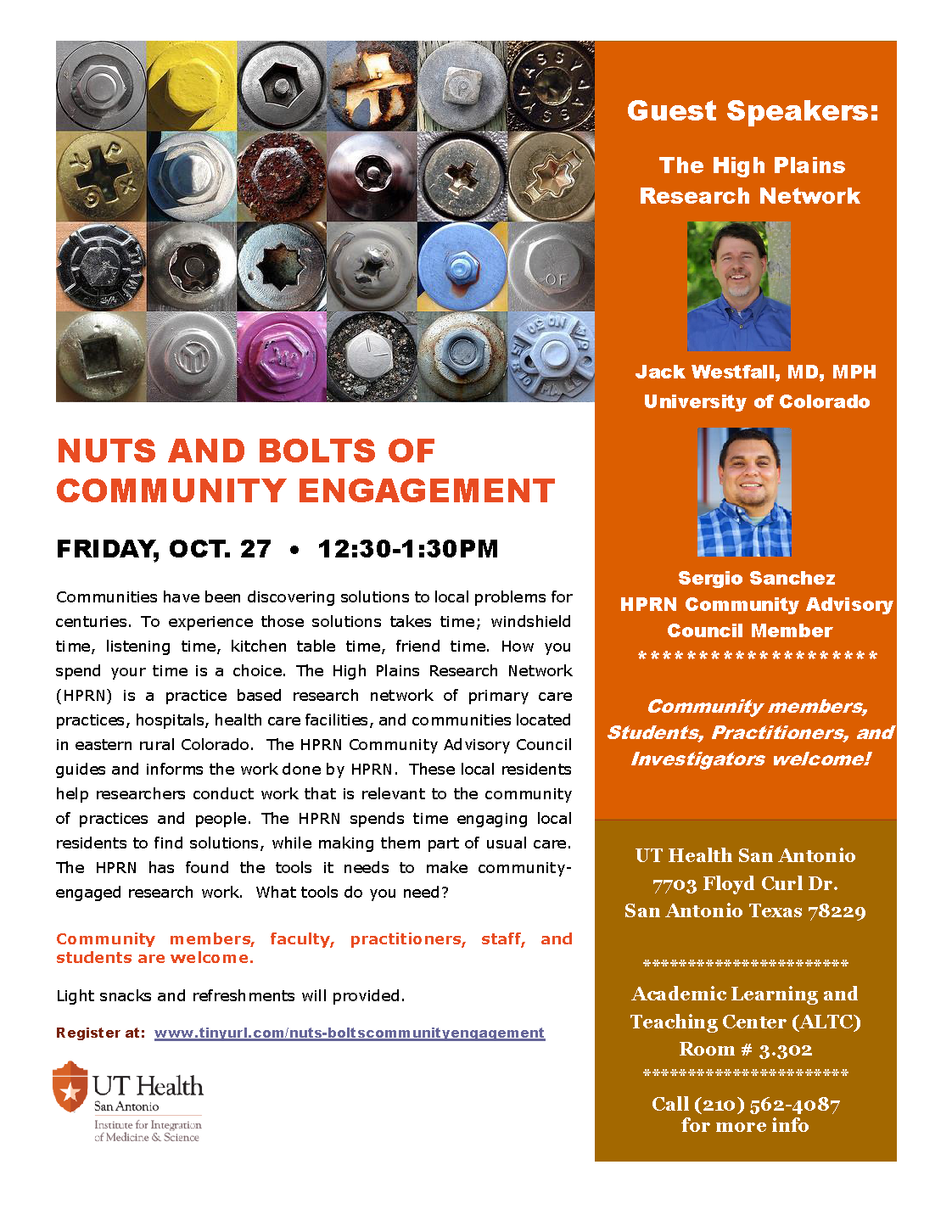 Jack Westfall is a family physician in search of rural goodness. He grew up in a small town on the windy plains of eastern Colorado. After attending medical school at the University of Kansas, he completed his Family medicine residency at Rose Hospital in Denver and joined the faculty in the Department of Family Medicine. With support from the Robert Wood Johnson Foundation, he started the High Plains Research Network (HPRN), a geographically based community and practice-based research network in eastern Colorado that continues to address health issues important to the communities. The HPRN is managed by a community advisory council of farmers, ranchers, school teachers, small business owners, and other local community members. Dr. Westfall firmly believes that access to healthcare is a right and he works fervently to integrate primary care, behavioral health, and community organizations into local communities of solution. Dr. Westfall spent 2.5 years as the Chief Medical Officer for the Colorado HealthOP non-profit cooperative. The world has much to learn from rural communities. As Professor of Family Medicine and Director of the High Plains Research Network, Jack works to bring additional rural health policy and patient engagement experience to the University.
Sergio Sanchez likes to think of himself as a good-looking Mexican guy in a wheelchair. Mr Sanchez lives in Yuma, Colorado. He has found that socializing is very important and encouraged by life in a small town. He takes great pride in being a guy who started from the bottom and worked his way up. Mr. Sanchez and his family have been involved in the Community Advisory Council for the High Plains Research Network for 6 years. This unforeseen adventure gives them a deeply meaningful way to impact the health of their immediate community, while also allowing them to positively influence the way the healthcare providers and researchers interact with their sparse, underserved population. Mr. Sanchez enjoys spending his day rolling through life and enjoying every moment of it by sharing his life's journey and guiding others to not quit on life, no matter what it throws at you. You always "Keep Rolling On." For a glimpse into his world, visit www.thewheelofgrace.com.
LIght snacks and refreshements will be provided.
Date and Time
Location
UT Health San Antonio
7703 Floyd Curl Dr.
Academic Learning & Teaching Center, Rm #3.302
San Antonio, Texas 78229