Nutritional Genomics & Personalised Nutrition introductory webinar

Tuesday, April 4, 2017 at 8:00 PM (BST)
Event Details
Nutritional Genomics, digital health & personalised nutrition are hot topics right now! This accredited 90 minute introductory webinar covers everything you need to know from basic genetics, nomenclature,diet-gene interaction examples, limitation,ethics,regulation, the nutrigenetic and precision nutrition testing market,consumer attitudes as well as where to find further resources.  The course has been developed by an award-winning dietitian, business consultant, educator and public speaker specializing in Nutritional genomics, digital health and personalised nutrition. You can join the webinar from the comfort of your home or office at a suitable date.
The course is fully referenced and has been accreditted by the BDA for CPD points and by the CDR for 3CPU´s level 3
The genomic era has arrived! stay ahead and updated by joining us on this webinar, places are limited!!
Some comments from previous attendees:
" Love the webinar format!, easy and convenient to access from home, great content, multiple dates AND it counts towards my CPD- brilliant..."- London RD
" This course has wetted my appetite to learn more about Nutritional Genomics!" Birmingham RD
" Excellent webinar, I now understand the basics and can now get on with learning more detailed info on my specialist interest topic"- Yeovil RD
" I really enjoyed the webinar and look forward to taking my studies forward from here" Devon RD
"  Very interesting webinar about this emerging exciting field. I now have a better understanding of the field and eager to learn more!" - RD
"Many thanks for this informative introduction to this mine field of a topic. I have a lot of reading to do to get myself up to date on the topic." -London RD
Frequently Asked Questions:
Q: How long does the webinar last?
A: Approximately 60-90 minutes, there will be a live Q&A section at the end
Q: Is it a "live" or recorded session?
A: The webinars are all live, we may record some of the sessions
Q: I have specific questions, can I send them ahead of the webinar?
A: Of course!, you will receive an email ahead of the webinar requesting questions which will be addressed at the end of the webinar. I will try my best to answer all of them 
Q: I would like my trust to pay for the course, can you provide an invoice?
A: Registration is on a first come, first serve basis. We cannot reserve tickets therefore it is best to pay for your ticket up front and claim the money back from your trust after the event.
Q: Who is this course aimed at?
A: This course would suit most postgraduate, experienced nutrition professionals who have not had any nutritional genomics in their undergraduate courses. However, it would also suit new graduates who are interested in how this field is developing in the "real-world"
Q: How will I know that the course been accredited by the BDA?
A: The course has been peer-reviewed according to strict guidelines by the BDA, we can therefore use the BDA logo on the course material and attendance certificate accordingly
Q: What will I get once I register for the course?
A: Presentation slides with reference list
    Access to a private LinkedIn group
    Weekly newsletter with updates in the field of Nutritional Genomics, perspnalized nutrition, digital health &  
    functional food
    Certificate of Attendance
    CPD points
Q: Is there any recommended reading before the webinar?
A: There are a few references which will be sent to you a week before the webinar in preparation for the day
Can´t attend but would love to learn?, why not get the recording and listen anytime on any device, for more details and to purchase for instant download, send me an email to info@marietteabrahams.com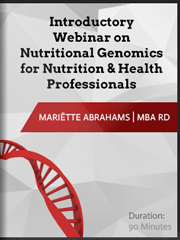 Organizer
Mariette Abrahams MBA RD
Mariette is an experienced Nutritionist and nutrition business consultant who has 20+ years in the clinical nutrition, medical nutrition and consulting industry. Over the last 5 years she has integrated new technologies into her practice and has since consulted with numerous start-ups, companies and organizations in the personalised and precision nutrition industry. She speaks regularly at national and international events and conducts training for healthcare professionals who just don´t know how to get started or who are looking to get ahead in their career.
More information about Mariette and to receive weekly updates on personalised nutrition, visit http://marietteabrahams.com