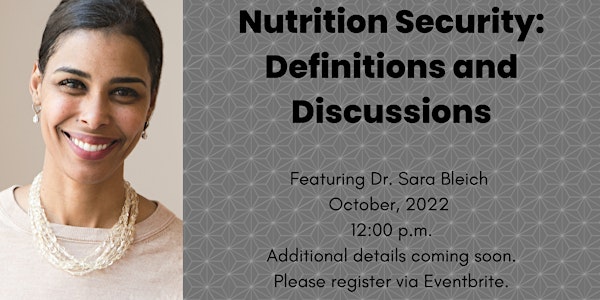 Nutrition Security: Definitions and Discussions
Join us to discuss USDA's efforts to define "nutrition security" and how it intersects with health equity.
About this event
Virtual via Zoom
Nutrition security means all Americans have consistent access to the safe, healthy, affordable foods essential to optimal health and well-being. Nutrition security builds on food security by focusing on how the quality of our diets can help reduce diet-related diseases. It also emphasizes equity and tackling long-standing health disparities.
Join USDA and NAL for a two-part event discussing nutrition security and how USDA is working to promote and elevate nutrition security.
During the event, Dr. Sara Bleich will give an overview of nutrition security and how USDA wants to engage with all its partners and stakeholders on ways to increase nutrition security so together we can make progress that will change lives and ensure a healthier, more prosperous future for all Americans. USDA's work to advance nutrition security focuses on the following four pillars: meaningful support, healthy food, collaborative action, and equitable systems. Dr. Bleich will be joined by representatives from the Department who will share how their work advances nutrition security. Attendees will be able to ask questions and join breakout groups to discuss these concepts and activities further with USDA representatives and other meeting attendees.
For the second half of the day's event, attendees will learn how to edit Wikipedia while working with experienced editors to update and write Wikipedia articles about nutrition, food, and nutrition security.
Please join us July 13th, at 12:00 p.m. for this virtual event. Additional details coming soon.