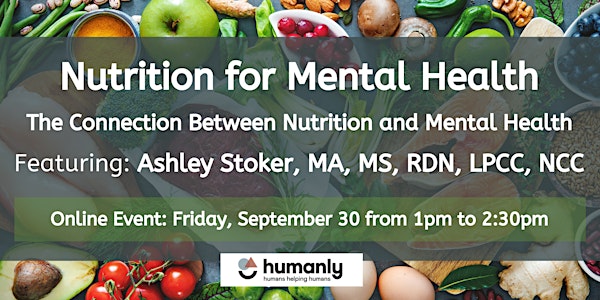 Nutrition for Mental Health
Learn from Fort Collins dietician and counselor, Ashley Stoker, MA, MS, RDN, LPCC about the connection between nutrition and mental health!
About this event
Online event for Fort Collins area mental health professionals to learn the deep connection between our nutrition and our mental health. Ashley Stoker, MA, MS, RDN, LPCC will be sharing some insights and science around her work in behavioral health nutrition. There will be time for Q & A to follow the talk, as well as time for attendees to share a little about yourselves and your practice to connect and broaden your network.
Learning Objectives:
Explain the Nutrition for Mental Health Model
Describe the role of inflammation in depression and how food and nutrients interact in this pathway
List six nutrition-related interventions for depression
Identify clients who might benefit from a Nutrition for Mental Health Approach
Overview:
Redefining the Outcomes in Nutrition Programs and Approaches
Evolution of Nutrition Frameworks
The Nutrition for Mental Health Model
Depression as an Inflammatory Disease
Biological Mechanisms of Depression and How Food and Nutrients Interact in These Pathways
The Gut-Brain Axis-When Things Go Awry & Relationship to Mood Disorders
Overview of Nutrition-Related Interventions and Treatments Peer-reviewed Studies Reveal Can Help Prevent and Treat Depression
Clients Who Can Benefit from a Nutrition for Mental Health Approach
We look forward to you joining this exciting and informative interactive talk!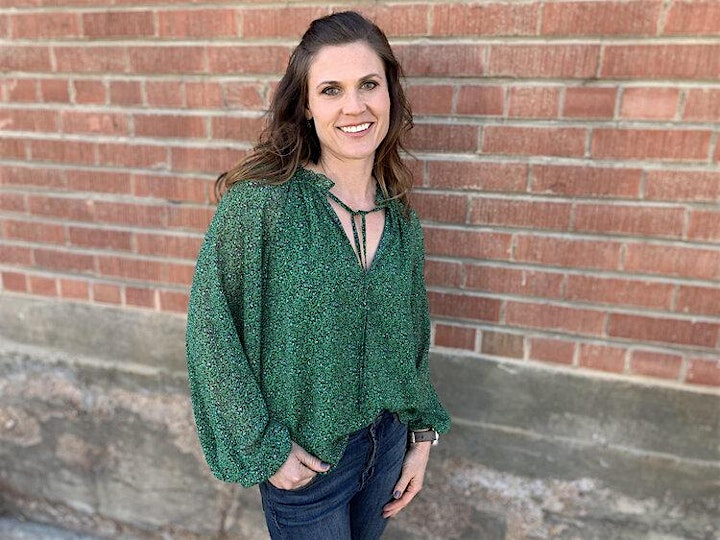 About Our Featured Expert:
Ashley Stoker, RD, LPCC, MS, MA, NCC
She/Her/Hers
Private Practice: Mind Body Nutrition Counseling
"I am a registered dietitian nutritionist and licensed professional counselor candidate providing outpatient private practice nutrition counseling services and teaching group nutrition education for mental health and substance recovery. I have 14 years of experience in behavioral health-six years in research, and eight years of experience as a dietitian in inpatient and outpatient behavioral health. I am also a licensed professional counselor candidate. I specialize in integrating nutrition therapy with mood disorders, disordered eating, and substance use/recovery. Additionally, I provide medical nutrition therapy for numerous medical and behavioral health conditions. "
Learn more about Ashley: Mind Body Nutrition Counseling