About this Event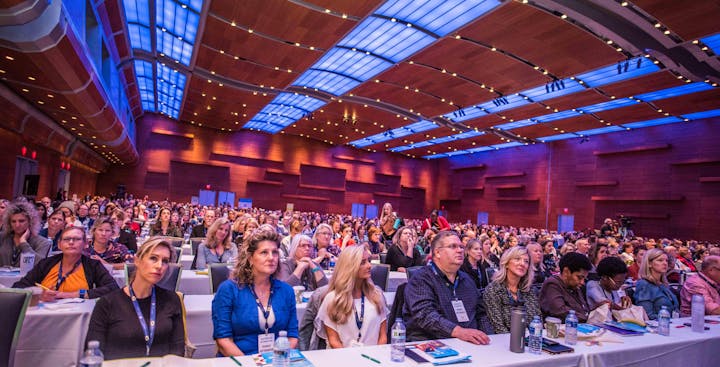 If you're looking to learn about the positive impact nutrition can have on health, then please join us for the second annual Nutrition as Medicine event. The event is presented by Sentara Healthcare, in partnership with EVMS M. Foscue Brock Institute for Community and Global Health.
This one-day conference brings together renowned nutrition experts to share scientifically-supported insights that can be used to treat, reverse, or prevent chronic diseases.
Nutrition as Medicine is for both medical professionals and the community.
For healthcare providers, Nutrition as Medicine is a medical education opportunity that will help advance nutritional medicine throughout the patient care spectrum. Details regarding CME credits are below.
For consumers and members of the community, Nutrition as Medicine is an opportunity to learn about the impact nutrition can have on cardiovascular disease and diabetes, losing weight and improving quality of life through what you eat.
This event will explain:
The impact a plant-based diet can have on widespread chronic diseases such as cardiovascular disease and diabetes.
The scientific evidence on how and why a whole-food, plant-based diet can stop heart disease from progressing—and sometimes reverse it.
How eating whole-food, plant-based meals a few days a week can benefit health and improve quality of life.
You will hear from nationally-renowned speakers, including Dr. Nicole Avena, PhD, Michael Greger, MD, Julieanna Hever RD, and Dean Ornish, MD.
Additionally, the event will include:
A nutritious plant-based lunch
Ways to introduce more plant-based meals into your everyday life
Access to a wellness vendor village
Join us November 9, 2019, from 8:00 a.m. - 5:00 p.m. at the Virginia Beach Convention Center for the 2nd annual Nutrition as Medicine event. Space is limited, and you must register in advance to attend.
Please visit this page for Sentara's privacy policy.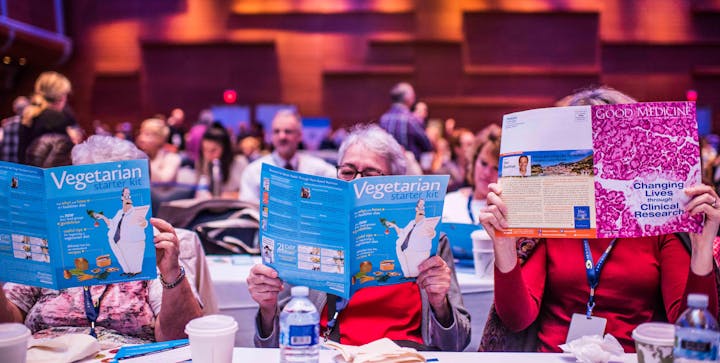 Accreditation
This activity has been planned and implemented in accordance with the accreditation requirements and policies of the Accreditation Council for Continuing Medical Education (ACCME) through the joint providership of Eastern Virginia Medical School and Sentara Healthcare. Eastern Virginia Medical School is accredited by the ACCME to provide continuing medical education for physicians.
Credit Designation
Eastern Virginia Medical School designates this live activity for a maximum of 4 AMA PRA Category 1 Credits (TM). Physicians should only claim credit commensurate with the extent of their participation in the activity.
About the Speakers
Dr. Nicole Avena, PhD, is a research neuroscientist and expert in the fields of nutrition, diet and addiction, with a special focus on nutrition throughout the lifespan. She received her PhD from Princeton University, followed by postdoctoral training at The Rockefeller University in New York City. Her research has been honored by groups including the New York Academy of Sciences, the American Psychological Association, and the National Institute on Drug Abuse. Dr. Avena has written several books, including What to Eat When You're Pregnant and What to Feed Your Baby and Toddler. She regularly appears as a science expert on the Dr. Oz Show, Good Day NY, and The Doctors, as well as other news programs. Her work has been featured in Bloomberg Business Week, Time Magazine for Kids, The New York Times, Shape, Men's Health, Details, and many other periodicals. Dr. Avena is a member of the Penguin Random House Speakers Bureau. She has the #2 most watched TED-ED Health talk, How Sugar Affects Your Brain.
Michael Greger, MD, FACLM, is a physician, New York Times bestselling author, and internationally recognized speaker on nutrition, food safety, and public health issues, as well as a founding member and Fellow of the American College of Lifestyle Medicine. He has lectured at the Conference on World Affairs, testified before Congress, and was invited as an expert witness in the defense of Oprah Winfrey in the infamous "meat defamation" trial. In 2017, Dr. Greger was honored with the ACLM Lifestyle Medicine Trailblazer Award. He is a graduate of Cornell University School of Agriculture and Tufts University School of Medicine. His latest book How Not to Die became an instant New York Times Best Seller. He has videos on more than 2,000 health topics freely available at NutritionFacts.org, with new videos and articles uploaded every day. All proceeds he receives from his books, DVDs, and speaking engagements is all donated to charity.
Julieanna Hever, MS, RD, CPT, The Plant-Based Dietitian, has a BA in Theatre and MS in Nutrition, bridging her biggest passions for food, presenting, and helping people. She has authored four books, including Plant-Based Nutrition (Idiots Guide) 2E and The Vegiterranean Diet, and two peer-reviewed journal articles on plant-based nutrition for healthcare professionals. Her brand new book with Ray Cronise, The Healthspan Solution, publishes in December 2019. She was the host of What Would Julieanna Do? and co-host of Home Sweat Home, gave a TEDx talk, and instructed for the eCornell Plant-Based Nutrition Certification Program. She's appeared on Harry, The Dr. Oz Show, and The Steve Harvey Show. Julieanna is the Co-Founder and Nutrition Director for Efferos, and she speaks and consults with clients around the globe.
Dean Ornish, MD, is the Chief Medical Officer for Ornish Lifestyle Medicine by Sharecare, founder and president of the non-profit Preventive Medicine Research Institute, Clinical Professor of Medicine at the University of California, San Francisco and Clinical Professor of Medicine at the University of California, San Diego. Dr. Ornish received his M.D. from the Baylor College of Medicine, was a clinical fellow in medicine at Harvard Medical School and completed an internship and residency in internal medicine at the Massachusetts General Hospital. He earned a B.A. in Humanities summa cum laude from the University of Texas in Austin, where he gave the baccalaureate address.
For almost 40 years, Dr. Ornish has directed clinical research demonstrating, for the first time, that comprehensive lifestyle changes may begin to reverse even severe coronary heart disease, without drugs or surgery. Medicare created a new benefit category to provide coverage for this program, the first time that Medicare has covered a program of comprehensive lifestyle changes. In 2016, Dr. Ornish and Sharecare partnered with Sentara to offer Ornish Lifestyle Medicine in the Virginia Beach community. Dr. Ornish is the author of six books, mostly recently Undo It!
Agenda (Subject to Change)
8:00 a.m. - Registration and Vendor Village
9:00 a.m. - Welcome
Deepak Talreja, M.D.
Cardiologist
9:05 a.m. - Introduction to Nutrition as Medicine
Cynthia Romero, M.D.
EVMS M. Foscue Brock Institute for Community and Global Health
9:15 a.m. - The Transformative Power of Lifestyle Medicine
Dean Ornish, M.D.
10:15 a.m. - Vendor Village Break
10:45 a.m. - Food Addiction: How Our Modern Food Environment is Hijacking Our Brains, and How We Can Overcome It
Nicole Avena, PhD
11:45 a.m. - Lunch & Vendor Village
1:15 p.m. - Food Is Medicine: Simple Steps to Fill Your Plate With Delicious Food
Julieanna Hever, MS, RD, CPT
2:15 p.m. - HOW NOT TO DIE: The Role of Diet in Preventing, Arresting, and Reversing Our Top 15 Killers
Michael Greger, M.D.
3:15 p.m. - Closing Remarks
3:30 p.m. - Book Signing: Dr. Greger