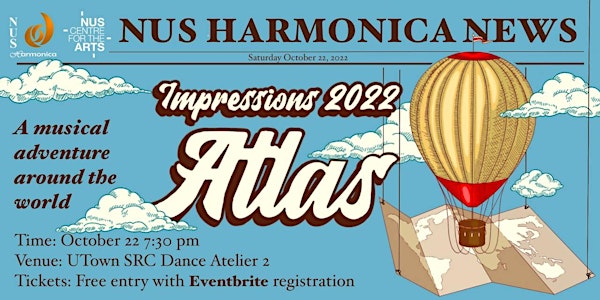 NUSHO Impressions 2022: Atlas
"Impressions" is an annual concert by NUSHO to showcase different genres of music played in ensemble and solo setting.
When and where
Location
Stephen Riady Centre 2 College Avenue West Singapore Singapore
About this event
Impressions 2022: Atlas aims to explore the music of the world. We aim to bring the audience through a plethora of different musical genres, and to celebrate our differences through harmonica playing.
Atlas refers to the collection of maps with specific significant details. Correspondingly, in this year's concert, we will be picking out prominent pieces that reflect the music around the world.
Impressions 2022: Atlas celebrates the world's music through this year's harmonica repertoire. The pieces in the programme lineup are distinct yet recognisable at the same time. Similar to an Atlas, we pinpoint significant pieces and bring you along through this memorable journey.
The diversity of the music not only aims to celebrate the differences of music around the world, but also showcases the flexibility and range of NUSHO's repertoire. We aim to allow the audience to discover not only music that they are familiar with, but to leave with greater appreciation of the music of the world.
Details of event:
Location: Stephen Riady Centre Dance Atelier 2
Date: October 22 7 30 pm (Saturday)
Attire: Smart casual
Admission begins 15 minutes prior to the start of the performance, at 7 15pm.