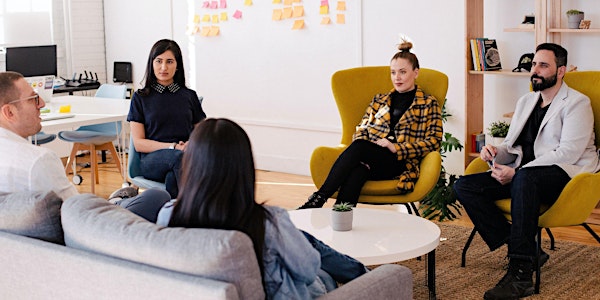 Nurturing Vitality - Eight Week Therapy Group (Informational Session)
Interested in building community while developing your communication and interpersonal skills with likeminded individuals?
About this event
This is a free, informational orientation for those interested in participating in an in-person, eight-week process group to meet weekly from 6:30-8PM on Thursdays beginning Thursday, 9/15 and ending on Thursday, 11/10. Upon registration, you will receive the link to the event content in your order confirmation email, and in a reminder email before the event starts. You will need the email you used to purchase your ticket in order to access the Zoom link on the Online Event page.
*Attending the informational session does not commit you to participating in the group nor does it guarantee participation in the group as all interested members will be screened by the co-facilitators for suitability on a rolling basis. If you miss the informational meeting and are still interested in joining the group, please contact the facilitators to schedule a phone or virtual screening.*
___
What's a Process Group?
A process group is an unstructured meeting of 5-10 individuals who are looking to expand their communication and interpersonal skills with the other participants. The emphasis is less on learning a particular skill and more on how to give and receive constructive feedback. Participants are encouraged to respectively express their here-and-now experience of the group and particular members within it. CSU has a concise and informative overview of what a process group is like.
The Investment
Our process group will consist of eight members co-facilitated by two therapists meeting weekly over a period of eight weeks from Thursday, 9/15 through Thursday, 11/10. Meetings will be held on Thursdays from 6:30-8PM in person.
Participants pay $40 per session for a total of $320 for the entire offering and are expected to attend every session to ensure respect, safety, and trust can be developed with the other members.
All interested participants will be screened over the phone or virtually for suitability on a rolling basis. Screened candidates who have committed to joining will be required to put down a deposit of $80 to secure their spot and do not have to attend this informational meeting. We encourage BIPOC and LGBTQIA+ folks to attend!
Contact Us
Contact Marielle at contact@mentalhealthwithmarielle.com | 719-428-6267 or Elliott at elliottross@transformationcooperative.org | 720.772.7973 to schedule a 15-20 minute phone screening.
___