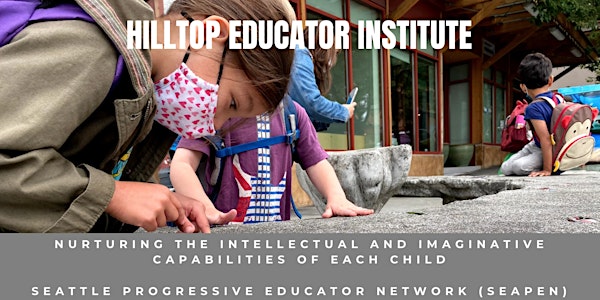 Nurturing the Intellectual and Imaginative Capabilities of Each Child
Refund policy
Refunds up to 7 days before event
Eventbrite's fee is nonrefundable.
Sales Have Ended
Ticket sales have ended
Thanks for registering! You'll receive the zoom invite from institute@hilltopcc.org, 48 hours before the workshop. If you registered less than 48 hours you'll receive the zoom invite the day of.
NEW DATE & TIME! This workshop is designed to reframe the conversation and our work with young children. Let's nurture in multiple ways!
About this event
Overview:
Our presenters will share some stories and ideas for you to take back to your classroom to support both the intellectual and imaginative/creative capabilities of your students. We will discuss ways to affirm and celebrate each student's culture and identity as we support their intellectual and imaginative growth, as well as reflect on our own experiences with imaginative play and learning. Be ready to play, imagine, think, reflect and share!
About the Presenters:
*Grace Shickler (she/her)
Grace Shickler was a founding teacher at Muscota New School in Manhattan, a multi-age progressive public school of choice serving anti-racist curriculum to primarily Latinx students. She moved and served as Early Childhood Director for grades Preschool through 3rd at High Meadows School in Roswell, Georgia. Grace currently runs Consult with Grace offering advice to parents, teachers and administrators regarding anti-racist curriculum, progressive practice and developmentally appropriate education in early childhood.
*Dr. Hollee Freeman (she/her)
Dr. Hollee Freeman is an award-winning career educator with over three decades of work in K-12 and higher education. Dr. Freeman is an educational advocate and author who is the Executive Director of the MathScience Innovation Center in Richmond, VA. Here, she combines her love of STEM content, curriculum development and hands-on programming for students and adults, particularly those who are typically marginalized in STEM and STEM-related fields.
Dr. Freeman is the owner and operator of Freeman Educational & Business Consulting and Hollee Freeman Photography. Through this work, Dr. Freeman develops curricula locally and for school systems in the United States. She also develops and teaches a variety of classes for adults and students focusing on creative writing, literature studies, environmental sustainability and STEM, more broadly. Dr. Freeman has authored numerous professional book chapters and articles focused on educational reform, teaching, gender equity and STEM. She is also a self-published author of three children's books and 15 elementary readers for Boston Public Schools. Hollee has shared her work around creating space for learning as a TEDx speaker. Through her photography, beekeeping, and classes experiences, Dr. Freeman brings people into a closer relationship with nature, each other and themselves. You can learn more about Hollee by watching her TEDx talk https://youtu.be/ZEi03HojVi8 and by visiting her website https://holleefreeman.com/.
Melissa Schmoll (she/her)
Melissa has been an educator for over twenty years, working with children ages 4 to 14. She is currently the art teacher at Hamlin Robinson School, a school designed specifically for children with dyslexia and other language-based learning differences, in Seattle. As a progressive educator, Melissa works to create an experience for children that is relevant and experiential, honors the whole child, and celebrates the unique humans that we are with a commitment to equity and social justice. Melissa is the founder of the Seattle area Progressive Educators' Network (SeaPEN), a local version of the national Progressive Education Network (PEN). She is currently serving as the chairperson of the planning committee for the national PEN Conference, which will take place in Seattle October 7-9, 2022. Information and registration for the conference is here.
Seattle Progressive Educator Network (SeaPEN) believes that the purpose of education transcends preparation for college or career. Schools nurture citizens in an increasingly diverse democracy. Within the complexities of education theory, practice, policy, and politics, SeaPEN promote a vision of progressive education for the 21st century.
City of Seattle Department of Education and Early Learning (DEEL)
If you are an early learning partner of the City of Seattle Dept. of Education and Early Learning in the Seattle Preschool Program (SPP), the SPP Pathway, & ECEAP & City of Seattle DEEL Early Learning Staff please use the option marked "DEEL"
Washington STARS hours available - please bring your MERIT I.D. number.
Part of the Hilltop Educator Institute event series. Check out our other events!