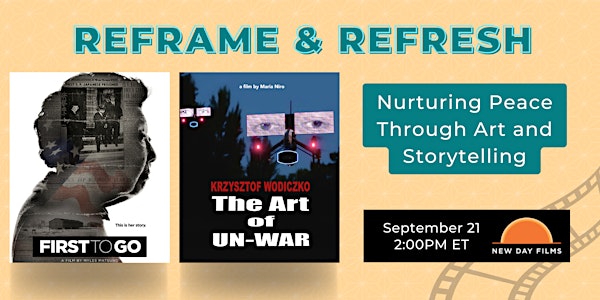 Nurturing Peace Through Art and Storytelling
Celebrate International Day of Peace with us in discussing fostering peace and healing from war through art and film.
About this event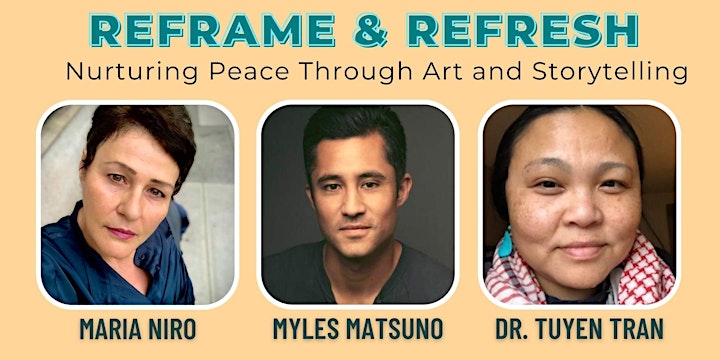 In honor of the International Day of Peace, join us for this conversation with filmmakers, Myles Matsuno (First To Go: The Kataoka Family), Maria Niro (The Art of Un-War) and Dr. Tuyen Tran, Assistant Director of California History-Social Science Project at UC Davis as they discuss "Nurturing Peace Through Art and Storytelling." Matsuno's great-grandfather, Ichiro Kataoka, was the first San Francisco Japanese prisoner taken by the FBI from his hotel in Japantown and his film, First To Go shows how family members have dealt with the aftermath of Japanese incarceration during World War II. The Art Of Un-War explores the life and the powerful social art practice of renowned artist Krzysztof Wodiczko who invites veterans, immigrants and refugees to participate in his projects. Their stories of loss, displacement, abuse and PTSD combined with Wodiczko's own story of war trauma emerge in tandem as the projects become a vehicle for healing.
You will receive the link to join the discussion in your email after registration. Auto-captions will be available.
REFRAME AND REFRESH is a series for the education and filmmaking community to have refreshing conversations that reframe our perspectives.
ABOUT THE SPEAKERS
Myles Matsuno is an award-winning director and producer who was born and raised in Los Angeles, CA. His work is often recognized for capturing meaningful moments. Having served as Technical Director for Disney, ABC for shows such as The Academy Awards, NBA Finals, CMA Awards, and more, his most recent works include his debut feature film in 2021 titled Christmas in July, which had a theatrical release in the US and won several awards throughout the US and Canada. His documentary, First To Go, tells the personal story about his family being incarcerated in the Japanese American internment camp during WWII. Fun Fact: Myles is a marathon runner, with a personal best of 2:30; and made his Pro Debut in 2022 at the Los Angeles Marathon.
Maria Niro is a New York City-based artist, and filmmaker. Her work crosses several disciplines: film, video, photography and sound. Her moving image work includes long form documentary, and experimental shorts. Her past work has been recognized and/or supported by the New York State Council on the Arts (NYSCA), Lincoln Center for the Performing Arts, New a York Foundation for the Arts (NYFA) the Polish Cultural Institute NY, the Puffin Foundation, the National Museum of Modern and Contemporary Art Seoul S Korea, and City Artists Corps Grant, among others. Niro's films have screened and exhibited in galleries, museums and in theaters worldwide including the National Gallery of Art in DC, Harvard Art Museums, Teatro de San Carlo in Naples Italy, Whitechapel Gallery UK, Microscope Gallery NYC, Queens Museum NYC, Lincoln Center for the Performing Arts, and many others.
Dr. Tuyen Tran is the Assistant Director of the California History-Social Science Project (CHSSP). The CHSSP's statewide office, headquartered at the University of California, Davis, oversees and coordinates the work of five regional sites at UC Berkeley, UC Davis, UC Irvine, UCLA, and UC Santa Cruz. Tuyen has the privilege of working with colleagues, teachers, and scholars in advancing history education guided by California's History-Social Science Framework and Standards. This includes K-12 classroom instruction that is reflective of the latest scholarship in the field and is culturally relevant to the experiences and histories of California's diverse student population. Tran received her Ph.D. in History from UC Berkeley in 2007. She studied twentieth century US History and Asian American History, particularly the history of Southeast Asians in America. She manages CHSSP's grant programs, including the Library of Congress's Teaching with Primary Sources Program and Teaching California (in partnership with the California Historical Society). Tran and her family left Vietnam by boat after the Vietnam War. They made a long and complicated journey to the U.S., eventually settling in Sacramento, CA as refugees.
ABOUT NEW DAY FILMS
New Day Films is a unique, filmmaker-run distribution cooperative, providing award-winning films to educators, community groups, government agencies, public libraries and businesses since 1971. Democratically run by more than 150 filmmaker members, New Day is committed to reflecting greater diversity, representation and inclusion. It is celebrating 50 years of delivering dynamic and provocative storytelling with filmmakers who have won Oscars, Emmys and hundreds of film festival awards. New Day films have been broadcast on PBS, HBO and other media outlets.
ABOUT THE FILMS
First To Go: Story Of The Kataoka Family - A couple hours after the Japanese attacked Pearl Harbor on December 7th 1941, Ichiro Kataoka was the first San Francisco Japanese prisoner taken by the FBI from his hotel in Japantown. Through a series of unfortunate events, Ichiro would not reunite with his family until roughly three years later in Topaz, Utah after President Roosevelt issued Executive Order 9066, which forced all Japanese residing on the West Coast to relocate to desolate Internment Camps throughout the country. Their only crime was being of Japanese ancestry.
Decades later, this family's story is woven together through archival footage and documents, and intimate conversations with a grandmother, her grandson, and relatives. The film reveals what they endured, along with thousands of other Japanese Americans, during this unjust and inhumane time in American history. First To Go walks us through the strength, compassion, and resilience of the Japanese Americans, while showing that a family can find love and happiness in the even darkest of places.
The Art of Un-War follows Krzysztof Wodiczko, an artist and educator renowned for his large-scale slide and video projections on architectural facades and monuments. War, conflict, trauma, memory, and communication in the public sphere are some of the major themes in Wodiczko's oeuvre which spans five decades. The film focuses on Wodiczko's practice which combines art and technology as critical design practices to highlight marginal social communities and address cultural issues that are often overlooked. An instigator for social change, Wodiczko's powerful public art interventions disrupt the valorization of state-sanctioned aggression and challenge our complacency towards war, xenophobia, and displacement. The film focuses on Wodiczko's social practice art and the recurring themes of war, trauma, and displacement in his work.