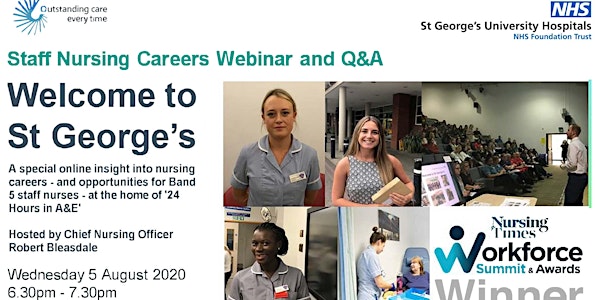 Nursing Careers at the home of 24 Hours in A&E - webinar with Chief Nurse
Join St George's Chief Nursing Officer Robert Bleasdale to find out about nursing careers here, what we offer, and ask any questions
About this event
Discover more about a special place to develop your nursing career here at St George's - home of '24 Hours in A&E'!
We have great opportunities for new nurses in 2020 and 2021. Reserve your place and discover the opportunities to develop your nursing career at one of the UK's biggest and busiest hospitals, where world-leading clinical practice and patient care meets a very special teamworking culture.
Please join us for the special webinar and Q&A with St George's Chief Nursing Officer and Director of Infection Prevention and Control Robert Bleasdale. We can't currently host our popular Open Days due to the pandemic, so we're bringing them to you online! You can also apply and be interviewed by video or phone call at a time and date to suit you.
Rob will talk about the welcome, support throughout your career - and unrivalled learning, training and development opportunities we offer nurses here.
Band 5 staff nurses here enjoy a salary range from £29,888 (Newly Qualified Nurses) to £36,738 a year. There are many great reasons to join us here in the heart of south west London, but just 25 minutes from the city centre.
• Please take look at what we offer on our website here
• If you're a final year nursing student or newly qualified nurse, find out about the special support and opportunities we offer new nurses here
• You can also apply now for Band 5 staff nurse role here
• For an informal chat or more information, please contact Jacqui D'Silva: Jacqueline.DSilva@stgeorges.nhs.uk or 0208 725 1026
• Hear from our nurses about working here on YouTube
Whether you have recently qualified or will do soon, are in your final year, or looking for a new role. please do join us for this webinar. You can also get in touch any time - for an informal chat, to apply and arrange an online, video or phone interview, or find out about opportunities in specific services.
Register now and we will email you a link to join the webinar nearer the time and date.