| | |
| --- | --- |
| | |
Event Details
PLEASE NOTE: This workshop is designed to help support educators who are already implementing number talks regularly in their classrooms or supporting those who are. The focus will be on refining classroom practices to make number talks more meaningful, effective, and push student efficiency and thinking to a deeper level.
If you are interested in attending a Number Talks 1.0 Workshop please contact Christen Schwartz:  cschwartz@cccoe.k12.ca.us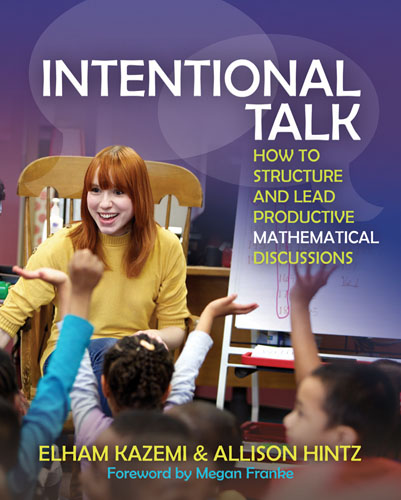 "When teachers plan for and steer productive discussions, children realize it's worth listening to one another and that it's okay to be pressed to say more."
– Kazemi & Hintz
In this one-day workshop we will embark on how to structure and lead productive mathematical discussions. We will emphasize setting mathematical goals for each number talk, learn how to use models to develop students' conceptual understanding, explore how to productively move students toward efficient strategies for problem solving, and provide timely and appropriate feedback to students. Throughout the workshop we will engage and explore open source resources to take our number talks to the next level in student mathematical thinking and engagement. 
---
 We have created 3 different dates for opportunities for you to attend. Please choose one day as the learning will be the same on each day.
 Cost: $125 per particpant
Intentional Talk book and Lunch will be provided 
---
 This session is subject to cancellation or rescheduling if the 15-participant minimum is not met.  Registration fees are non refundable unless a session is canceled.  Substitutions are gladly accepted if a registered participant cannot attend.
1. To pay by check or purchase order: Click on Register. To complete your registration, enter the information required in the fields provided and select the offline payment method of your choice from the "Payment Method" menu.
Please make checks payable to: Contra Costa County Office of Education

Please mail checks to: CCCOE, attention: Christen Schwartz
77 Santa Barbara Road, Pleasant Hill, CA 94523
 2. To pay by credit card: click on the Register button and follow the instructions provided.  
For registration information please contact:
Gina Yetner, Administrative Assistant
gyetner@cccoe.k12.ca.us
or call (925) 942-3356  
For content information please contact:
Christen Schwartz, Mathematics Coordinator
cschwartz@cccoe.k12.ca.us
or call (925) 942-3435 
Where

Contra Costa County Office of Education
77 Santa Barbara Road
Board Room
Pleasant Hill, CA 94523


Organizer
For information, please contact:
Hilary Dito, STEAM Coordinator
hdito@cccoe.k12.ca.us or call (925) 942-3396