NULYP Supreme Court Rally! - Fisher v. University of Texas at Austin

Wednesday, October 10, 2012 from 8:30 AM to 1:00 PM (EDT)
Event Details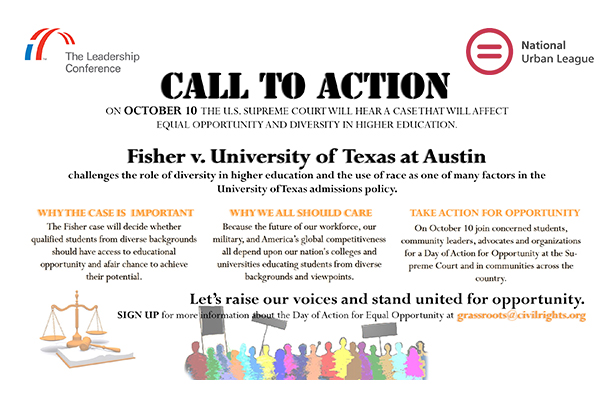 Protect Affirmative Action in Higher Education! Join Rally at the U.S. Supreme Court on October 10th
On October 10, 2012, the U.S. Supreme Court will hear oral arguments in a key affirmative case known as Fisher v. University of Texas at Austin. This case challenges the role of diversity in higher education and the use of race as a factor considered among many factors in the University of Texas admissions policy. The fact that the Supreme Court is willing to take this case is critical! The Fisher Case will decide whether qualified students from diverse backgrounds should have access to educational opportunity and a fair chance to achieve their potential. If the Supreme Court were to bar race-conscious admissions in undergraduate admissions policies, it could lead to the re-segregation of higher education and undermine the future of our workforce, our national security, and America's global competitiveness that all depend upon our nation's colleges and universities graduating students from diverse backgrounds and viewpoints.
On August 13, 2012, the National Urban League joined 16 civil and human rights groups in filing a friend-of-the-court brief with the Supreme Court in support of the University of Texas at Austin's admissions policy. The brief, led by the Lawyers' Committee for Civil Rights Under Law and the Leadership Conference on Civil and Human Rights, calls on the Supreme Court to reaffirm previous rulings such as Grutter v. Bollinger acknowledging that diversity is a compelling state interest, and that it is constitutional for universities to use race as one of the numerous factors when making individualized admissions decisions to further that diversity interest.
SUPPORT AFFIRMATIVE ACTION BY JOINING STUDENTS, COMMUNITY LEADERS, CONCERNED ORGANIZATIONS AND ADVOCATES AT THE RALLY! BRING FAMILY, FRIENDS AND COLLEAGUES!
When:  Wednesday, October 10, 2012, from 8:30am to 1:00pm
Where: In front of the U.S. Supreme Court, Washington, DC

RALLY DAY CONTACTS:
Pamela Rucker Springs, Vice President, Communications & External Relations, National Urban League Policy Institute (NULPI), at  pruckersprings@nul.org or
Suzanne Bergeron, Senior Legislative Director, Workforce, Civil Rights, Social Services, NULPI, at sbergeron@nul.org
When & Where

U.S. Supreme Court
1 First St NE
Washington, DC 20543


Wednesday, October 10, 2012 from 8:30 AM to 1:00 PM (EDT)
Add to my calendar
NULYP Supreme Court Rally! - Fisher v. University of Texas at Austin