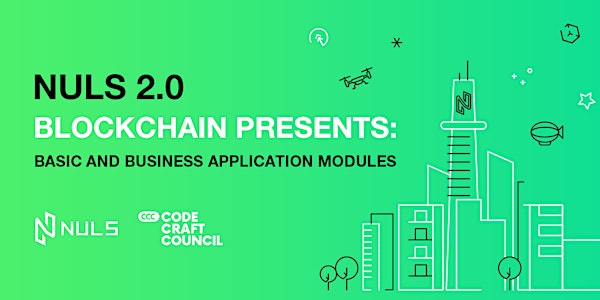 NULS Blockchain 2.0 Beta - Application Module Workshop
Introduction to NULS 2.0 Beta, Basic and Business Application Modules Development.
When and where
Location
250 W. Tasman Dr. Suite 180 250 W. Tasman Dr. Suite 180 San Jose, CA 95134
About this event
NULS 2.0 Blockchain presents an Introduction to Basic and Business Application Modules. This free workshop focuses on the creation of basic and business application modules. NULS allows developers with zero blockchain knowledge to easily create blockchain applications. The application module replaces the dApp and requires no experience or knowledge of blockchain architecture.
The upcoming NULS 2.0 Public Beta includes Chain Box, a collection of 6 basic blockchain modules, with an out-of-the-box solution that deploys your application module onto its very own blockchain in just minutes. The workshop shows you how to build any application module for basic or business use. You can even enter your application module into our upcoming 2019 NULS 2.0 Application Module Hackathon and win up to $500k USD in NULS prizes.
Join us to learn more about the Hackathon and get started on your way to winning $500,000. Refreshments provided.
Recommended requirements: Linux, Mac OS, IntelliJ IDEA 2018, Java JDK, and Docker.
Schedule -
6:30pm - 7:00pm : Doors open, Networking
7:00pm - 7:30pm : David Wasson - Intro to NULS 2.0
7:30pm - 8:00pm : Kathy Norman - Building with Chain Box
8:00pm - 8:45pm : Kathy Norman - Module Demo
8:45pm - 9:15pm : Hackathon, Community, Real World Use Case
9:15pm : - Team - Closing remarks