Nuke 7 New Features 2-Day Intensive

Wednesday, February 20, 2013 at 10:00 AM

-

Thursday, February 21, 2013 at 6:00 PM (PST)
Event Details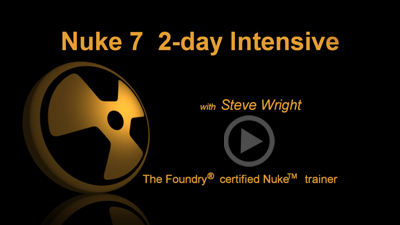 Click on the icon above to watch a preview vid
Join Steve Wright for a whirlwind two day Nuke 7 New Features Intensive workshop where you will learn all about the powerful new features in Nuke 7, the biggest release of Nuke ever. Work shots together with Steve and return home with a library of Nuke scripts demonstrating the workflow for all the Nuke 7 new features and how they integrate into 3D compositing workflows.
Learn about the major new nodes and features in the 2D compositing side of Nuke such as major new stereo support on the Roto/Rotopaint nodes and the major upgrade to the venerable Tracker node. SplineWarp is a complete rewrite with major new features and the new ZDefocus node replaces the ZBlur node with many new features and outstanding support for matching the lens bokeh of a clip. Of course, deep compositing will be a major part of the class plus demonstrations of the new Kronos optical flow speed changer and the awesome new Denoise node with wavelet spacial noise filtering.
The really big news in Nuke 7 is the massive new additions to the 3D compositing side of Nuke with, for example, the addition of Alembic geometry. The Foundry has invested heavily in image based modeling so you can build simple geometry from a 2D clip and use if for camera projection. Not only has there been major upgrades to familiar nodes such as PointCloudGenerator and DepthGenerator, but entire new classes of 3D nodes have been added such as DepthToPoints, DepthToPosition, and PositionToPoints that allow you to create point clouds of your scene while projecting the clip on the points.
Topics Covered
| | |
| --- | --- |
| 2D New Features | 3D New Features |
|   |   |
| Roto/RotoPaint node | Alembic geometry |
| Tracker node | PointCloudGenerator node |
| Primatte 5 | DepthGenerator node |
| MotionBlur node | DepthToPoints node |
| ZDefocus node | DepthToPosition node |
| SplineWarp node | PositionToPoints node |
| Deep Compositing workflow | 3D Viewer new features |
| VectorGenerator node | CameraTracker |
| Kronos node | Particles new features |
| TimeClip node | Displacement node |
| Viewer Guides | ModelBuilder node |
| Denoise node | TimeOffset node |
|   | Shadow Casting new features |
|   | Relight node |
|   | ScanlineRender node new features |

Who should attend
This workshop is designed for visual effects compositors already familiar with Nuke. All attendees will receive a certificate of completion.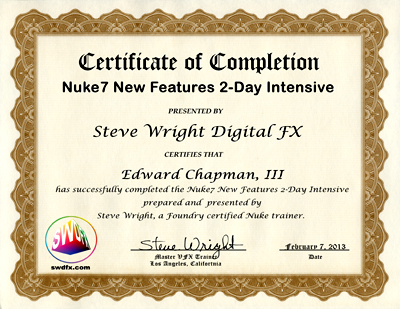 Hardware and Software
If you have your own laptop with Nuke installed and licensed then bring it to the class. If you don't have Nuke then install it a few days before the class and sign up for the 15 day free trial license. If you have already used your 15 day free trial license then tech support at RFX will fix you up with a temporary license on site. If you don't have a laptop you can bring to class then send an email to diane@swdfx.com to make special arrangements.
This two day Nuke workshop is offered in cooperation with RFX in Hollywood, the premier supplier of visual effects software to the entertainment industry.


Links
Book:  Compositing Visual Effects
Book:  Digital Compositing for Film and Video

Questions
If you have any questions about this workshop please send them directly to steve@swdfx.com
When & Where

RFX
748 Seward Street



Wednesday, February 20, 2013 at 10:00 AM

-

Thursday, February 21, 2013 at 6:00 PM (PST)
Add to my calendar
Organizer
Steve Wright
After 20 years of production experience compositing visual effects for over 70 feature films Steve Wright  has been a Master Trainer since 2005 offering on-line and location based training for compositing artists in the visual effects community. Steve is a Foundry certified Nuke® trainer and the author of two popular books on compositing available on Amazon.com. He has traveled around the world to teach the staffs of over 25 visual effects studios including Pixar, Disney, Reliance MediaWorks and many more, and has to date trained over 600 visual effects artists.