LatinoBuilt, Bienestar, & LMC present the Nueva Esperanza Project | LatinoBuilt, Bienestar y LMC presentan el Proyecto Nueva Esperanza
About this event
NEW DATE : The date for this event has been rescheduled to Wednesday, September 22, 2021 (original date : 9/08/21).
NUEVA FECHA: La fecha de este evento ha sido reprogramada para el miércoles 22 de septiembre de 2021 (fecha original: 09/08/21).
-------
Event Details | Detalles del evento:
LatinoBuilt invites our subcontractor community for a night of networking and the opportunity to learn about our latest partner project, Nueva Esperanza, alongside Bienestar and LMC. This project honors Hillsboro's rural and agricultural roots and the immigrants and migrants who shaped the city and the region.
Meet the project managers and support team who can answer your questions about this new project. Information about the project scope, trades needed, and timelines will be shared at this event.
Date & Time: Wednesday, September 22nd, 2021 at 5:30-7:30pm
Location: NE 53rd Ave and Hidden Creek Drive, Hillsboro OR
This bilingual (Spanish) event will take place outside with no formal agenda. Come for as long as you'd like.
All subcontractors are welcome, MWESB-SDV certified businesses are highly encouraged to attend.
Food & drinks will be provided.
If you have a question about this event, send us an email to info@latinobuilt.org
----
LatinoBuilt invita a nuestra comunidad de subcontratistas a una noche de networking y la oportunidad de aprender mas sobre nuestro último proyecto, Nueva Esperanza, junto con Bienestar y LMC. Este proyecto honra las raíces rurales y agrícolas de Hillsboro y los inmigrantes y migrantes que dieron forma a la ciudad y la región.
Conozca a los gerentes de proyecto y al equipo de soporte que pueden responder sus preguntas sobre este nuevo proyecto. En este evento se compartirá información sobre el alcance del proyecto, los oficios necesarios y las fechas importantes.
Fecha y hora: Miércoles, 22 de septiembre de 2021 a las 5:30-7: 30pm
Ubicación: NE 53rd Ave y Hidden Creek Drive, Hillsboro OR
Este evento bilingüe (español) se llevará a cabo al aire libre sin una agenda formal. Ven todo el tiempo que quieras.
Todos los subcontratistas son bienvenidos, empresas certificadas MWESB-SDV están muy animados a asistir.
Se servirá comida y bebidas.
Si tiene alguna pregunta sobre este evento, envie un correo electronico a info@latinobuilt.org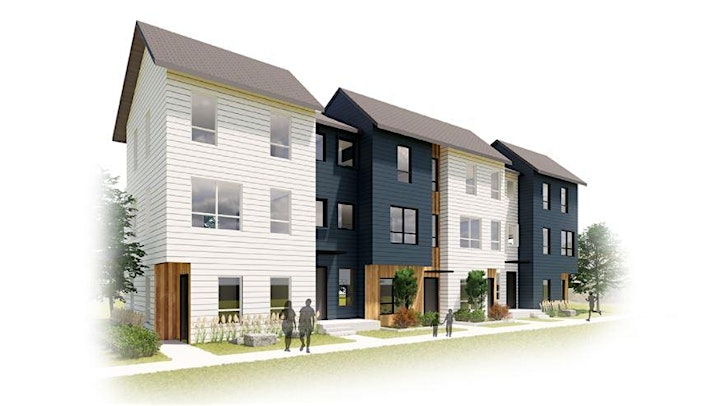 About the Project | Sobre el proyecto:
The Nueva Esperanza project was explicitly created within the framework of racial equity and will provide 150 new affordable homes for households with incomes of 20-60% AMI (area median income). Twelve residential buildings will be arranged in three distinct neighborhoods or colonias with unique identities, with one central community building. Sixty of the units will serve households with 30% AMI or below. 106 units will have two or more bedrooms.
The site plan is anchored by the community center. A paseo (tree lined pathway) honors existing mature trees, anchoring the project to nature. Buildings are organized to provide ample distance between structures and ensure outdoor amenities have access to sun. By creating smaller neighborhoods within the larger project, Nueva Esperanza fosters a sense of community. The site design integrates pedestrian circulation into existing neighborhoods, minimizes vehicular impact, preserves mature trees, and achieves Earth Advantage gold certification. Amenities include boot washing stations for agricultural workers, and plenty of parking.
----
El proyecto Nueva Esperanza se creó explícitamente en el marco de la equidad racial y proporcionará 150 nuevas viviendas asequibles para hogares con ingresos del 20-60% AMI (ingreso medio del área). Se organizarán doce edificios residenciales en tres colonias distintos con identidades únicas, con un edificio comunitario central. Sesenta de las unidades servirán a hogares con un AMI del 30% o menos. 106 unidades tendrán dos o más recámaras.
El plano del sitio está anclado por el centro comunitario. Un paseo (sendero bordeado de árboles) rinde homenaje a los árboles maduros existentes, anclando el proyecto a la naturaleza. Los edificios están organizados para proporcionar una amplia distancia entre las estructuras y garantizar que las comodidades al aire libre tengan acceso al sol. Al crear vecindarios más pequeños dentro del proyecto más grande, Nueva Esperanza fomenta un sentido de comunidad. El diseño del sitio integra la circulación de peatones en los vecindarios existentes, minimiza el impacto vehicular, preserva los árboles maduros y logra la certificación de oro Earth Advantage. Las comodidades incluyen estaciones de lavado de botas para trabajadores agrícolas y mucho estacionamiento.
Organizer of Nueva Esperanza Project (NEW DATE)