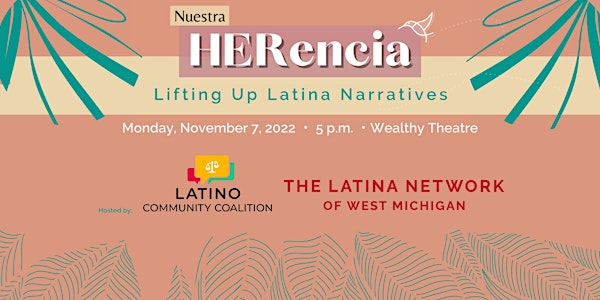 Nuestra HERencia: Lifting Up Latina Narratives
Community celebration of local Latina history featuring Nuestra HERencia video project, food, music and opportunity to connect.
When and where
Location
Wealthy Theatre 1130 Wealthy Street Southeast Grand Rapids, MI 49506
About this event
The Latino Community Coalition and the Latina Network of West Michigan invite you to celebrate local Latinas as part of the Nuestra HERencia project designed to honor our rich history and the Latina women to whom many families owe their legacies here in Grand Rapids. Join us to learn more about local Latinas featured in the Nuestra HERencia project and those who are currently making history in Grand Rapids!
LCC's Nuestra HERencia project and the Latina Network have common goals to reclaim the Latina narrative and serve as a resource for authentic community connections.This community gathering will be a time to connect, celebrate and reclaim our diverse narratives!
Help us prepare for accurate food counts by registering via this Eventbrite by November 1st.
PROGRAM AGENDA - Nuestra HERencia: Lifting Up Latina Narratives
5 p.m. Social hour
Featuring music, refreshments, food, photos, and connecting as a community.
Free bar drink ticket to the first 100 guests (age 21+) with non-alcoholic beverages available to all.
6 p.m. Program begins
Nuestra HERencia documentary viewings and interactive conversation on the importance and power of reclaiming and sharing our stories
Information on local resources and narrative projects to capture history of the past and history in the making
Prize drawings!
Celebration cake and toast to celebrate local Latinas - those in attendance and those who have walked on.
Additional time to socialize & take photos
7:30 p.m Program concludes
The program will mostly be presented in English. If you'd like Spanish interpretation services, please email the Latino Community Coalition by Nov 3, 2002 at lccwestmichigan@gmail.com. Bilingual volunteers and community guests will be at the event and may be able to support with interpretation as well.
This is a family-friendly event.
For more information on our hosts, visit:
Latino Community Coalition, www.latinocommunitycoalition.org
Latina Network of West Michigan, www.lnwm.org
If you'd like to help sponsor this event and future LCC/LNWM collaborations to lift up Latina narratives, please email lccwestmichigan@gmail.com.
-----
El Latino Community Coalition and la Latina Network of West Michigan los invitan a celebrar a las latinas locales de parte del proyecto Nuestra HERencia diseñado para honrar nuestra rica historia y las mujeres latinas a quienes muchas familias deben sus legados aquí en Grand Rapids. ¡Únase a nosotros para aprender más sobre las latinas locales que aparecen en el proyecto Nuestra HERencia y aquellas que actualmente están haciendo historia en Grand Rapids!
El proyecto Nuestra HERencia de LCC y Latina Network tienen objetivos comunes para recuperar la narrativa latina y servir como un recurso para conexiones comunitarias auténticas. ¡Esta reunión comunitaria será un momento para conectar, celebrar y recuperar nuestras diversas narrativas!
Ayúdanos a prepararnos para contar con precisión los alimentos registrándote a través de Eventbrite antes del 1 de noviembre.
AGENDA DEL PROGRAMA - Nuestra HERencia: Levantando Narrativas Latinas
5:00pm hora social
Con música, comida, fotos y conexión.
Boleto de bebida son gratis para los primeros 100 invitados (mayores de 21 años) con bebidas no alcohólicas disponibles para todos.
6:00pm Comienza el programa
Visualización del documental Nuestra HERencia y conversación interactiva sobre la importancia y el poder de reclamar y compartir nuestras historias
Información sobre recursos locales y proyectos narrativos para capturar la historia del pasado y la historia en proceso
¡Premio dibujos!
Pastel de celebración y brindis para celebrar a las latinas locales: las que asistieron y las que pasaron de vida.
Tiempo adicional para socializar y tomar fotos.
7:30 p.m. Fin del programa
El programa se presentará principalmente en inglés. Si desea servicios de interpretación en español, envíe un correo electrónico a Latino Community Coalition antes del 3 de noviembre de 2002 a lccwestmichigan@gmail.com. Voluntarios bilingües e invitados de la comunidad estarán presentes en el evento y es posible que también puedan ayudar con la interpretación.
Este es un evento familiar.
Para obtener más información sobre nuestros anfitriones, visite:
Latino Community Coalition, www.latinocommunitycoalition.org
Latina Network of West Michigan, www.lnwm.org
Si desea ayudar a patrocinar este evento y futuras colaboraciones de LCC/LNWM para mejorar las narrativas latinas, envíe un correo electrónico a lccwestmichigan@gmail.com.