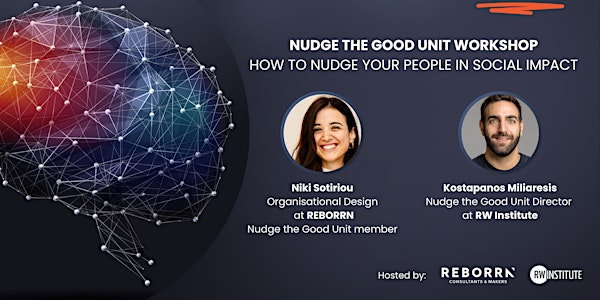 Nudge the Good Workshop: How to engage your people in Social Impact
A discussion on the Nudge theory, its applications, and how it can be used to advance social impact efforts and employee engagement.
About this event
Join our Nudge the Good Unit members, Niki and Kostapanos, for a discussion on the theory and applications of Nudging, and how it can be used to advance social impact efforts and employee engagement.
Stay for the Q&A and learn how we have successfully applied Behavioral Insights to support top Fortune500 companies with their employee volunteering & giving efforts.
Learn more about Nudge the Good here.
More about our speakers:
Niki is an Organisational Designer at Reborrn, where she designs, delivers, and manages culture and organizational change programs. She holds a BSc in Physics, a MSc degree in Material Science, and a MSc degree in History and Philosophy of Science, where she majored in Behavioral Economics and the Nudge Theory. She is a behavioral science enthusiast and her passion is to help people apply bias-free decision-making processes in the workplace.
Learn more and connect with Niki here.
Kostapanos, in his early 20s, co-founded ethelon, an organization promoting volunteering in Greek society and creating the adequate framework for cooperation between volunteers, NGOs, and companies. Since then, more than 15,000 volunteers have supported more than 350 nonprofits with more than a million hours of volunteering. He has collaborated with top Fortune 500 companies, received a Fellowship from the United States Department of State, spoke in TEDx events, and featured in the Forbes 30 Under 30 list, in the category of Social Entrepreneurs. Kostapanos now is the Director of Nudge the Good initiative of RW Institute working with a few of the best companies in Corporate Citizenship in the United States, and applies behavioral insights, in their social impact, diversity equity, and inclusion efforts. Kostapanos has explored 47 countries and 22 states, run two marathons, and if you ask him whom he admires the most, he will say his wife Eleana, for her work ethic. and the engagement.
Learn more and connect with Kostapanos here & here.
More about our organizations:
REBORRN is a hybrid of management consultants & makers on a mission to help visionary companies thrive in the digital economy, using Data, Technology, and Design.
The RW Institute (RWI) is solving the "unsolvable" problems facing corporate citizenship — the most intractable, systemic problems. We are creating a powerful movement of stakeholders working together around the world, asking and answering questions bigger than any one company, organization, or issue.