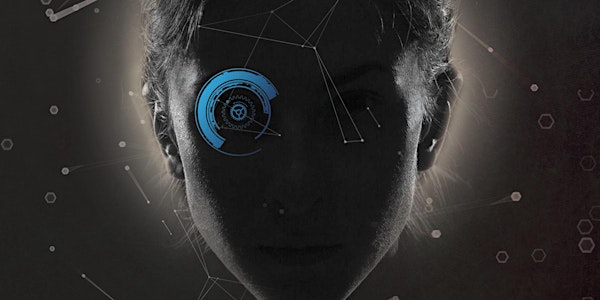 Nudge the Future Vol. 1: Eating Robots and Other Stories
When and where
Location
LIBRARY (The Main Room) 112 St. Martin's Lane London WC2N 4BD United Kingdom
Refund Policy
Contact the organizer to request a refund.
Description
Stephen Oram launches his new collection of near-future sci-fi shorts, Eating Robots and Other Stories.
Join him for an evening of author and actor readings, as well as responses to the stories from experts in the field.
Featuring guest performers, Gigi Lynch & Luke Robert Mason, a response to "Eating Robots" and "The Thrown Away Things" from Christine Aicardi (Senior Research Fellow, Kings College) and a response to "US" from Laura Prime (contemporary art curator and hive mind expert).
Afterwards, he'd love to say hello and sign books over a drink or two.
Tickets are FREE or £5 (including a copy of Eating Robots - £6.99 on the night)
---
Step into a high-tech vision of the future with the author of Quantum Confessions and Fluence, Stephen Oram.
Featuring health-monitoring mirrors, tele-empathic romances and limb-repossessing bailiffs, Eating Robots explores the collision of utopian dreams and twisted realities in a world where humanity and technology are becoming ever more intertwined.
Sometimes funny, often unsettling, and always with a word of warning, these thirty sci-fi shorts will stay with you long after you've turned the final page.
---
"Eating Robots is a strong collection that melds together coherently into a near-future dystopian vision that extrapolates upon and slyly comments on trends and tendencies today. Like all good Science Fiction should." Allen Ashley, British Fantasy Society Short Story Competition judge.
"This collection offers an insightful, often worrying, set of thought experiments on the possible unintended consequences of near future AI." Alan Winfield, Professor of Robot Ethics, Bristol Robotics Laboratory,University of the West of England.
"Some of the stories are very dark, but they all have an undercurrent of optimism and ultimate belief in human kindness." 5 star review on Goodreads.
"Perfect bite-size anxieties. Their immediacy makes them compelling, as though they were ripped from tomorrow's headlines."5 star review on Goodreads.
"Like sharp slivers under your fingernails these stories definitely hit a nerve." 5 star review on Goodreads.