About this Event
The Nude Model
You might want to know them but you should get to know yourself first. Fashionistas, time to disrobe, unapologetically the music of Nude Model is for ALL.
Grinding, dissident, hyper, stripped down, post-everything, made by four Chicago residents. Their sound comes from a deep appreciation of DIY music from 1977-1997. All of them semi-retired from modeling careers, but were very active in the early 1990s.
Nude Model hopes one day there will be LOVE without borders.
"If England found a time machine and five lads (Nude Model) sprang forth in the year 2076, then you might understand what's at stake here, but then again if I was the one to have found that time machine I probably would just have used it for my own personal interest, this...their music has changed me for better or worse."
--Peter Stanvich, The Spectator Royal Weekly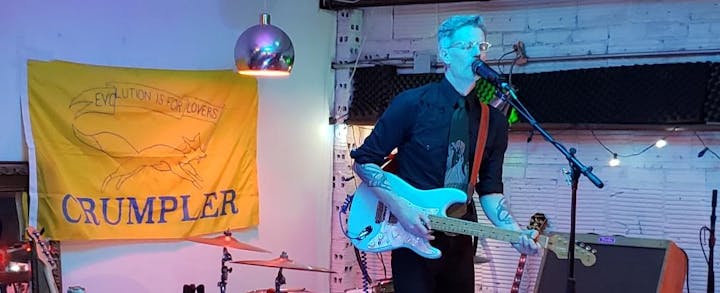 Crumpler
Since 1995 CRUMPLER has been the primary solo composing outlet for Jacob Ross with numerous songs written for film & video as well as radio shows and performance art. After releasing Sabiduria De Las Golondrinas in 2016, CRUMPLER returned to performing live. Reviews frequently mention the desert, wanderlust, Joy Division, and Johnny Cash.
Over the years Jacob Ross has also been a member of Low Skies, Ribbon Effect, The Warmbloods, Man Is Man, and Judson Claiborne.
Walt Falbo began The Falbonauts as a cover band and they will probably end as a cover band, but they are currently not a cover band. They are from approximately Champaign-Urbana and are all old seasoned veterans of playing oft overlooked music.
"Falbo has a pleasantly droning voice that sounds half Lou Reed, half Jeff Tweedy. What further makes The Falbonauts interesting is the slew of musical curveballs they throw into songs that are sleepy by nature but deceptively diverse... All in all, The Falbonauts don't spoon feed their music to the world, and they play what they want"
- smilepolitely.com