NUDE in NATURE - 2 (Photog sign up)

Saturday, September 24, 2011 at 9:45 AM

-

Sunday, September 25, 2011 at 6:00 PM (EDT)
Event Details
Please point out errors and other problems.
 NUDE in NATURE-2 
Photographer Sign up
18+ to attend please
Saturday & Sunday, Sept 24th & 25th. Gate opens for photogs at 9:30 am. Model introductions at 9:45. Shooting starts at 10:00 am. We will shoot until sunset (7 pm) or there about on both days; on Sunday. We want to "out the door" by 7:15 pm.
We have a private, ten acre site.  Two miles from the exit on Interstate 270; half heavily wooded, half with a few scattered trees and copses.  There are two small buildings, which provide photo worthy backgrounds. The Railroad Station is shown below. An extensive collection of images from the previous (May) event can be seen at: http://www.meetup.com/DC-figure-photography/photos/1280463/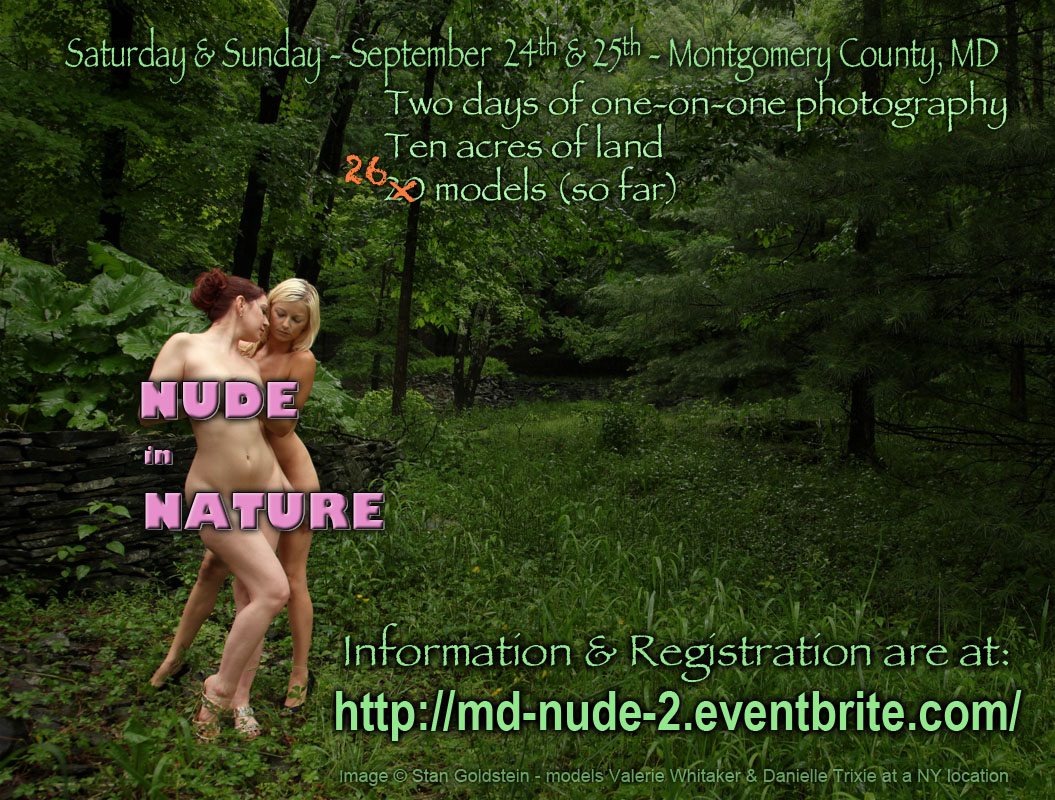 We are including coffee, and cold beverages for free; lunch will be available at additional charge (maybe). We are strongly suggesting that everyone break for lunch at 1:00 pm, and for dinner at 5:00 pm.
This will be cheaper than your typical Stan Goldstein inspired event, since we will have (in theory) great economies of scale.  To make this work we need lots of photogs, at least as many as we had at our May NUDE in NATURE event More photographers will mean more models. That means you need to immediately start telling ALL of your photography loving friends about this. Please mark it on your calendars. PLEASE SIGN UP TODAY.
We are mostly using the "Arizona Shoot Out" method (Photogs schedule directly with models for one-on-one shoots. There will also be free (included) group shooting early in the day. This time we will have a few, small, mentor led, groups at modest additional price. These groups will be perfect for beginning & intermediate photographers. It will give you an opportunity to see "how the big boys do it."
In the unlikely event that there are not enough photographers signed up, the event will be cancelled and photographers will have their payments promptly refunded. We have reached the required minimum.
Please note that the price starts off low and increases with time.  We are rewarding you for early sign up because knowing how many photographers we will have early on, will allow us to better plan the event. No models are signed up as yet, but most of the 26 models from the May shoot said they would be back. We currently have THIRTY (30) MODELS signed up! Please see the MODEL LIST & SCHEDULE at: http://www.meetup.com/DC-figure-photography/pages/Models_and_Schedule_NiN-2   Check the "Comments" for this event on our Meetup group: http://www.meetup.com/dc-figure-photography from time to time, to see which models sign up.
Since the models will make most, if not all, of their money from the one-on-one sessions, photographer must do at least one paid, one-on-one session, with a model of their choosing. When booking a model always ask about time lost between shoots. Please note that the models set their own prices and payment terms.  In any event, ticket sales will be limited to 70 tickets for each day (that includes both single day & two day tickets).  Stan's goal is 70 photogs & 30 models on each day. (For reference purposes only, the May NUDE in NATURE workshop had about 60 photographers & 25 models on Saturday. One-on-one session prices ranged from $25 to $125 per session with the median being around $70 to $75 per hour.) If you have any general questions please give Stan a call at 646-808-4989.
Pictures from the May NUDE in NATURE:
http://photos4.meetupstatic.com/photos/event/3/4/e/5/event_27253541.jpeg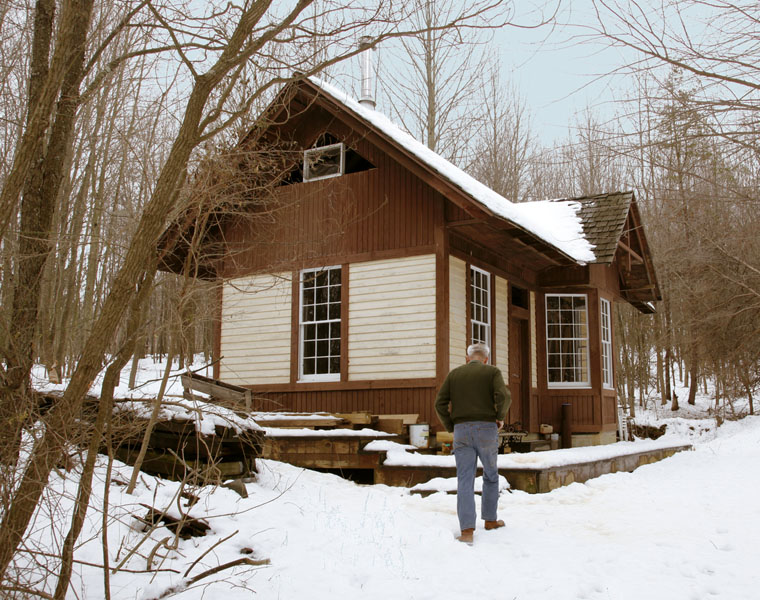 The Railroad Station © Stan Goldstein
PLEASE tell your friends & SIGN UP TODAY.  Ticket price will be increasing.
See ya'
Stan, Poul, & the Models
____________________________________________________________
Promotion:
Save buck$ with THINK TANK & Stan Goldstein.  
If you place a Think Tank order for more than $50, you receive a 10% credit toward our next, DC area regular, indoors, nude, studio, workshop. There are some limitations, like a limit of $25 per session & $100 per day.  You need to use this link:  http://www.thinktankphoto.com/affiliates.aspx?code=WS-456
When you order Think Tank products online, at checkout you can select a piece of gear to receive for free. Spread the word to others and enjoy your free gift!
SG 5/30/11. rev 7/2/11 SG, rev. 7/12/11 SG, rev 7/13/11 SG; Rev 8/1/11 SG,update 9/5/11 SG, rev. 9/11/11 SG
When & Where
address given when you sign up.
Montgomery County


Saturday, September 24, 2011 at 9:45 AM

-

Sunday, September 25, 2011 at 6:00 PM (EDT)
Add to my calendar
NUDE in NATURE - 2 (Photog sign up)