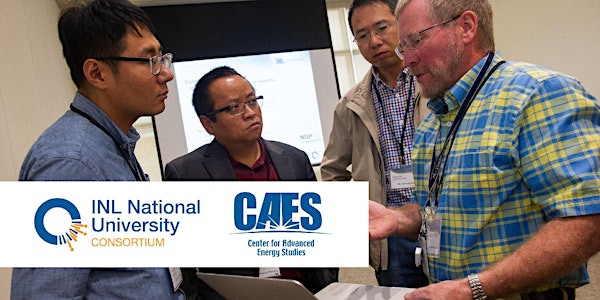 NUC & CAES LDRD Workshop
By National University Consortium & Center for Advanced Energy Studies
Date and time
February 5, 2019 · 8am - February 6, 2019 · 2:30pm MST
Location
Energy Innovation Laboratory (EIL) 775 University Blvd. Idaho Falls, ID
Description
The National University Consortium (NUC) and the Center for Advanced Energy Studies (CAES) are teaming up to hold a joint workshop focused on Idaho National Laboratory's (INL's) Laboratory-directed Research and Development (LDRD) call.
The LDRD call will solicit research proposals supporting progress toward INL's strategic objectives and critical outcomes, including topics under:
Nuclear Energy Competitiveness and Leadership

Integrated Fuel Cycle Solutions

Advance Integrated Energy Systems

Advance Design and Manufacturing

Enduring Control Systems Cybersecurity Innovation Capabilities
Each day will consist of breakout sessions with INL subject matter experts presenting INL's LDRD workscopes.
NEW (1/24) FY-20 Workscopes
LDRD Requirements
The LDRD call is an internal INL call. Each proposal must be led by an INL employee.

The INL PI must submit all application materials, as the system can only be accessed via the INL network.

Registration Information
All attendees must register for this event.
Non-U.S. citizens (including Legal Permanent Residents) must register by January 2, 2019. U.S. citizens must register by January 28, 2019. Attendance cannot be guaranteed for those who register after these dates.
Non-U.S. Citizens
In addition to registering via Eventbrite, please complete the security plan form and send it to Tiffany Adams (tiffany.adams@inl.gov) by January 2. If you attended the NUC and CAES CINR workshop in August 2018, you do not need to complete this form again.
If you are unsure of your attendance, please register anyway. This way, the required DOE security plan can be submitted and approved within the required timeframe. If you are unable to attend after you have registered, please cancel your registration via Eventbrite to be removed from the event.
Agenda
Please check back for a draft agenda.
About the organizer
National University Consortium
Established in 2005, the National University Consortium consists of five prominent research universities, Massachusetts Institute of Technology, North Carolina State University, Oregon State University, The Ohio State University, and the University of New Mexico. INL engages in collaborative research with these partners to further the nation's strategic energy objectives and strengthen the research portfolio of both the universities and INL.
Center for Advanced Energy Studies
CAES is a research, education, and innovation consortium bringing together Idaho National Laboratory, Boise State University, Idaho State University, University of Idaho, and University of Wyoming. CAES focuses on collaborating around regional energy challenges that have national and global impact.