NUC All American Football Game Week December 27th-30th 2018 Daytona Beach, FL Player Registration

Thursday, December 27, 2018 at 1:00 PM

-

Sunday, December 30, 2018 at 10:00 PM (EST)
Event Details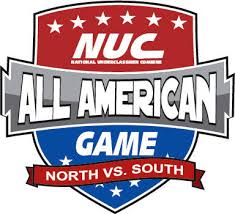 NUC All American Game Brings Together Some Of The Very Best Athletes From Around The USA. To Play in an an All American Game Week That Will Take Place For Athletes in each grade of High School. 
The Games That Will Take Place That Week. All athletes will particpate in a game that will allow them to be view live on all 3 major social livestreaming platforms, Twitter Live, Facebook Live and Periscope Live. The game will also be streamed on nucsports.com, nucsportsmag.com and nucallamerican.com and archived as well. In 2018 the game was streamed to over 5 million viewers, including every college in the USA.
2024/2025 Grad Class Game
2023 Grad Class Game
2022 Grad Class Game
2021 Grad Class Game
2020 Grad Class Game
2019 Grad Class Game
The game has been run since 2010 when it starred Heisman Trophy Winners Johnny Manziel and Marcus Mariota.
This is the page to secure your spot and register to play in the 2018 NUC All American Game!
You will get Tshirt, Fitted Game Jersey, Game Pants
Hotel Info: 
SCHEDULE AND INFO
WHAT TO BRING:

​Contact: Dale Sturgil, support@nucsports.com with questions

All Athletes will need to bring:
All Athletes will receive the following items at check in:
Check In Times December 27th @ Plaza Resort and Spa:
7th/8th-10:00am
9th-10th-11:00am
11th-12:00pm
12th-1:00pm

*If at all possible please make sure you are available and arrive in time for check in. All those not able to register at their specific time will be asked to register at 2:00pm.

Check in Location:
Plaza Resort and Spa
600 North Atlantic Ave
Daytona Beach FL 32118
855-327-5292
GAME WEEK
*** Please take note we have combined the 10th & 11th graders together for game. We have looked at the roster and we know this will create a more competitive environment for all.

NUC 2017 All-American Week Schedule 


HOST HOTEL INFO
Please find below the host hotels for the event. It is highly recommended for simplicity sake that all athletes stay at the host hotel. Also please keep in mind that transportation and lodging is covered by the participants and not NUC Sports. We have found two nice hotels that have offered good discounts for the entire time of the event including one day prior and one day after the event week begins.

See Links Here For Host Hotels https://app.roomroster.com/events/5627/hotels?nav=hidden​  

Practice Facility: @ New Smyrna Beach High School, 1015 10th St, New Smyrna Beach, FL 32168 
Game Day Field: New Smyrna Beach High School, 1015 10th St, New Smyrna Beach, FL 32168
Dec 27th 
10am-2pm
Athlete & Parent Welcoming Kickoff Conference @ Plaza Resort and Spa 600 North Atlantic Ave Daytona Beach FL 32118
Go to Conference Center and Look for NUC All American Room

4:00pm -6:00pm - Walk Through and Team Pictures @ Plaza Resort and Spa. 
*Players to wear Game Jersey to Hotel for Pictures
Dec 28th 
10am -12pm Practice 1 @ New Smyrna Beach High School, 1015 10th St, New Smyrna Beach, FL 32168 (Field Assignments TBD)
12 - 1 pm
Lunch break participants are on their own
1pm-300pm
Practice 2 @ New Smyrna Beach High School, 1015 10th St, New Smyrna Beach, FL 32168  (Field Assignments TBD)
300pm
End of Practice.  Coaches can organize team meetings at host hotel, at facility or give them time off.
5pm-9pm - NUC QB Challenge
Dec 29th
10am -12pm Practice 1 @ New Smyrna Beach High School, 1015 10th St, New Smyrna Beach, FL 32168
11am-12 pm
Lunch break - participants are on their own
1pm-300pm
Practice 2 @ New Smyrna Beach High School, 1015 10th St, New Smyrna Beach, FL 32168 


Game Day December 30th
Game Day: New Smyrna Beach High School, 1015 10th St, New Smyrna Beach, FL 32168
Once your final event ends you athletes are dismissed. All Athletes get into stadium all day for free. All spectators must have a ticket to get in and stadium tickets are good all day. 
6th Grade Game Will be listed Shortly
10:00am-1:00pm
9th/10th Grade Game Performance Game @ New Smyrna Beach High School, 1015 10th St, New Smyrna Beach, FL 32168
1:00pm - 4:00pm
7th/8th Grade All American Game @ New Smyrna Beach High School, 1015 10th St, New Smyrna Beach, FL 32168
4:00pm-7:00pm
11th Grade Game @ New Smyrna Beach High School, 1015 10th St, New Smyrna Beach, FL 32168
7:00pm-10:00pm
Senior All-American Game 1 @ New Smyrna Beach High School, 1015 10th St, New Smyrna Beach, FL 32168
*Specific Rosters will be distributed after registration and final count is given
When & Where

New Smyrna Beach Sports Complex
1800 Turnbull Bay Road
New Smyrna Beach, FL 32168


Thursday, December 27, 2018 at 1:00 PM

-

Sunday, December 30, 2018 at 10:00 PM (EST)
Add to my calendar
Organizer
You can reach us at nucsports.com or dave@nucsports.com