About this Event
DOORS OPEN AT 6:30PM.
NUALA KENNEDY & EAMON O'LEARY W/ SPECIAL GUEST JEFFERSON HAMER, THE MURPHY BEDS
It's St. Patrick's Day. Bring your fiddles. This is the place to be.
Long-time friends and musical collaborators, Nuala Kennedy and Eamon O'Leary have toured together widely, both in duo and as part of The Alt, alongside celebrated Irish guitarist John Doyle. Both are internationally recognized members of the traditional music community, noted for their instrumental skills and diverse repertoire of traditional and contemporary song. Both are songwriters, who love and research traditional Irish/Scottish songs. With an engaging stage presence and understated virtuosity, they present a timeless selection of songs and instrumentals. Nuala and Eamon offer a memorable concert experience, as their songs range from the ancient Irish tradition to reflections on the present day.
About Nuala Kennedy: Traditional singer, flute player, songwriter and session musician Nuala Kennedy grew up playing music in Dundalk, Ireland and later moved to Edinburgh, Scotland. The combination of the best of two cultures, Scotland and Ireland, is what has made Nuala the artist she is today. She has toured and recorded with diverse artists including experimental folk composer Oliver Schroer (nominated for Canada's National East Coast Music Award) and Kentucky's Will Oldham (an album which received 5 stars in Mojo Magazine).Nuala released her third solo record Noble Stranger (Compass Records) in 2012 to critical acclaim. The Nuala Kennedy Band was nominated in the 2013 BBC Alba Scottish Traditional Folk Awards.
She is not only an exceptional interpreter of the tradition; her own music glistens with freshness. -- The Irish Times
About Eamon O'Leary: Originally from Dublin, Eamon has lived in New York City for the last twenty years, touring extensively throughout North America and Europe. Recent work includes a recording of traditional songs, The Murphy Beds, with Jefferson Hamer. He has also teamed up with old friends John Doyle and Nuala Kennedy to form The Alt, with a self-titled debut album released in November 2014. Eamon is a highly respected accompanist, a beautifully talented singer-songwriter and interpreter of traditional Irish song. Eamon's songwriting can be heard on the albums 'All Souls' and 'Old Clump.'
"…lyrically fresh, harmonically rich and presented with magnificent ease." -- The Irish Times
Inspired song selection and thoughtful arrangements reveal the strong chemistry these top musicians share." -- The Irish Echo
"…beautiful, crystalline songs." -- Huffington Post
www.nualakennedy.com
https://www.facebook.com/eamonolearymusic/
https://www.youtube.com/watch?v=55amYJaqTCc
JEFFERSON HAMER
Jefferson Hamer is a songwriter, guitarist, and traditional musician based in Brooklyn, NY. His new album Alameda features Jeff Picker, John Fatum, Alec Spiegelman, Hannah Read, Sarah Jarosz, and others. Murphy Beds, his traditional acoustic duo with Eamon O'Leary, features harmony vocals backed by intricate guitar and bouzouki accompaniment. The Huffington Post said it succinctly: "The [Murphy Beds] album bears repeated listening from start to finish, with ten beautiful, crystalline songs."
Hamer also plays electric guitar and sings (and moonlights as a Bostonian) with the six-piece roots rock ensemble Session Americana. In 2016 he recorded and co-produced their album Great Shakes.
His 2013 Child Ballads album with Anais Mitchell earned a BBC2 Folk Award and was named one of NPR's top-ten Folk releases of the year.
"A gifted guitarist and singer, Hamer is able to hit close harmonies… and weave gorgeous instrumental lines." -Acoustic Guitar
ABOUT THE PARLOR SESSIONS
On assorted winter Sundays, we welcome American roots musicians into the Parlor Room for a concert, a break for hot soup, and an all-comers' jam. So bring your instrument with you. These Parlor Sessions are our antidote to the dark of winter. They're a little like home, if home is a houseful of wicked great musicians. The Parlor Sessions are sponsored by Goat Peak Strings, the Easthampton shop with rare, vintage, and handmade instruments; and with generous donations from Captain Jack's Roadside Shack, Bread Euphoria, Hungry Ghost, and Florence Pie Bar.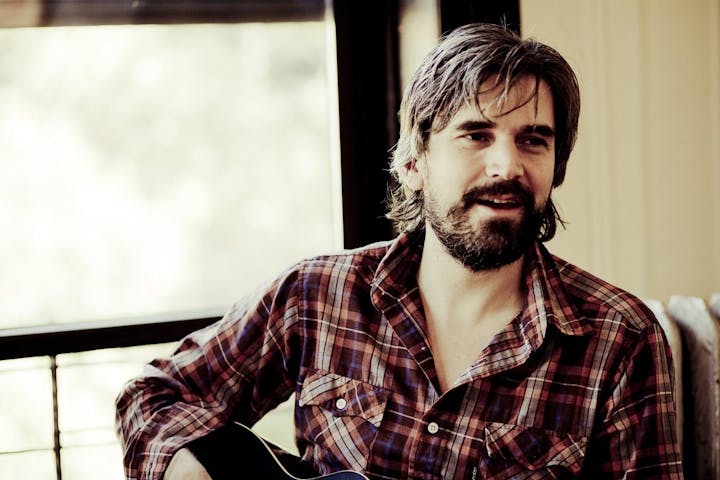 Performers
Date and Time
Location
Refund Policy