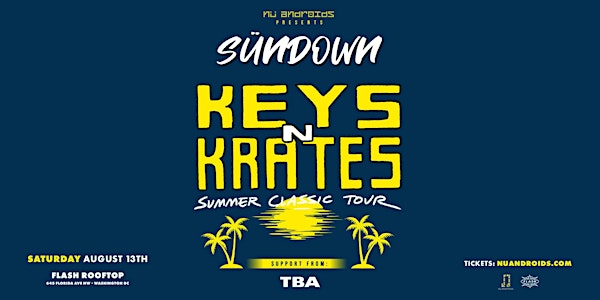 Nü Androids Presents SünDown: Keys N Krates (21+)
Location
Flash
645 Florida Ave NW
Washington, DC 20001
About this event
AUG 13 | 4pm-9pm | Flash 21+
Keys N Krates
Keys N Krates makes their Nü Androids return for a special SünDown variation. Their sample-driven sound that melds the realms of electronic, hip-hop and more will make for a great vibe under the DC sunset. Join us as we welcome back the Nü favorite Keys N Krates!
SünDown has been a Nü Androids staple for many years now. We continue to bring the most up and coming artists to you before they hit the main stage. Join us on the Flash rooftop for a long awaited reunion.
-----------
Tables
Contact: reservations@nuandroids.com
Nü Androids is continuing to bring forward-thinking artists and experiences for all! We welcome people from all walks of life to a safe and comfortable space. There is no tolerance for discrimination or harassment of any kind at any of our Nü Androids events. Inside the walls of a Nü Androids event, race, political affiliation, sexual preference, and any other limiting factors are thrown aside to make room for the tunes of the artists. Join us as we are one big family of music lovers and groove shakers!
Connect with us:
Tik Tok: @nuandroids
Instagram: @nuandroids
Soundcloud: www.soundcloud.com/nuandroidsmusic
Resident Advisor: www.residentadvisor.net/profile/nuandroidsmusic
No Refunds