NTUMA'PA WINTER 2016 FASHION DESIGN & APPAREL PRODUCTION BOOTCAMP WORKSHOPS
Description
NTUMA'PA WINTER 2016 FASHION DESIGN & APPAREL PRODUCTION SKILLS BOOT CAMP WORKSHOPS
19 February — 8 March 2016
[Yes, Everyday! Participants are able to sign up for everything or select individual workshops.]
With Lead Guest Instructor
Professor/Dr. Aziza Braithwaite Bey, PhD
Early/Pre-Registration 15 October - 7 February 2016
Late Registration: 8-15 February 2016
Limited scholarships available for high school students.
Scholarship Application Deadline extended —29 January (for HS students only)
Email us for Scholarship Application access link.
Click here for more information about RWU's NTUMA'PA and other programs, services and news.

NTUMA'PA is RWU's Textile Studio, Apparel Production Workroom, Atelier Artisan Training and Fashion Incubator Programs.
NTUMA'PA Boot Camp Workshops and Fashion Incubator is open to emerging, established and experienced fashion designers, apparel technicians and other fashion industry professionals.
Visit NTUMA'PA.webs.com for more info about NTUMA'PA Boot Camp Workshops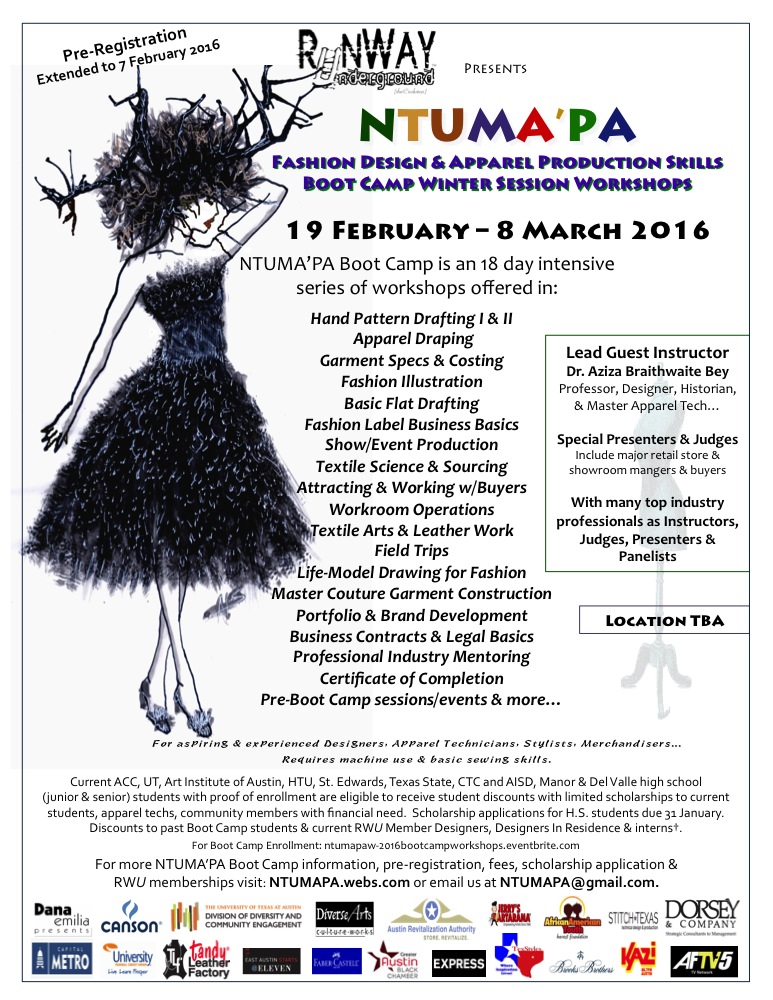 NTUMA'PA means "a thing made very, very well" in Akan/Twi (Ghana, West Afrika).