NTUMA'PA BASIC SEWING ELEMENTS 1:1 Sewing Retreat
Description
NTUMA'PA BASIC SEWING ELEMENTS 1:1
HAVE BEEN CONDENSED INTO ONE DAY & MOVED TO 13 FEBRUARY 2016
Parts I, II & III: Saturday, 13 February 2016 11:15am - 7pm
Location: African American Youth Harvest Foundation | 6633 E. HWY 290, Ste. 303 (78723)
SPACE LIMITED: 15 students max — 5 min. Refreshments provided each day.
[The minimum enrollment for this workshop must be reached by 9 February for it to make...]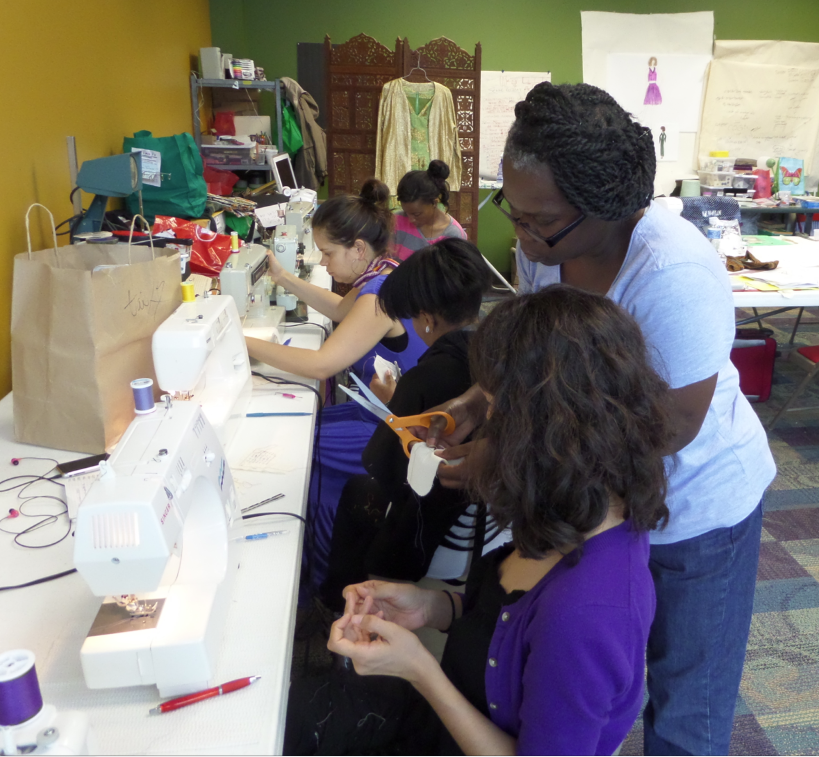 $125 early enrollment EXTENDED thru 7 February

$135 late enrollment 8-12 February 2016 [plus $15 course materials]
This three-part (2½ day) introductory workshop (now condensed into one day) is for those with little or no sewing machine experience (or no recollection) to those with moderate skills will learn basic elements of sewing utilizing professional fashion industry techniques.
The goal of this retreat is to build sewing confidence and pass on basic practical information and tools. We also want to help raise the standard of sewing skills and construction for home sewers as well as potential professional apparel production workroom trainees.
ATTENTION: ALL SESSIONS WILL BE CONDENSED INTO ON DAY!
Parts I: Will begin with quickly walking students through sewing machine basics: Threading your machine, bobbin winding, changing feet, adjusting tension, review of your machine's accessories, tools and basic functions to sew basic stitches (straight, zig zag, basting…) so that students are comfortable and familiar with their machines.
Part II & III: Will be intensive sessions taught by three expert fashion designers and industry apparel technicians — each with 30-50+ years of sewing experience that will cover a thorough range of basic sewing lessons and techniques that will progress with each exercise. Including basic seams to French seams, turning corners, perfecting sharp angles, curves grading, Hong Kong finishes, darts...).
More advanced students (especially those who have participated in our previous sewing retreats) will be given more complex lessons such as: button holes, pleating... time permitting.
All students will also receive 1 on 1 help, tips and tricks used in professional apparel production and couture construction. Students will not only take away a lot of practical sewing skills and knowledge a long with more insights about opperating their machines — they'll gain the confidence to complete one of four fun projects (from simple to advanced) for their final project/lesson that utilize the techniques covered in this sewing retreat.
Participants who complete the retreat will receive discounts on RWU's NTUMA'PA Winter-2016 Apparel Production Skills Boot Camp Workshop sessions in 19 February - 8 March. Students will also receive a gift card for fabric purchases from TexStyles Designer Fabric Showroom.
Previous Sewing Retreat and Boot Camp Students can receive a discount! Ask for details.
Please email us for scholarship info, approval and the coupon discount code before enrolling by 10 February.
INSTRUCTORS: Pearlie Rowland | Heather Bache | Nailah I. Sankofa
For more info & to enroll visit: NTUMAPA.webs.com
Direct questions to: NTUMAPA@gmail.com or 512.650.8281
~~~~~
FAQ:
*Yes, students are required to attend all three sessions to be successful and on the same page as other students!
*Missing the Friday evening session will slow down the pace of the Saturday sewing retreat session.
*For ages: 15 & up.
*Minors must have parental consent in order to participate in the retreat.
*Students bring their own machines — new and older models welcome. [A few machines will be available for those without machines with advance reservation.]
*We'll email a supply list after enrollment.
*Two full and three partial scholarships are available with approval for folks with financial need.