GetTogether and learn with NTUAAH by attending weekly online seminar series in May.
About this event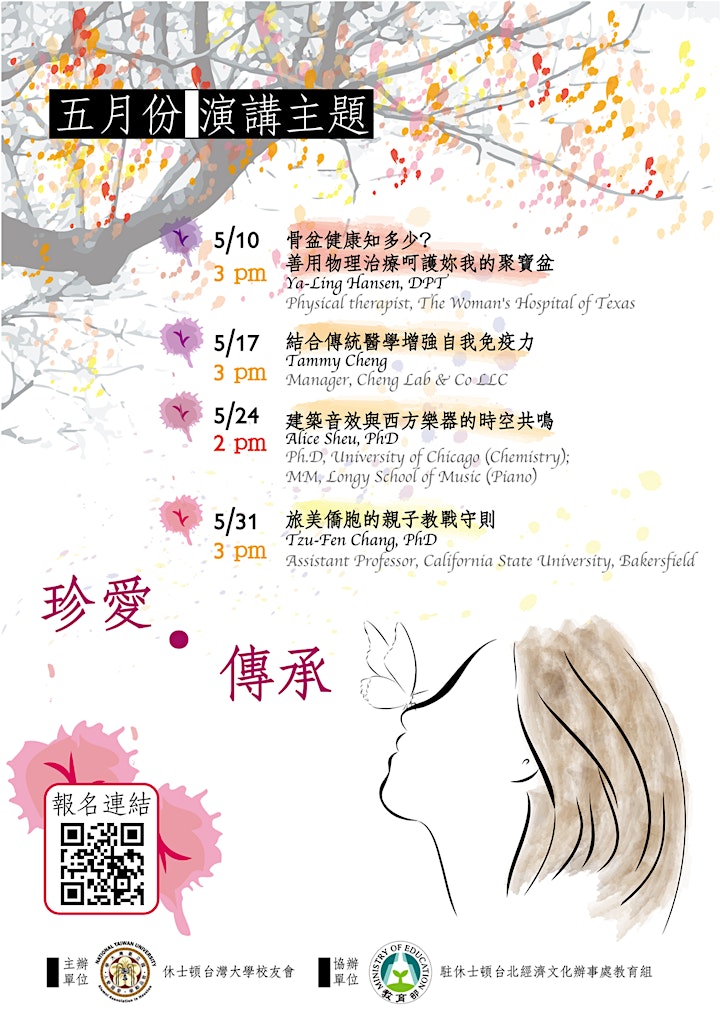 All talks are scheduled at 3 pm Central Time on Sundays unless otherwise noted. In the one-hour seminar, our invited speakers will share their expertise, followed by Q&A.
All talks will be presented in Mandarin. (中文演講)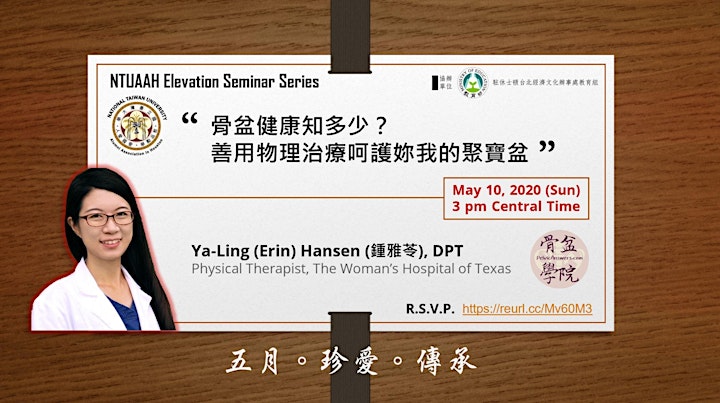 May 10 | 骨盆健康知多少?善用物理治療呵護妳我的聚寶盆
下午2:30健康操 (請提前入場,自由參加);下午3:00中文演講+互動問答
[簡介] 從青春期、生育期間到更年期後,女性的身體與骨盆腔不斷經歷變化,也讓女性更容易產生骨盆腔的問題。睡眠、營養與如廁習慣都與骨盆健康息息相關。認識物理治療能為骨盆健康帶來的益處,也幫助妳更了解自己的身體,不論妳處於生命的哪個階段,妳能夠且值得擁有更好的生活品質。
May 17 | 結合傳統醫學增強自我免疫力
下午2:30健康操 (請提前入場,自由參加);下午3:00中文演講+互動問答
[簡介](1) 認識人體免疫系統,(2) 傳統方式增進免疫力,(3) 創新方式增進免疫力
🌈預告:講者加碼提供10份健康指數檢測套餐(價值$250),內含經絡檢測唷!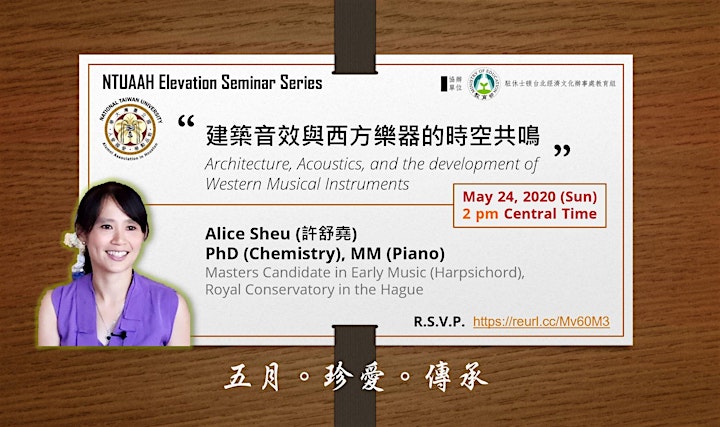 May 24 | 建築音效與西方樂器的時空共鳴
下午1:30健康操 (請提前入場,自由參加);下午2:00中文演講+互動問答
[簡介]A multimedia presentation relating the development of western musical instruments with the history of architectural acoustics. Select stringed instruments (bowed, plucked, and keyboard) from the middle ages to the modern time will be introduced with their basic acoustic principles, and discussion of room acoustics of which the instruments were used in the historical context will be made.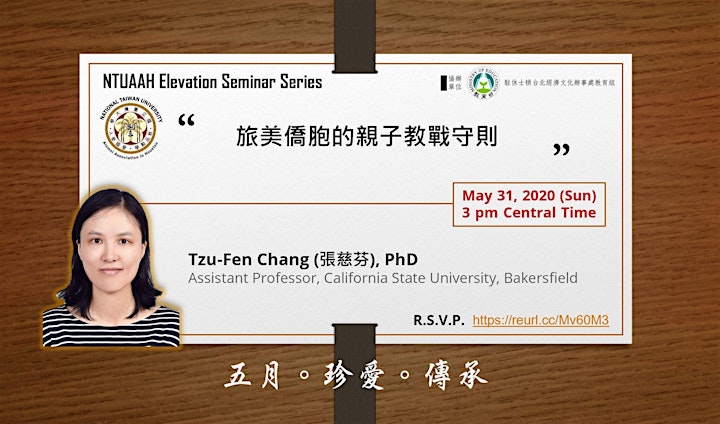 May 31 | 旅美僑胞的親子教戰守則
下午2:30健康操 (請提前入場,自由參加);下午3:00中文演講+互動問答
[簡介]東方和西方在孩童教養的價值觀上有著本質的異同。當東方和西方的教養觀不同時,會對在美教育小孩的台灣裔父母造成什麼樣的挑戰呢?在面對這些挑戰時,父母親可以如何調適,面對,和解決呢?講者將會在本次座談中針對這些問題進行討論並從兒童發展研究的觀點提供建議。