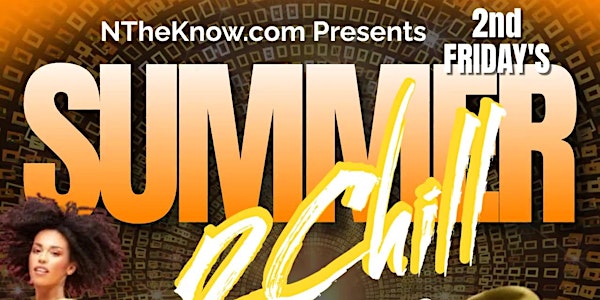 NTheknow.com Presents "Summer2Chill Mixer " 7/8@ TK's in Addison 6pm -11pm
Location
TK's
14854 Montfort Drive
Dallas, TX 75254
You are invited to join Teresa with NTheknow.com "Summer2Chill Mixer" July 8 th@ TK's in Addison 5-9pm
About this event
You are invited to join Teresa with NTheknow.com on 2nd Friday's "Summer2Chill Mixer
Date: July 8th
Time: 6PM - 11PM
Location: TK's
Address: 14854 MONTFORT DR. ADDISON, TX 75254
RSVP required to attend
Reserve tables on eventbrite
Come out and enjoy great Cuisine - Cocktails - Cigars - Music at TK's in Addison with Teresa Ntheknow.com.
Happy Hour Food and Drink Specials 5PM TO 7PM
Attire : Fashionable and Classy
Upscale Grown & Chill Vibe 30+
Win Event Tickets !!!
Visit with vendors
Indoor DJ and more!
Outdoor Patio Vibe with CIGAR's & Hookahs
FREE PARKING
RSVP for NTheknow.com upcoming events
June 10th NTheknow Present The Cigar and Music Lovers Mixer
@ TK's in Addison TX
https://www.eventbrite.com/e/ntheknowcom-presents-cigar-music-lovers-mixer-610-tks-in-addison-5-9-tickets-342325413527
June 12 NTheknow.com Presents The Hat Chat Ladies Brunch hosted at Michael's of Las Colinas
https://www.eventbrite.com/e/the-hat-chat-ladies-monthly-brunch-june-12-tickets-311187699787
June 25th NTheknow.com Presents The Ultimate Upscale Day Mixer hosted at Michael's of Las Colinas
https://www.eventbrite.com/e/ntheknowcom-the-ultimate-upscale-day-mixer-june-25th-soulful-sounds-tickets-265155345777
July 8th NTheknow Present SUMMER2CHILL Mixer @ Tk's In Addison
https://www.eventbrite.com/e/ntheknowcom-presents-summer2chill-mixer-78-tks-in-addison-5-9pm-tickets-353961537487
July 10 NTheknow.com Presents The Hat Chat Ladies Brunch hosted at TK's in Addison
https://www.eventbrite.com/e/the-hat-chat-ladies-monthly-brunch-july-10-tks-in-addison-tickets-343247982957
JULY 30th SAVE THE DATE and TIME 7PM - 1AM hosted at TK's in Addison
Sept 10 NTheknow.com Presents The 1 Year Anniversary for The HAT CHAT All White & Bling Yacht Party 12- 3pm hosted at Pier 121
https://www.eventbrite.com/e/the-hat-chat-1-year-anniversary-all-white-bling-yacht-party-tickets-311235984207
Teresa Nelson
NTheKnow.com
TheHatChat.com
itgmarketingagency@gmail.com