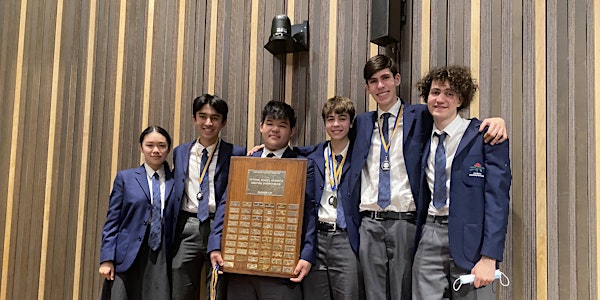 NSW State Debating Team Trials 2023
Trial for selection to represent NSW at the National Schools Debating Championships in May 2023.
By New South Wales Debating Union
When and where
Date and time
Sat, 11 Mar 2023 9:00 AM - Sun, 12 Mar 2023 6:00 PM AEDT
Location
Sydney Girls High School Cleveland Street Surry Hills, NSW 2010 Australia
About this event
Trialling for the NSW Schools Debating Team is your opportunity to be a part of the most successful team in the history of the National Schools Debating Championships and to get some valuable skills along the way. The 2023 trials for the NSW Schools Debating Team will be held on Saturday 11 March and Sunday 12 March.
These trials are the start of the process for selecting our state debating team to compete at the National Schools Debating Championships. The trials will be used to select a state squad of between 12 and 15 students, who will train for around a month before the selection of the final team.
Trials are open to students from Years 10-12, with especially keen Year 9 students also welcome to sign up.
You can learn more about the trials process and why you should trial on the NSWDU website. Read below for more details and FAQs about the trials.
Details:
Where: Sydney Girls High School, Cnr Anzac Parade and, Cleveland St, Surry Hills NSW 2010
When: Each day of the weekend will have 3 sessions, 9:00 am – 12:00 pm, 12:00 pm – 3:00 pm, 3:00 pm – 6:00 pm. You only need to sign up for one session.
What: trials will involve one debate in front of selectors followed by a brief general knowledge quiz. The process should take around 2.5 hours. Some students may be asked to participate in callback debates the week after trials - please be aware you may need to be available on a weekday afternoon for a callback.
RSVP: ticket sales will close on 8 March.
Unfortunately we are unable to offer refunds
Frequently asked questions
I am a relatively inexperienced debater - should I trial?
I am in Year 8 but very keen. Can I trial?
Who is selecting the trials?
What are the criteria for selection?
Can I choose what position I speak in my trial?
I am a teacher. Can I buy tickets for several of my students?
The cost of tickets makes attending the workshops inaccessible to me. What should I do?