Join us for our Vector Final Showcase on May 21, 2021 and watch as teams compete to win $25,000.
About this event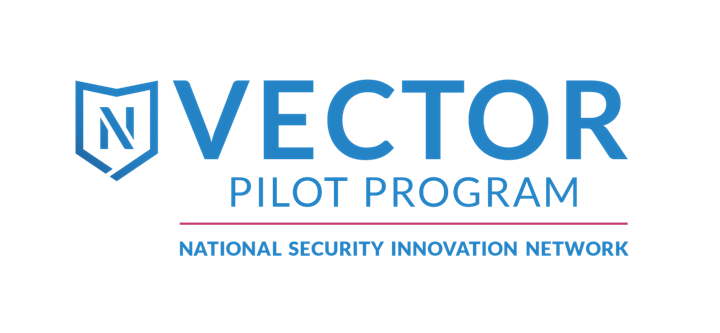 Vector is pilot program of the National Security Innovation Network (NSIN) designed to take pre-venture alumni teams from other NSIN DoD-problem-solving programs (H4D, Hacks, or X-Force) and help them evaluate the potential of forming a dual-use company around their capability.
For this inaugural pilot iteration, we selected 18 teams to participate in an eight-week accelerator covering topics including business formation, market analysis, sales, fundraising, government contracting 101 and pitch prep.
Those teams were divided into two cohorts, with nine teams receiving their instruction from Dcode and nine teams receiving their instruction from H4XLabs, an affiliate of BMNT, Inc.
The NSIN Vector program concludes with a showcase pitch day and a single wining team from each cohort eligible to win $25K.
Teams & Tech for May 21, 2021:
Base8: Protecting autonomous vehicles and cyber assets via wireless quantum key distribution (QKD) and blockchain ledger validation.
DroneHQ: Provides drone detection and tracking software from a micro-UAV capable of giving soldiers a real-time mapping of threats in their area.
Epoche: In a world inundated with disinformation, we provide a browser extension designed to identify content related to disinformation in news stories seamlessly through the user's experience while simultaneously onboarding them to our education platform. Unlike competitors that put emphasis on definitive fact-checking, we present disinformation through the lens of education in a concise format designed to increase users' information literacy.
EZTrain: Provides training data management and advanced scheduling capabilities that automate and organize training plans so that supervisors can eliminate manual tracking and easily manage personnel.
FLYiND My Friend: Provides a software module that integrates into a military team's organic communications infrastructure and assist in high fidelity physics predictions for the locations of lost parachutists.
Next Generation Electronics Encasements: Gestalt materials can cut the weight of protecting your electronic investments by at least 10% while providing a higher strength than steel. Better yet, our solution can be mass produced or custom fit to your needs!
Splint-X: A splint in a can. Splint-X is a two-part foam spray that solidifies under 60 seconds. When applied, this quickly allows the injured pilot to become mobile while reducing pain and any further damage to themselves.
V-Train: VR/AR-based simulations to train and certify warfighters without tying up physical simulators or live aircraft. Unlike our competitors, we develop custom simulations that meet our customer's specific requirements.
Organizer of NSIN Vector Final Showcase May 21, 2021
NSIN, the National Security Innovation Network, is an unrivaled problem-solving network that adapts to the emerging needs of those who serve in the defense of our national security.  We are dedicated to the work of bringing together defense, academic and entrepreneurial innovators to solve national security problems in new ways.