Join us for our Vector Final Showcase on May 19, 2021 and watch as teams compete to win $25,000.
About this event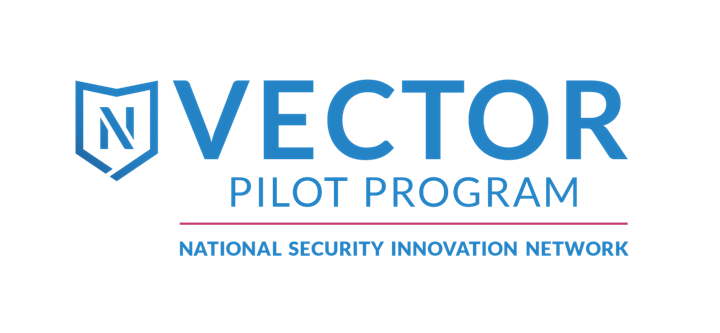 Vector is pilot program of the National Security Innovation Network (NSIN) designed to take pre-venture alumni teams from other NSIN DoD-problem-solving programs (H4D, Hacks, or X-Force) and help them evaluate the potential of forming a dual-use company around their capability.
For this inaugural pilot iteration, we selected 18 teams to participate in an eight-week accelerator covering topics including business formation, market analysis, sales, fundraising, government contracting 101 and pitch prep.
Those teams were divided into two cohorts, with nine teams receiving their instruction from Dcode and nine teams receiving their instruction from H4XLabs, an affiliate of BMNT, Inc.
The NSIN Vector program concludes with a showcase pitch day and a single wining team from each cohort eligible to win $25K.
Teams & Tech for May 19, 2021:
InstaJam: Plug-in solution which uses radio frequency (RF) to allow Joint Terminal Attack Controllers (JTACs) the ability to easily determine whether or not they are being jammed, allowing every airman to become an accurate, mobile, real-time sensor.
Distributed Spectrum: Solution to detect and classify radio frequency (RF) threats for army vehicles in the field, or in a SCIF, using a distributed network of sensor nodes for signal detection, classification, and localization.
StryderCore: Streamlines and standardizes the check-in/out process for aircraft maintainer tools to accelerate locating missing tools, with an emphasis on tech over human. The solution automates the tool check-out process, semi-automates the tool check-in process, and records the maintainers path for a smoother lost tool recovery.
Limitless Data: To address the issue of unscheduled maintenance, Limitless Data proposes methods to bring the power of accurate predictive maintenance methods to weapon systems that lack sensor arrays by incorporating natural language processing, time-series-based part tracking, and human expertise.
TwinRaven: Focuses on filling the gaps for data aggregation, processing, and visualization to increase situational awareness for first responders.
SeaWatch: App for Filipino fishermen which is easy to use, free, and designed to be operable in a low bandwidth environment; the primary purpose is to keep tabs on Chinese fishing fleets and the Chinese Maritime Militia, since they are too numerous to be tracked by conventional and exquisite assets.
IsoCore Technologies: Integrated heat flux sensor technology that accurately derives the core body temperature from the skin on the torso, autonomously and wirelessly, making available to medics the same necessary information that currently requires a rectal reading.
Streamlined Solutions: Supply chain resiliency solution to help move past inefficiencies and move towards a more agile, more adaptable, more innovative force.
Liquid Security Co.: Cybersecurity solution maximizes protection while reducing necessary user interaction to ensure CMMC compliance throughout the Defense Industrial Base.
Organizer of NSIN Vector Final Showcase May 19, 2021
NSIN, the National Security Innovation Network, is an unrivaled problem-solving network that adapts to the emerging needs of those who serve in the defense of our national security.  We are dedicated to the work of bringing together defense, academic and entrepreneurial innovators to solve national security problems in new ways.